President Donald Trump on Saturday drove by supporters who were in Washington for a pro-Trump march that organizers predicted would draw thousands.
Trump exited the White House at 10 a.m. before getting inside the presidential limousine. The motorcade then passed by some of the president's supporters on Pennsylvania Avenue.
The crowd, already in the hundreds, lined both sides of the street. They cheered, applauded, waved, and whistled.
Members of the crowd held signs, including "Best prez ever" and "Stop the steal," a reference to the belief that the Nov. 3 election is at risk of being stolen from Trump because of election fraud.
The motorcade passed the Willard Hotel and did a circuit of Freedom Plaza, where people had climbed on walls and other structures for a better view. Some ran after the motorcade. Chants of "USA! USA!" "We want Trump! We want Trump!" and "Four more years! Four more years!" could be heard.
Trump was on his way to the Trump National Golf Club in Virginia, where about six supporters greeted him, along with around half a dozen protesters.
Several pro-Trump events were planned for Washington on Saturday, including the "Million MAGA March."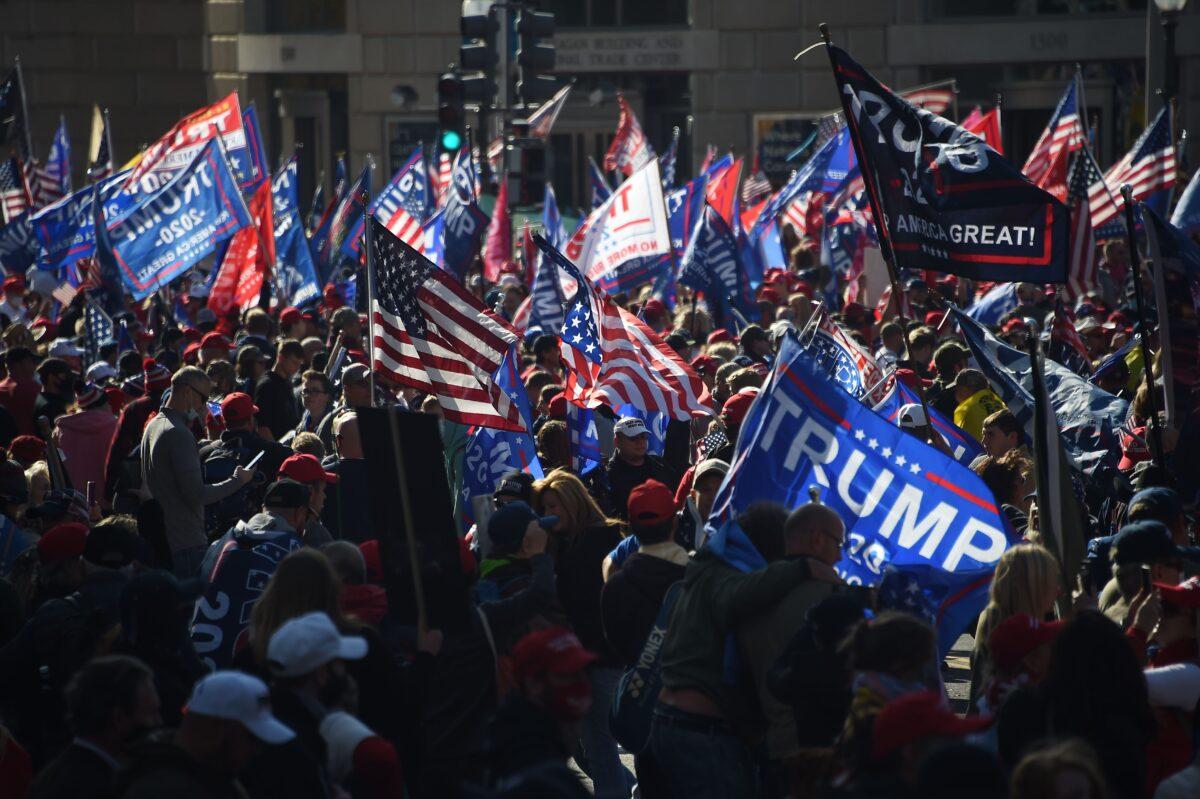 MAGA stands for "Make America Great Again," Trump's campaign slogan.
Reps. Mike Kelly (R-Pa.) and Louie Gohmert (R-Texas) were scheduled to speak at one of the events, as was Marjorie Taylor Greene, Congresswoman-elect in Georgia, according to the event's webpage.
March for Trump organizers said the event was for people to "rise up and have our voices heard."
Members of right-wing group Proud Boys and militias like the Oath Keepers were planning on attending the events, as are a raft of high-profile pro-Trump figures like activist Scott Presler and InfoWars host Alex Jones.
Members of the far-left Antifa network and other anti-Trump groups said they were going to confront the Trump supporters.
White House press secretary Kayleigh McEnany told Fox News this week that the turnout "is going to be quite large, from what I'm hearing."
Christopher Rodriguez, director of the Homeland Security and Emergency Management Agency, told reporters on Thursday that the agency is tracking about a dozen groups.
"They're very small. So I don't want anyone to think that we're talking about large numbers of folks. Very small groups of people from about a dozen groups will be in the District," he said.