White House press secretary Kayleigh McEnany stated that President Donald Trump's 2020 campaign "will have the same policies" that they've had in place for rallygoers, regardless of the president's diagnosis with the CCP virus.
"The campaign has always handed out masks, encouraged people to wear them, provided hand sanitizer," she said in an interview with Fox News on Oct. 12. "Ultimately, you have a right in this country to show up and express your political viewpoint. That's why we have peaceful protests. And you can't have one standard for the protesters out there on one side but not for those wanting to express their First Amendment rights in support of this president."
Trump is scheduled to hold a rally on the night of Oct. 12 in Sanford, Florida. On Oct. 11, the president told Fox News that he's "tested totally negative," and his doctors say he's been cleared of COVID-19 and is not contagious.
Former Vice President Joe Biden, in a statement on Oct. 12, criticized the president's move to hold a rally, which is set for 7 p.m. at the Orlando Sanford International Airport.
"President Trump comes to Sanford today bringing nothing but reckless behavior, divisive rhetoric, and fear-mongering," Biden said, then brought up allegations from Senate Democrats that Trump's nominee for the Supreme Court, Judge Amy Coney Barrett, is going to strike down provisions in the Affordable Care Act (ACA).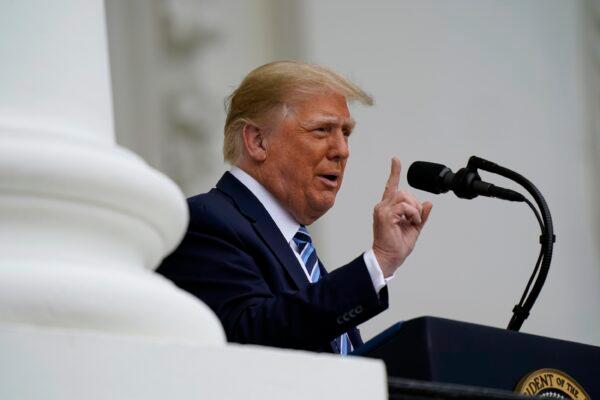 "Equally dangerous is what he fails to bring: no plan to get this virus that has taken the lives of over 15,000 Floridians under control, no plan to protect Floridians' health care amid his attacks against the ACA, and certainly no plan to mitigate the economic impact the pandemic is having on families across Central Florida," Biden alleged.
Trump was diagnosed with the virus several weeks ago and was receiving treatment at Walter Reed National Military Medical Center in Maryland before he was released. Over the weekend, the president held a "law and order" event at the White House, which was his first in-person event since he tested positive for COVID-19.
But White House doctors issued a statement on Oct. 11 confirming that Trump was "no longer considered a transmission risk to others," according to White House Dr. Sean Conley in a memo. He noted that Trump met the U.S. Centers for Disease Control and Prevention's (CDC) requirements.
The statement said that "there is no longer evidence of actively replicating virus" and "decreasing viral loads."
In a comment to Fox News on Sunday, Trump said that he is "in very good shape to fight the battles," suggesting that he is "immune" from the virus.
Trump, First Lady Melania Trump, GOP chairwoman Ronna McDaniel, several Republican senators, former New Jersey Gov. Chris Christie, McEnany, and others tested positive for the virus in recent days.