President Donald Trump's re-election campaign filed a lawsuit in Georgia on Wednesday seeking to separate out late-arriving ballots in the contested state.
The Trump campaign and the Georgia Republican Party filed the lawsuit against the Chatham County Board of Elections, asking a judge to order the county to secure and account for ballots received after 7 p.m. on Nov. 3, Election Day, according to a court document (
pdf
).
"President Trump and his team are fighting for the good of the nation to uphold the rule of law, and Georgia's law is very clear: to legally count, mail ballots must be received by 7:00 p.m. on Election Day," deputy campaign manager Justin Clark said in a statement.
"We will not allow Democrat election officials to steal this election from President Trump with late, illegal ballots," he added. "President Trump and the Georgia Republican Party have filed suit to require all Georgia counties to separate any and all late-arriving ballots from all legally cast ballots to ensure a free, fair election in which only legal, valid ballots count."
The petitioners wrote in the court document, "Failing to ensure that absentee ballots received after the deadline are stored in a manner to ensure that such ballots are not inadvertently or intentionally counted, as required under Georgia law, harms the interests of the Trump Campaign and President Trump because it could lead to the dilution of legal votes cast in support of President Trump."
They also wrote: "A significant degree of confusion may still exist regarding whether ballots received after 7:00 P.M. can be legally counted in Georgia—and they cannot."
The campaign said it had received information that late-arriving ballots in the county were improperly mingled with valid ballots.
The lawsuit includes an affidavit from a registered poll watcher who said that he saw 53 mail ballots that appeared to have arrived after the 7 p.m. Nov. 3 deadline being added to a group of ballots that arrived on time.
Trump currently holds a 0.7 percent lead in Georgia with 98 percent of the votes counted, according to data compiled by The Associated Press.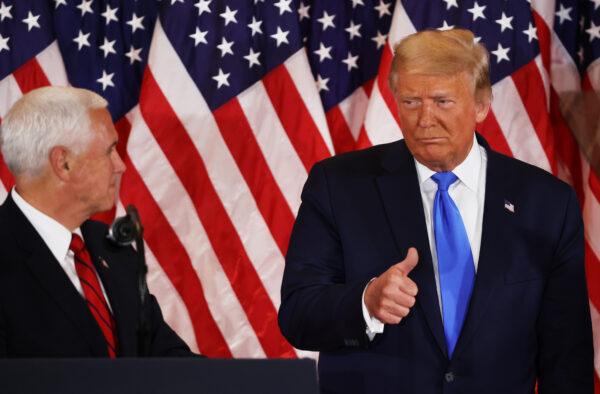 The Trump campaign has also
pursued lawsuits in Pennsylvania and Michigan
 earlier in the day. It has asked to intervene (
pdf
) in a pending U.S. Supreme Court case over whether Pennsylvania should be permitted to accept late-arriving ballots sent by Nov. 3. It also said it has filed lawsuits in Michigan (
pdf
) and Pennsylvania seeking to halt vote counting, arguing that officials had failed to allow fair access to counting sites.
The Associated Press called the race in Michigan and Wisconsin for Democrat Joe Biden on Wednesday, after which he predicted that he could triumph over Trump in the race for the White House.
"The Trump campaign is filing a number of meritless lawsuits around the country. Don't be deceived," Democratic Party lawyer Marc Elias said on Twitter. "They know they have lost and this is all they have left."
The Biden campaign did not immediately respond to a request from The Epoch Times for comment.
In addition to a pending recount in Wisconsin, five states were still counting votes as of 10:15 p.m. on Nov. 4.
Reuters contributed to this report.