Pennsylvania Senate President pro tempore Jake Corman on March 21 introduced a bill that would slash the state's gas tax—the nation's highest at 59 cents per gallon—by one-third, making Pennsylvania the 21st state with proposed legislation or pending executive actions attempting to offer consumers relief at the pump.
Senate Bill 10
, "The Consumer Gas Prices Relief Act," would trim between 19 and 20 cents a gallon in state sales taxes through Dec. 31.
"Higher gas prices are taking more money out of consumers' wallets at a time when families can least afford another financial burden," said Corman (R-Bellefonte), among GOP candidates seeking the party's nod to challenge Democrat Gov. Tom Wolf in November's gubernatorial election.
"We cannot change the circumstances that led to skyrocketing gas prices, including the invasion of Ukraine and the anti-energy policies of President [Joe] Biden and Governor Wolf," he continued, "but we can alleviate some of the stress on Pennsylvanians every time they fill up their gas tank."
After hitting a record average of $4.36 a gallon on March 15, the average price of gasoline nationwide had fallen to $4.23 on March 24, according to
AAA's Gas Prices Index
.
While the dramatic increases of the preceding six weeks have slackened, there is no expectation fuel costs will decline significantly in the coming weeks.
While lawmakers and governors in at least 20 states are pondering similar "gas tax holidays," thus far only three states—Maryland and Georgia from March 18 and Connecticut beginning April 1—have actually done so in a significant fashion with officials in some states reluctant to cut their gas sales taxes without a corresponding slash in the federal Motor Fuels Tax (MFT).
A federal bill, the
Gas Prices Relief Act of 2022.
was filed in the U.S. Senate by Sen. Mark Kelly (D-Arizona) on Feb. 9 before the Russian invasion of Ukraine. It has since gained five Democratic co-sponsors and
a House companion bill
filed Feb. 18 by Rep. Tom O'Halleran (D-Arizona), with 17 Democratic co-sponsors, but little support from Republicans.
The bills call for the suspension of the federal 18.4 cents per gallon MFT. Neither has been heard in committee yet.
Corman is among state lawmakers and governors calling on Congress to pass the bill. Combined with his proposed one-third slash in the state's gas tax, Pennsylvanians could see a 37-38 cent trim in the cost of a gallon of gas.
On March 8, six Democratic governors of Colorado, Michigan, Minnesota, New Mexico, Pennsylvania, and Wisconsin—all seeking reelection in 2022—in
a lette
r to congressional leaders urged quick adoption of the bills to "pause" the federal MFT for the rest of the year.
The bill would divert general fund money into the federal Highway Trust Fund to replace MFT revenues, which "translates into dollars back in consumers' pockets for groceries, child care, rent, and more," the governors wrote.
The Biden administration has avoided in-depth discussion of lifting the federal MFT and instead is urging greater oil production across the globe.
Pennsylvania joins 20 other states with proposed or pending measures addressing state gas taxes while Maryland and Georgia both temporarily suspended state gas taxes on March 18.
Maryland Republican Gov. Larry Hogan signed into law Senate Bill 1010, emergency legislation unanimously adopted that same day, to authorize a 30-day "gas tax holiday," saving consumers 36.1 cents a gallon on gasoline, or $5.42 for a 15-gallon "fill-up."
"This is, of course, not a cure-all, and market instability will continue to lead to fluctuations in prices," Hogan said in a statement. "But we will continue to use every tool at our disposal to provide relief for Marylanders."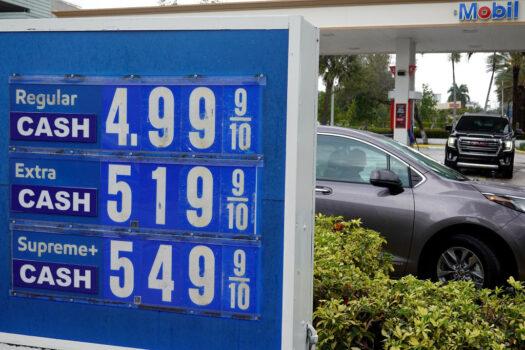 The month-long freeze could cost the state an estimated $100 million in revenues dedicated to road maintenance but Maryland plans to tap into a record budget surplus and federal pandemic assistance allocations to supplement its transportation programs.
The same day, March 18, Georgia Republican Gov. Brian Kemp signed
House Bill 304
, passed March 11 in the House and the day before by the Senate.
The bill eliminates Georgia's 29 cents per gallon sales tax on gas through May 31 and would save Georgians about $4.37 for every 15-gallon "fill-up."
Like Maryland, Georgia plans to cover an estimated $300 million in uncollected sales tax revenues with surplus state funds.
In Pennsylvania, Corman's bill would tap into federal pandemic relief money for state police funding—which the state gas tax helps pay for—and borrow about $650 million in a bond issue to sustain funding for planned road projects.
What other states are doing:
California: After efforts to suspend the state's 51 cent gas tax failed, the Democrat-controlled California State Assembly on March 17 announced a $9 billion plan to give every resident a $400 gas-tax "rebate." The proposal would be funded by the state's current budget surplus.
The average price for a gallon has reached $5.88 in California on March 23, according to AAA, the highest in the country.
Gov. Gavin Newsom proposed his own $11 billion version of the plan that would include issuing $400 debit cards per vehicle and offering another $400 in various rebates to encourage public transit systems to offer free rides.
"That direct relief will address the issue that we all are struggling to address and that is the issue of gas prices," Newsom said in a Twitter video.
Michigan: Democratic Gov. Gretchen Whitmer wants to suspend the 6 percent gas sales tax while the Republican-controlled legislature wants the entire 27.2 cent gas tax placed "on holiday."
Earlier this month, lawmakers approved a bill suspending the state's 27.2 cent MFT for six months. However, because chamber passages failed to secure two-thirds majorities, the freeze won't happen until 2023, and Whitmer said she'd veto it.
Illinois: Democratic Gov. J.B. Pritzker has proposed freezing the state's gasoline tax at 39.2 cents per gallon and delaying a planned July hike. Lawmakers are pondering a bill that would cap the state's 39.2 cent gas tax at 18 cents per gallon.
Florida: Republican Gov. Ron DeSantis has proposed a five-month pause on the state's 26.5 cent gas tax gas but would need to do so through executive action or call lawmakers back to Tallahassee.
The $110 billion budget passed by lawmakers this week includes a one-month fuel tax holiday in October.
Oregon: The first state to levy a gas sales tax, there is deliberation but no concrete proposal yet to slash or suspend the state's 38 cent gas sales tax.
Alabama: State lawmakers are pondering a May 1 to Sept. 1 gas tax holiday if the average monthly price of gas for any month during the four-month span stays above the average January 2022 price.
Alaska: On March 11, Republican Gov. Mike Dunleavy asked state legislators to suspend the state's 8 cent gas sales tax—the nation's lowest—until the end of June 2023. The Senate unanimously passed a non-binding resolution in support but the House has yet to do so.
Colorado: Democratic Gov. Jared Polis, among state chief executives lobbying Congress for action, has also called on Colorado lawmakers to delay implementing a 2-cent gas tax for infrastructure that goes into effect in July.
Connecticut: The state legislature has adopted Democratic Gov. Ned Lamont's proposal suspending the state's 25 cent gas tax between April 1 and June 30.
Idaho: State lawmakers are pondering bills that would trim the state's 32 cent MFT for up to two years.
Maine: A bill has been introduced to suspend the state's 30 cent MFT through the end of the calendar year.
Earlier this month, former Republican Gov. Paul LePage called on Democratic Gov. Janet Mills—who he will likely oppose in November's gubernatorial election–to slash the starters MFT by at least 50 per cent for six months.
Minnesota: Six Democratic-Farmer-Labor Party (DFL) lawmakers have filed a proposed bill that would suspend the state's 28.5 cent MFT from Memorial Day to Labor Day.
In tandem with a federal cut, the bill would trim gallon prices by 47 cents. The $70 million a month in revenue the state would not collect could be replaced by transfers from Minnesota's $9.25 billion budget surplus.
New Jersey: Some state legislators say allowing motorists to pump their own fuel, outlawed in New Jersey for 73 years, will reduce costs at the pump and others have introduced bills that would provide $250 to $500 tax rebates for residents. Lawmakers are expected to move on some type of relief before summer.
Minnesota: Democratic Gov. Tim Walz, one of the six governors calling for Congressional action, said he would support a proposed bill to suspend gas tax between Memorial Day and Labor Day.
Mississippi: Republican  Lt. Gov. Delbert Hosemann, who serves as Senate President, is working with chamber leaders to suspend the state's 18.4 cents per gallon sales tax. The proposal has been added to a larger tax bill being pondered by lawmakers.
Ohio: Senate Bill 277 would lower Ohio's 38.5 cent MFT to 28 cents per gallon for five years. Republican Gov. Mike DeWine is not on board with the proposal.
Missouri:
House Bill 2801
, filed March 10 by Rep. Adam Schwadron (R-St. Charles), proposes a six-month "gas sales tax holiday" while
HB 1594
, filed by Rep. Sara Walsh (R-Ashland), seeks to repeal the 2021 bill that is raising the state's 17-cents per gallon gas levy—the nation's second-lowest—for the first time since 1996 by 2.5 cents a year until it reached 29.5-cents a gallon in 2025.
New Hampshire: Republican Gov. Chris Sununu has stated he supports a temporary "gas tax holiday." State lawmakers are pondering measures that would suspend the gas tax for three months this summer.
New York: Lawmakers are considering several measures, including one that would cap the state's gas tax at 25 cents per gallon gas tax—New York charges a 17.3-cent charge per gallon petroleum business tax and 8-cent MFT—at 8 cents. Others call for suspending the tax for specific three or six-month spans. Another proposal would cap the state gas tax at 25 cents per gallon.
Rhode Island: Lawmakers are reviewing a proposal to suspend the state's gas tax for the rest of the year.
Virginia: Republican Gov. Glenn Youngkin has proposed a May-July "gas tax holiday" and wants to phase in a restoration of the state's full gas sales tax between August and September. Lawmakers are negotiating a proposal that would suspend a recent gas-tax hike for one year.
West Virginia: Democratic lawmakers want Republican Gov. Jim Justice to call a special session to adopt a gas tax holiday.
On March 17, Justice
in a statement said
: "I would absolutely love to suspend this tax and provide at least a little bit of relief for hard-working West Virginians who are paying the price for rampant inflation and soaring energy costs. However, I cannot legally suspend this tax, only our legislature can."
Justice said the legislature has just adjourned its 2022 session and he will not call them back to Charleston.
"I think it is despicable that these Democrat politicians—whose mothership in Washington DC has gotten us into this mess, placing us on the brink of World War III—are now rushing to climb onto the biggest soapbox they can find to flap their arms around and say, 'Look what I'm doing to help you.'
"This is the same political party that has thrown dirt on our fossil fuels at every turn. And now, suddenly, they're concerned about the financial strain rapidly increasing energy costs are having on our families? They must be nervous about gas prices being so high during a midterm election year."