Following the recent resumption of manufacturing production in Shanghai, factories were faced with another wave of surging numbers of workers testing positive for Covid.
Worker protests broke out in factories of two popular Taiwan-based technology companies in Shanghai, Quanta Computer and Pegatron.
Shanghai's Tech company workers are seen breaking through gate barriers in defiance of the factories' lockdown policy  in some online
videos
.
Workers Break Through Isolation Barriers
Quanta Computer was one of the 666 companies on the white list of Shanghai that resumed production on April 20. The company, also known as Tech-Front (Shanghai) Computer, has eight factories and around 40,000 workers in the city.
A Quanta worker, Hu Xinming, told the Chinese edition of The Epoch Times on May 6 that at least 10,000 workers have tested positive for COVID-19.
He explained that workers who were finished working for the day were stopped at the exit barriers on the evening of May 5.
The dorms were said to be closed because so many more people had tested positive. The online videos showed that workers broke through the barriers. Shortly after posting, the videos were no longer accessible.
Another worker said, "The factory announced in the afternoon that the residents' hall would be closed. That's why people demonstrated against it."
Tian Xu, also a worker at Quanta, said that dorms were rumored to be closed, everyone panicked and rushed to the supermarkets. "It's been locked down for more than a month. Nearly 40,000 people were faced with a serious life and death situation," said Tian.
Hu Xinming explained that it's very difficult for the line workers. "In a production line of 200 workers, at least 100 people were infected," he said. The supermarkets were quickly emptied because no one wanted to risk not having enough food.
He said the factory kept running, and dorms were also open in order to meet the customers' orders even as he was interviewed.
Tens of Thousands of Workers Trapped Inside Dorm Area
Pegatron, an iPhone assembly company, is another tech company that resumed production. In the Kangqiao Industrial Zone, Pudong New Area, the company has more than 70,000 workers.

In mid-April, a Pegatron employee disclosed to the Chinese edition of The Epoch Times that there was a serious outbreak of COVID-19 in March, with tens of thousands of employees infected and a large number of employees  quarantined.

Pegatron closed the factory on

April 12

.

As Shanghai factories reopened, those who had been quarantined were sent back to the dorms and the company demanded those who were locked inside the dorms for the past month had to move out.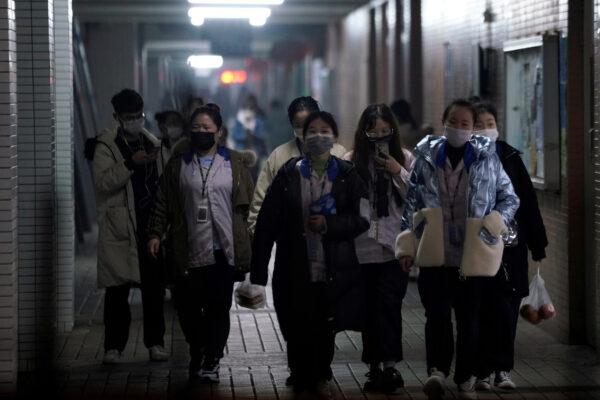 Consequently, protests broke out; workers in the dorms said that they would keep the doors locked for as long as they could.
Gong Meijuan, is a Pegatron worker who is currently living in the dorm. She said the company insisted that those who came back from the quarantine site should stay in the same dorm as those who had tested negative.
She said, "We are at the point of collapse. The company ignored our risk of getting infected after keeping us isolated in the dorms for more than a month."
In the past month, workers who tested negative were isolated inside the dorms, and groceries in the dorm area were at least five times more expensive than those sold outside.
Most workers are burdened with mortgages and car loans, Gong said, "Now there's additional fees for staying in the isolation dorm; the super expensive groceries are driving everyone crazy. We can't afford it. Someone already committed suicide in unit nine."
She said people are planning to keep their doors locked and fight to the end, "We want to go home. For the past month, we have tested negative. Why are they keeping us here? Our lives are at risk."
Lu Wen is a worker who is also staying in the dorm. He said, "We won't leave the dorm; many of those quarantined were back on the production line. Only those who tested positive and quarantined are back to work. We tested negative and were isolated in the dorm."
He said the majority of workers would just like to leave, even without any compensation, "Just let us leave."
Gong said that most of them just want to get out of Shanghai, "We have exhausted everything, We have nothing left."
The Chinese edition of The Epoch Times has tried to phone both Quanta Computer and Pegatron, but the calls did not go through.
Interviewees have been given pseudonyms to prevent reprisal from the regime.
Gu Qinger, Hong Ning, and Gu Xiaohua contributed to this report.