PUNTA GORDA, Fla.—It's been 18 years since the area of Charlotte Harbor has seen a major hurricane but another one is about to make its presence known and residents are either getting out or hunkering down preparing for the worst.
Lisa Mottler, an avid horsewoman and Punta Gorda business owner, said she and her husband are staying put even though Gov. Ron DeSantis has asked those in the direct path of Hurricane Ian and potential major flood zones to evacuate.
"There is no place for us to take horses," she said of her beloved animals. "And we are going to have to ride it out. We don't have a choice. We have too much invested to walk out and leave."
Mottler and her husband Carl said they are securing everything that can possibly become a projectile—such as lawn furniture and potted plants.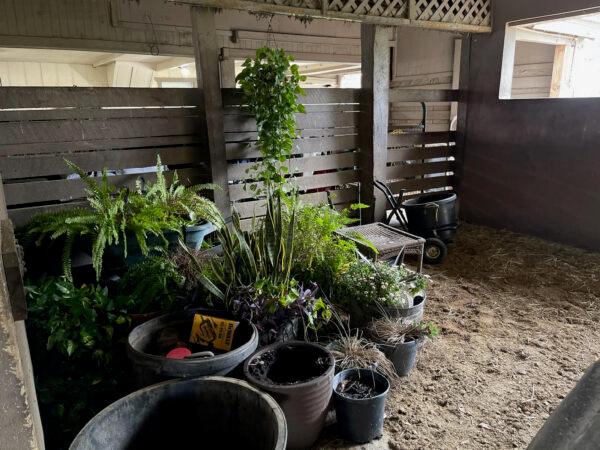 "I'm putting everything in one [horse] stall where it can't go anywhere; it will literally have to lift up and fly out the window to do that," she said. "It may not be the best, but at least they'll get a little bit of a windbreak."
The Mottler's have purchased tarps in case they lose shingles on their roof and made sure they "have the basics."
Mottler is also a nurse practitioner and can help if anyone is injured, she said.
"I have bandages, aspirin, and basic medical supplies," she said. "We have also stored water in anything and everything that can hold water."
Mottler said Hurricane Ian "just feels different from Hurricane Charley."
"This one will pack a lot of water with it, Charley was a lot of wind."
Before a storm hits it is customary for utilities like water and power to be cut in order to prevent further damage to infrastructure, so Florida residents are storing water and buying bottled water.
Sarasota County announced during a press briefing on Sept. 27 that its water plant would be turning off on the evening of Sept. 28—before the storm is scheduled to make landfall.
Hurricane Ian became a Category 3 storm early on Sept. 27, according to Gov. Ron DeSantis's office.
Staff said the hurricane had continued to intensify rapidly as it emerged over the southeastern Gulf of Mexico and should pass west of the Florida Keys on the afternoon of Sept. 28 and approach the West Coast of the state.
DeSantis has continued to warn Florida residents of the danger of the storm and has held multiple press conferences with live updates of the track of the storm. He has also mobilized state agencies for immediate response before, during and after the storm.
"The most important thing with the evacuation is just get to the higher ground," DeSantis warned Floridians at a press briefing on Sept. 27.
"Get to a safe structure—it doesn't mean you have to be in a place where there's no storm or you're not going to face anything—because in Florida we have structures that can deal with these hurricanes.
"It's hard to deal with 10 feet of water and that's really what is underlying the evacuation notices."
DeSantis estimated there are 2.5 million people currently under "some kind of evacuation order."
For Ross and Rita Davis, Hurricane Ian is their first experience with a major storm since moving to Punta Gorda a few months ago from Portland, Oregon, with their 85-pound tortoise, Bump.
This is Bump's first major weather event as well.
They live in a red zone and have been asked to evacuate, but they are choosing to ride out the storm because of their unusual pet and the fact most of their neighbors are staying as well.
"We are taking all of the precautions that we can like boarding up our windows," Davis said while securing plywood to his windows.
"We do not know what to expect and could evacuate but we do not know what we'd do with Bump, he's not an ordinary pet."
Driving around the Charlotte County area, you would not think there was a storm headed their way as businesses of all kinds continue to stay open, even restaurants.
The Moose Lodge in Punta Gorda is remaining open with food and drink but will also serve as a shelter for those who "feel they need a safe space to stay," manager Kim Small told The Epoch Times.
"Right now, I'm in need of a bartender," she laughed. "My night-time bartender called and said he's not coming in."