South Carolina Gov. Henry McMaster signed an executive order declaring a state of emergency ahead of Hurricane Irma.
Irma, a Category 5 hurricane, is currently bearing down on Puerto Rico and the U.S. Virgin Islands. The National Hurricane Center (NHC) predicted it will hit Florida and possibly other parts of the southeastern United States.
The NHC said that it could make landfall between Florida and South Carolina.
"The state of emergency allows one of the best, most experienced emergency response teams in the entire world to begin organizing response efforts," McMaster said, while urging people to prepare for a possible landfall.
"South Carolina is fortunate to have time to allow us to prepare for Hurricane Irma's potential landfall, and it is important that families and individuals in vulnerable areas use that time to review safety plans in case they are needed," he said in a statement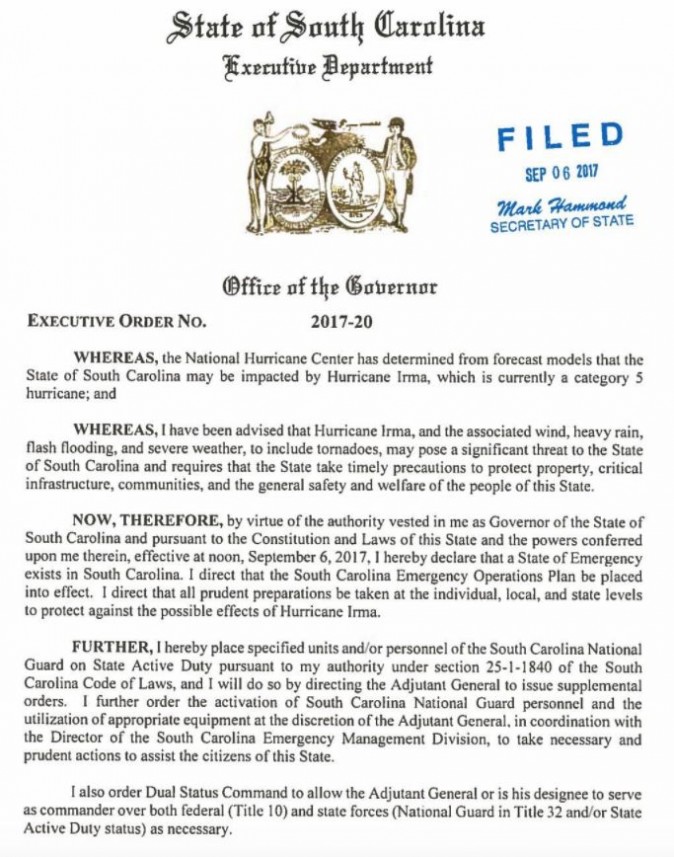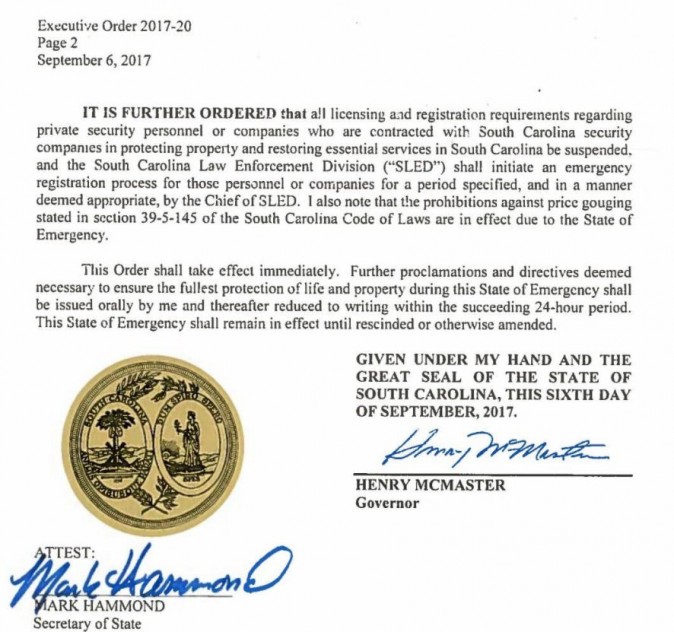 There are no evacuation orders in South Carolina as of now, WLTX reported.
The state's emergency management director, Kim Stenson, told WLTX: "It's too soon to rule out any possibilities."
"Hurricane Irma is a dangerous storm and its projected path could put South Carolina in harm's way. Fortunately, people in South Carolina have time. While we hope we never see a hurricane head our way, we all need to prepare for the possible effects," Stenson added.
As noted by Fox Carolina, the South Carolina Emergency Management Division has recommendations for locals:
Have a hurricane plan and ensure everyone in the household knows the plan.
Know your evacuation route.
Have an emergency supplies kit prepared, to include at least: three days' drinking water (two quarts per person per day); nonperishable food; flashlight with extra batteries; portable battery-operated radio; first-aid kit; nonelectric can opener; essential medicines; cash and credit cards.
Make arrangements for pets. Pets are not allowed in official shelters.
Protect your home by covering windows with permanent shutters, plywood panels, or other shielding materials. Bring in lawn furniture and other loose objects, such as garbage cans, that may become a hazard during high winds.
Install straps or additional clips to securely fasten your roof to the frame structure. This will reduce roof damage.
Be sure trees and shrubs around your home are well-trimmed.
Clear loose and clogged rain gutters and downspouts.
Determine how and where to secure your boat.
Fuel up and service family vehicles.