TIJUANA, Mexico—It was a brisk morning of 55 degrees in Costa Mesa, California, as Ashley Austin finished loading supplies for a Mexican foster home in her trunk. She's part of a group of donors and volunteers in Orange County who are lifelines for the destitute Casas De Dios children's home in Tijuana.
Although headlines talk of rampant CCP virus spread in Mexico, not to mention complicated border crossings, Austin was undeterred on Dec. 19. She was Santa to these kids, with wrapped Christmas presents in hand along with the necessities.
Casas De Dios "has quickly become a special place to me where I can build relationships and visit at least four times a year," Austin told The Epoch Times
Austin and her friend Kelly Katibian of Mission Viejo got on the road, and despite worries of difficulties at the border, it took only minutes to cross into Tijuana at San Ysidro.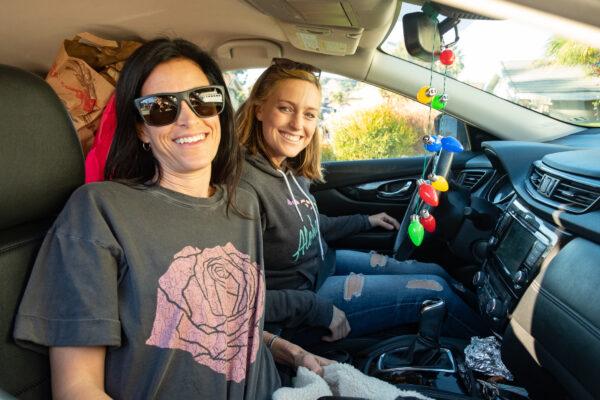 The streets of Tijuana are usually filled with American tourists, but not this year. The once-bustling streets were relatively empty aside from native Mexicans, as well as Haitian migrants, wearing masks and continuing their daily work.
About half an hour after crossing the border, Austin pulled up to Casas De Dios. Logan Muchow, 32, of Trabuco Canyon, California, greeted her dressed as an elf.
He's living at the foster home as a volunteer. In his elf costume, he was a source of amusement for the children and the adults alike.
"We are so glad you guys are here," Muchow told Austin and Katibian. "I can't wait to see the look on the kids faces."
As Logan helped the women carry supplies up a narrow rampway, Guadalupe Gomez, one of the home's directors, was working busily in the dark kitchen preparing rice and beans for lunch.
She is 50 years old, and has been working with foster kids in Tijuana for 20 years, along with her husband, Pedro Zapata. They are known at the home as Ma Lupita and Papa Pedro.
Her forehead was beaded with sweat from her hard work in the kitchen, but she always kept a warm smile close to her lips.
Having food to cook is considered a blessing in Casas De Dios.
Muchow later told The Epoch Times, "Food scarcity is ... a really big deal. Sometimes there is nothing in the kitchen for the kids and staff to eat despite the efforts of Ma Lupita and Papa Pedro."
Gomez was happy to see supplies arrive from California.
Aside from food, the home struggles to provide healthcare for the children—of particular concern during the pandemic—and house repairs are badly needed with the roof leaking and windows missing.
"After the darkness of the pandemic here, it brings us such happiness for your help," Gomez said to Austin and Katibian, who were surrounded by happy children.
"The house is warmer because of the blessings through Ashley and her friends," Gomez said.
Her husband helps direct Casas De Dios, but has also worked part-time selling used furniture to generate income for the home. However, after developing a serious heart condition, he required a pacemaker and is now unable to resume the manual labor of selling the furniture.
"He has had some big scares, so that's a big deal," Muchow said of Zapatas. "He can no longer receive his regular checkups [from a doctor]. … Along with that there is no doctor for the kids right now."
The foster home is now entirely dependent on support from donors, many of whom reside in Orange County and are connected with Austin and Muchow.
Muchow recently created a
Facebook page
in hopes of generating donations for the children.
"It's going towards food for the house, flooring, windows, and renovations," Muchow said.
"We will make guest rooms out of the renovations that volunteers and traveling people (women only) can rent out, and provide sustainable income for the house," he said.
Renovations for the home could also include a children's play yard. It's unsafe for them to play in front of the home. There has been a rise in kidnapping cases locally and some have happened just outside the door to the home.
Muchow said the children living at the home range in age from 4–20.
"Some of the kids are abandoned by their parents and some kids were brought here by their parents because they can no longer take care of them," Muchow said.
The home currently cares for eight children, including Gomez and Zapatas's own son, Danny, who is in a wheelchair.
Isbet Ramos, 33, visits once a year from Puebla and stays for weeks at a time to help his parents-in-law at the home. He told The Epoch Times about one of the older children at Casas De Dios, Eduardo.
"Eduardo came to the door begging for bread at the foster home one day when he was around 4 years old," Ramos said.
"Like many of the children here, the parents were poor and involved with drugs, and could not afford to feed their kids. Now at age 17, he is helping out with the younger kids, and even going to school.
"He now gets to grow up like a regular kid, not constantly facing the rejection that comes with neglectful parents. He has a future ahead of him."
Eduardo was nearby helping the younger children build gingerbread houses Austin had brought.
"Being at the home does not guarantee their success in life; but their actions do," Ramos said.
Austin told the story of another child at the home who is a recent arrival. "When I first met 2-year-old Jorge last Christmas, he was emotionally unstable," Austin said. "His father was unable to care for him and would drive him for hours on his taxi drives.
"Lupita and Pedro took him in, and over this last year I have watched him transform. He is so happy and much more relaxed, and he now calls Lupita and Pedro his mama and papa. It's easy to see Ma Lupita and Papa Pedro have provided a home where they feel loved and safe."
As Casas De Dios pushes forward while surrounded by poverty, a violent drug war, and CCP (Chinese Communist Party) virus complications, the heads of the home say faith sustains them.
"It's all through faith," Gomez said. "God is working because … if that wasn't the case, then we wouldn't be here right now."
For more information on the efforts of Casas De Dios Children's Home, visit their new Facebook page at: https://www.Facebook.com/Casas-De-Dios-Childrens-Home-101420555213208/