Shanghai residents are continuing to experience on and off lockdowns due to new outbreaks of COVID-19.
In areas of the city under partial lockdown, people have been under restrictions but officials have provided little in the way of information to the public, residents say.
When
35
areas in the city had restrictions lifted on July 18, lockdowns were announced for another seven areas on the same day, after 14 areas were added to the list of lockdowns on July 17.
Local residents told the Chinese language edition of The Epoch Times that mass PCR testing is currently still mandatory, but soon it will come with a fee.
On-and-Off Lockdowns
Mr. Zheng is a resident of Songjiang District, one of the areas recently added to the Shanghai lockdown. He said local policy mandates that mass PCR testing is done on weekends.

Community officials had been announcing tests via a loudspeaker in the morning when he spoke with The Epoch Times on July 17, but Zheng indicated he wouldn't take the test as he had no plan of leaving his apartment on the weekends.

According to Zheng, these lockdowns have been on a small scale, unlike what the city of 26 million endured for three months earlier in the year.

A week ago, his community was partially locked down because a close contact was identified in the area. But two days later, the restriction was lifted because PCR tests found no positive cases.

Zheng said he does not believe officials would dare to jump into another drastic city-wide lockdown because the economic impact of such measures has been severe.

But, the fear of even small-scale lockdown was still widely discussed among his friend's circle on the Chinese social platform, WeChat, he said.
Church Activities Closed
Mr. Chen is a local churchgoer of the Hongkou District, which was also added to the list of areas under restrictions.

Chen said church activities have been closed again and the local community committee informed residents to stock up on 14-day supplies of food and medicine.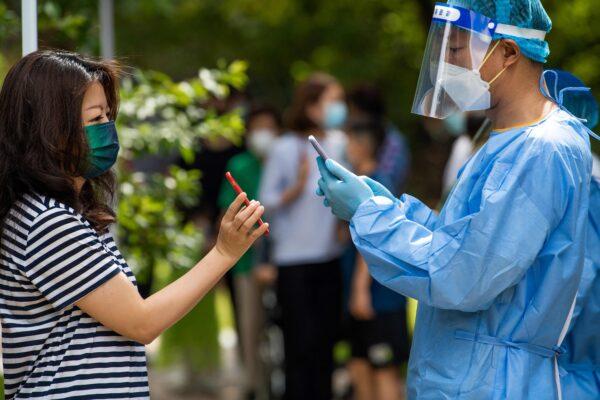 "There's no end to the Omicron variants," he said. "It's gone today, but will appear two days later. Shanghai will always be on and off with these lockdown measures."
Chen said he was more concerned about how the PCR tests are to be conducted at the residents' own expense starting in August.
"The government should be responsible for the severity of the pandemic. Their negligence has caused the spread of the virus," he said.
According to a Shanghai pandemic control center notice on
June 11
, free PCR tests will carry on until July 31 as part of the required one test per week at least for local residents. Starting on Aug. 1, the PCR test will no longer be free. There is no information yet on what the charges will amount to.
Luo Ya contributed to this report.