Shanghai's draconian lockdown has caused chaos, humanitarian disasters, and mounting public outrage. Some Shanghai residents say the collateral damage from the authorities' frantic "Zero-COVID" approach is much worse than the effects of the virus itself.
After 9 p.m. on April 16, Shanghai's Pudong government released an online statement addressed to the district's residents that said the virus outbreak remains severe and complicated.
"Daily confirmed new cases exceeded 10,000 for four consecutive days," the letter said. It claimed that strict lockdown to achieve "Zero-COVID" is a scientific decision, and called on residents to adhere to "whole-region static management."
"If we ever give up, all previous efforts and sacrifices will be in vain, and the price to be paid in the future will be even greater," it said.
The statement was made while the Pudong district had been under lockdown for 20 days, with some neighborhoods being under so-called closed management measures for over a month.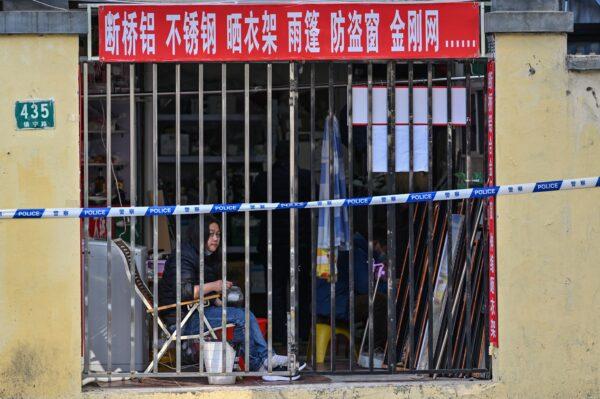 Shanghai resident Zhao Xin (pseudonym) told The Epoch Times that she believes that the official letter to Pudong residents also served as a public notice to all Shanghai residents.
"The core of what is going on is dynamic zero-COVID. When [Chinese vice premier] Sun Chunlan came to Shanghai, she insisted on zero-COVID, despite her seeing all the chaos and disasters in Shanghai," Zhao said.
"I just don't believe that they can achieve zero-COVID. By the time there are outbreaks everywhere in China, can the Chinese government still achieve it?" Zhao asked.
The latest COVID outbreak—driven by the Omicron variant—hit Shanghai in early March which resulted in the authorities announcing a city-wide lockdown on March 28.
Residents in restricted areas have had to undergo numerous rounds of PCR tests, and communities under closed management have had their gates locked. By April 11, the day after Chinese vice premier Sun's visit to Shanghai, residents of 7,624 sealed-off communities were forced to stay at home.
Zhao complained that the Chinese Communist Party (CCP) officials are making a fortune from Shanghai citizens' suffering.
"We were required to go downstairs for nucleic acid testing every two days. They can make a lot of money from these tests," Zhao said.
She mentioned that the test requirements are becoming nonsensical.
"The authorities have all kinds of weird arrangements. We are asked to do double testing tomorrow. Such a crazy move ...We must do a self-test at 8 a.m., and then go downstairs to do a group test two hours later," Zhao said. "It is certainly pointless. But we still have to follow this nonsense arrangement to avoid trouble."
She was also angry about how the Pudong government letter claimed that the pandemic control measures are based on the principle of "people first, life first."
From day one of the lockdown, critically ill patients are struggling to receive urgent medical care.
Zhao said a neighbor had a heart attack around midnight on April 15. When he called the emergency number, he was told that they could not dispatch an ambulance and he should go find a hospital by himself. The neighbor kept asking others, "What should I do? What should I do?"
"I am really speechless that Shanghai has come to this point," Zhao said.
'Lying Flat'
Soaring prices are also a big concern for those in lockdown. According to Zhao, green leaf vegetables used to cost 3 yuan (about 47 cents) a pound, but now the cheapest available is priced at 15 yuan (about $2.35) a pound.

"Shanghai is under price regulation, and it is not an absolutely free-market economy. Its suppliers and the upstream of the supply chain must be controllable," she said.

"It is very likely that they (CCP authorities) are making money themselves by taking advantage of the current chaotic situation."
A Shanghai restaurant owner told The Epoch Times that current prices in the city are about five to 10 times higher than usual.
"First, there are no droughts or floods. Second, there is no swine fever or bird flu. Third, supply and demand have not changed. So why did prices surge like this?" he questioned.
Zhao said that Shanghai people's patience has reached its limit.
"We Chinese emphasize moderation and avoid extreme measures. If you continue the lockdown like this, will everyone fight against this government? Didn't the CCP know that civilians have a limit when enduring these problems?
"Now everyone knows that community staff members, those involved in logistics and other aspects, have all chosen to 'lie flat'. We all know that the CCP is just messing around, but we don't really understand what it is for," she said.
"Lying flat" is a new Chinese term that refers to a lazy and doing-nothing approach.
Analysts: Shanghai Officials Deliberately Embarrass Xi Jinping
Dong Liwen, chief executive of Taiwan's Asia-Pacific Peace Research Foundation, said at a national-level political conference on April 16 that the Shanghai lockdown has caused public grievances.

Dong said it is quite possible that local officials are deliberately trying to embarrass Xi Jinping as the zero-COVID policy was personally issued by Xi. He said that local officials have deliberately implemented extreme measures, making the lives extremely difficult for Shanghai residents, in the name of following Xi's directives.

"It is just like what happened last year when Xi Jinping ordered to reduce carbon emission, the end result was it was implemented to the point of power shortage in various regions. These local governments are deliberately embarrassing Xi," he said.

Current affairs commentator Zhou Xiaohui shared similar views in an early-April article.

Shanghai officials were likely unhappy with the zero-COVID policy from the central authorities, and they either resisted it or resorted to slacking off in their actions, he said. They all know that there is infighting between Xi Jinping and a faction aligned with past CCP leader Jiang Zemin.

They chose to do nothing so to make the central authorities the target of public anger. There are also grassroots officials who take the opportunity to make money for themselves, he said.