Shanghai Disney Resort has been shut down from March 21 due to a new surge in coronavirus cases while harsh restrictions in the city have drawn protests online.
In a notice, the resort said it would refund or exchange tickets for all guests impacted by the closure. Guests may choose to revisit the park on any other day within the next six months of the ticket validity date after Disney reopens.
Meanwhile, the Shanghai health commission on March 21 reported 758 new COVID-19 cases, including 734 asymptomatic infections, for March 20—the biggest one-day increase in the city.
As cases surge, the local authorities have again resorted to frequent mass PCR tests and harsh curbs on people's movement, with a growing number of areas designated as medium- and high-risk regions. However, protests from Chinese have been flooding into social media, including reports of difficulty shopping for vegetables, among other hardships.
A resident surnamed Chen, who lives in Beicai Town of the Pudong New Area, told The Epoch Times that his area has been under stay-at-home orders for nearly a week.
"Currently, you have to scramble to buy vegetables successfully on major e-commerce platforms," Chen said. "They'll be no more to buy within a second of being listed." In addition to a lack of supplies, delivery has been another challenge facing China's online shoppers, according to Chen.
Other complaints have been about sick senior citizens who have not been allowed to leave their community to go to hospitals for medical treatment without results from their PCR test. Ambulances have also been prohibited from entering the communities.
The current situation in Shanghai has stirred some panic among citizens over concerns about food supplies and the length of the lockdown. Despite call for help to his town government and its help hotline, Chen has received no material support and has been asked to "please be patient." He has had to mobilize his personal connections to avoid going hungry.
"One cabbage sells at 50 yuan ($7.5) in our local shop," said another resident surnamed Li who lives in Huacao Town of Minhang District. "A handful of garlic sprouts is worth 30 yuan ($4.5)."
Although Li has been able to buy vegetables at the entrance of her community, she said the waiting line had seemed endless; and every customer is not allowed to buy more than three vegetables.
Panic buying online usually kicks off at midnight, Li said. All her attempts to purchase any goods have failed. When she complained to her neighborhood committee, a staffer gave her a frosty reply: "Your unsuccessful attempts have nothing to do with me."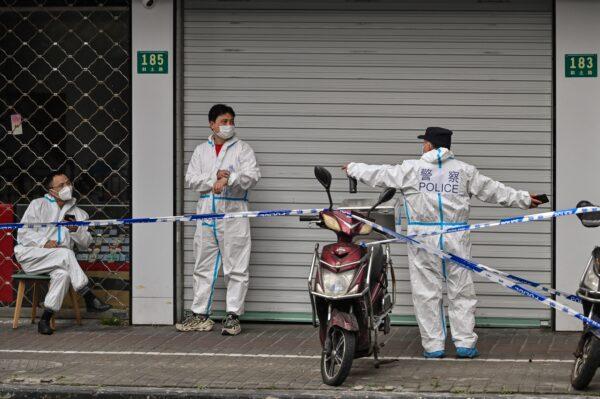 According to Li, the government initially told them it would be a 48-hour lockdown. However after four days, there has been no sign of the restrictions lifting.
"Nobody cares about you," Li said of the situation in China. "You may die either from poverty or from hunger. I do think Shanghai's response this time is really a disappointment, without our basic needs in mind."
An internet user who calls himself "Wilde and The Happy Prince" described the endless quarantine as "disastrous" for the Chinese people.
"It's a hard truth," the netizen wrote, "that safeguarding living essentials (necessities, vegetable supplies, and medical care) and emergency response (mostly unavailable) are so contemptible in Shanghai, an international metropolis and China's financial hub."