Sen. Lindsey Graham (R-S.C.) on Tuesday said he was briefed about Georgia's mail-in ballot signature verification, saying officials have the ability to conduct a signature audit, as was requested by President Donald Trump and other prominent Republicans.
"I have just been briefed about the signature verification system in Georgia regarding 2020 mail-in ballots. From what I've been told, sounds like they now have a credible process in place to do a signature audit," he
wrote
, without elaborating. "Look forward to hearing the results!"
It's not clear if Graham, the head of the Senate Judiciary Committee, was referring to a signature audit of the ballots cast during the Nov. 3 presidential election—or an audit for future elections, including the Senate runoff election in Georgia. It's also unclear about what agency or officials had briefed Graham.
Over the past month or so, President Donald Trump
has pushed
Georgia Gov. Brian Kemp and Georgia Secretary of State Brad Raffensberger to conduct a "signature verification" during an election audit. Trump on Dec. 5 wrote he would "easily" and "quickly" win Georgia if Kemp or Raffensberger "permit[ted] a simple signature verification" and asked them to perform the audit.
A lawyer for Trump, Ray Smith,
wrote
 in a Dec. 1 letter to Raffensberger that an "immediate audit" of tens of thousands of signatures is needed.
"The Trump Campaign estimates that between 38,250 and 45,626 illegal votes from the absentee ballots alone were cast in the state of Georgia—far beyond the Biden-Harris ticket's current margin of 12,670 votes," according to a news release from Trump's team.
Raffensberger has frequently denied claims of irregularities and fraud levied by Trump and his team since the Nov. 3 contest.
"There are those who are exploiting the emotions of many Trump supporters with fantastic claims, half-truths, misinformation, and frankly, they are misleading the President as well, apparently," he said several weeks ago, adding that a post-election audit showed a fair election.
But earlier, Raffensberger told news outlets that the state doesn't have the means to match a signature from the outside ballot envelope with the ballot itself. That process, he said, was created to protect voters' identities, although Trump and other Republicans have said the move invites fraud and errors.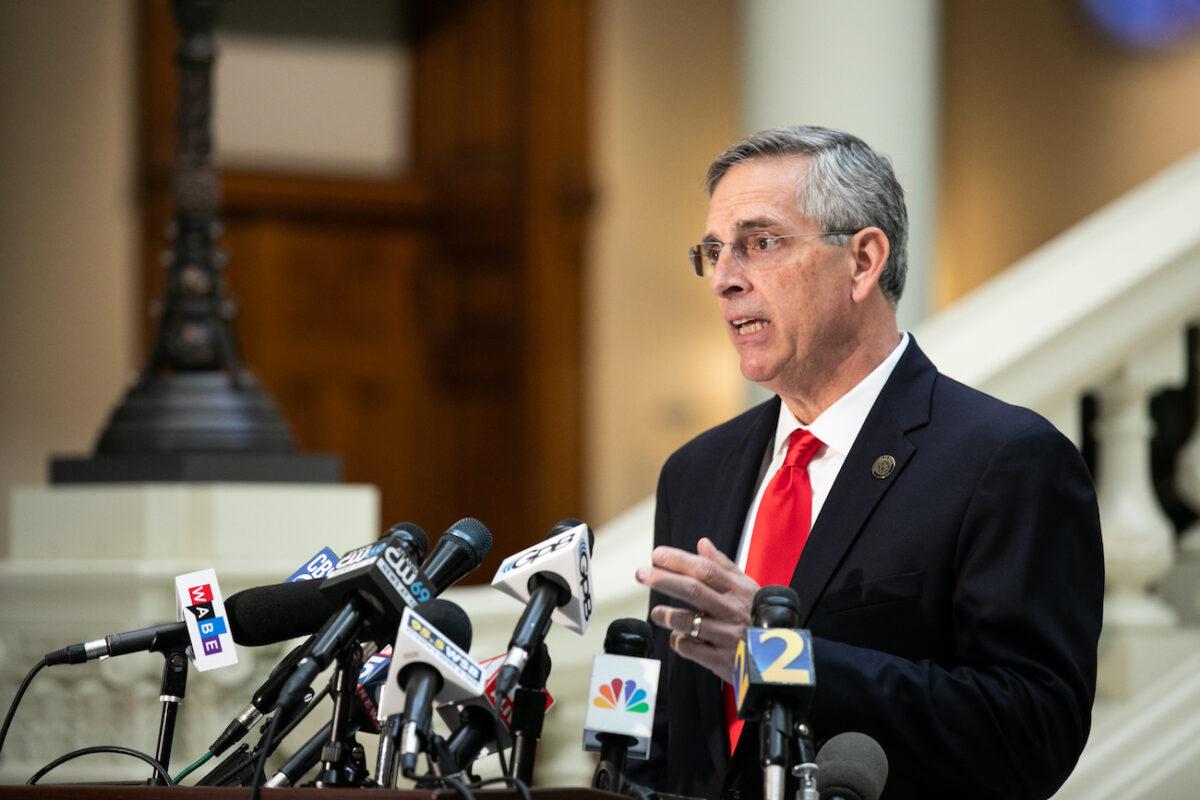 Following the
release
of unusual video footage captured on Election Night showing "suitcase"-like containers being wheeled from beneath tables at the State Farm Center in Atlanta—and other apparently anomalous occurrences, Kemp told Fox News on Dec. 3 that a signature audit is needed.
"Obviously, the Secretary of State, per the laws and the [state] constitution would have to order that and he has not done that. I think it should be done," he
said
at the time.
Sens. Kelly Loeffler (R-Ga.) and David Perdue (R-Ga.) are seeking reelection in the Jan. 5 Senate runoff against Democrats Raphael Warnock and Jon Ossoff.
Over the past several weeks, Raffensberger's office has said he's working to protect the integrity of the runoff election, including taking action to "secure Georgia's elections against out of state voters attempting to cast ballots in Georgia's runoff elections for U.S. Senate."
The office has "sent letters to 8,000 individuals who indicated they moved out of state but requested ballots for the runoffs notwithstanding," according to a Dec. 21 news release.
The Epoch Times has reached out to the Georgia Secretary of State's office and Graham's office for comment regarding his Tuesday tweet.