Sen. David Perdue (R-Ga.) called on his GOP colleagues to object to key states' electoral votes for Democratic nominee Joe Biden during the Joint Session of Congress on Jan. 6, coming just two days before the Senate runoff election for two Georgia seats.
Perdue told Fox Business Sunday that he won't be certified as a sitting senator until the results for the Georgia runoff elections are carried out on Tuesday, Jan. 5, and also if he wins.
"I agreed that I would do that," Perdue
said
of objecting to the votes. "The technical problem is that I won't be certified until this election is certified, some week to 10 days after the election, when we win on Tuesday, but I'm encouraging my colleagues to object. This is something that the American people demand right now."
Perdue will not be seated because he was elected during the 2014 class. His six-year term started in January 2015 and ends on Jan. 3 and because that happens before the Georgia Senate runoffs, Perdue will technically be a former senator when polls open on Jan. 5.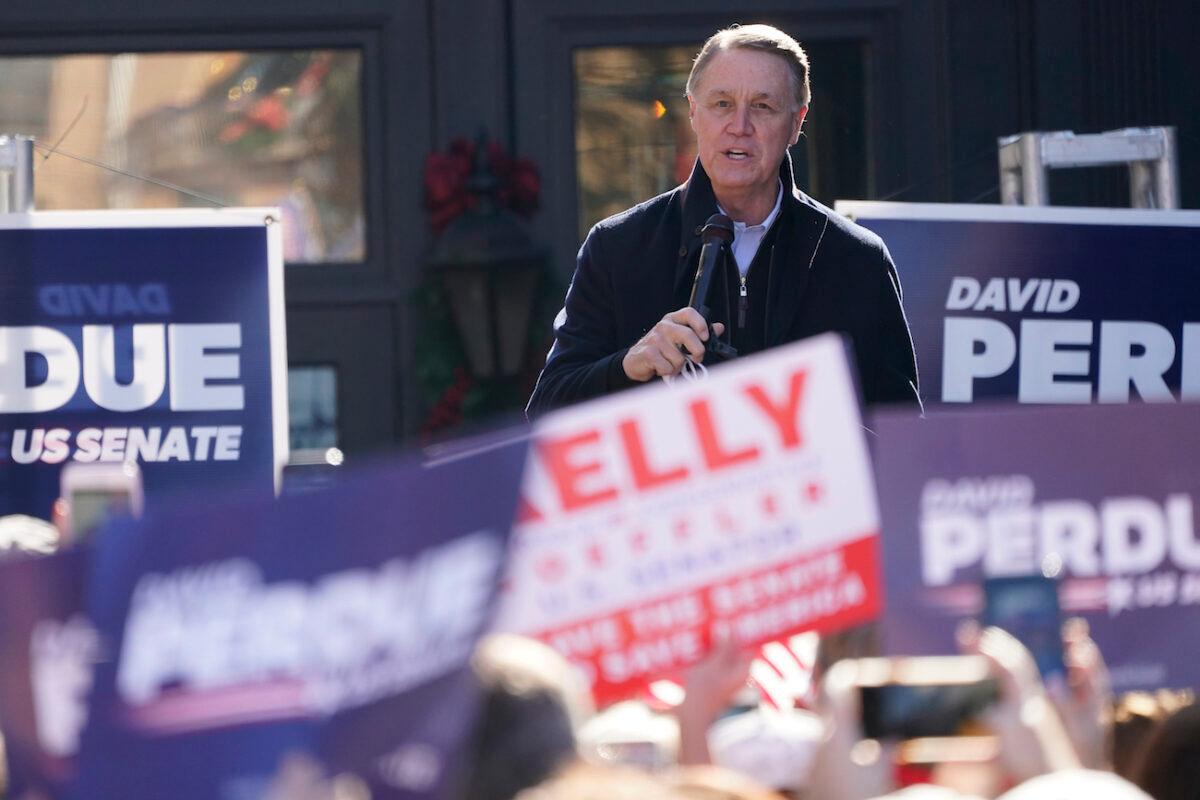 About a dozen senators have said they would object to the electoral votes of battleground states that have been challenged by President Donald Trump's legal team since the Nov. 3 election. At least 50 House GOP lawmakers have pledged to object to states' electoral votes, fulfilling the requirement that at least one senator and one representative are needed to challenge votes.
Perdue faces Democrat Jon Ossoff, while fellow Republican Georgia Sen. Kelly Loeffler faces Democratic challenger Raphael Warnock for potentially control over the Senate. Republicans currently enjoy a slight majority.
But with just days before the runoff elections, Perdue has to quarantine after coming into proximity with someone who tested positive for the
CCP (Chinese Communist Party) virus
.
"This morning, Senator Perdue was notified that he came into close contact with someone on the campaign who tested positive for COVID-19," the campaign said in a statement. "Both Senator Perdue and his wife tested negative today, but following his doctor's recommendations and in accordance with CDC guidelines, they will quarantine. The Senator and his wife have been tested regularly throughout the campaign, and the team will continue to follow CDC guidelines. Further information will be provided when available."
Meanwhile, Loeffler has not publicly stated if she will join the effort to object to the electoral votes. Some Republican senators, including Republican leadership, reportedly do not support the objection efforts.
"Everything's on the table right now," Loeffler said during an event last week. "That vote is Jan. 6, and I'm going to continue to fight for this president because he fought for us."