Daniel Ricciardo, hired by Red Bull to back up four-time World Champion Sebastian Vettel without overshadowing him, has definitely not done his job during the 2014 Formula One season—or perhaps he has a very different idea of what his job is supposed to be.
Instead of honing his craft while following his illustrious teammate around the track, Ricciardo has been the only Red Bull driver to reach the top of the podium this season and at the Belgian Grand Prix at Spa, he ascended to that perch for the third time.
The 25-year-old Australian driver started fifth, two places behind Vettel, who trailed the all-powerful Mercedes duo of Nico Rosberg and Lewis Hamilton, and Ferrari's Fernando Alonso.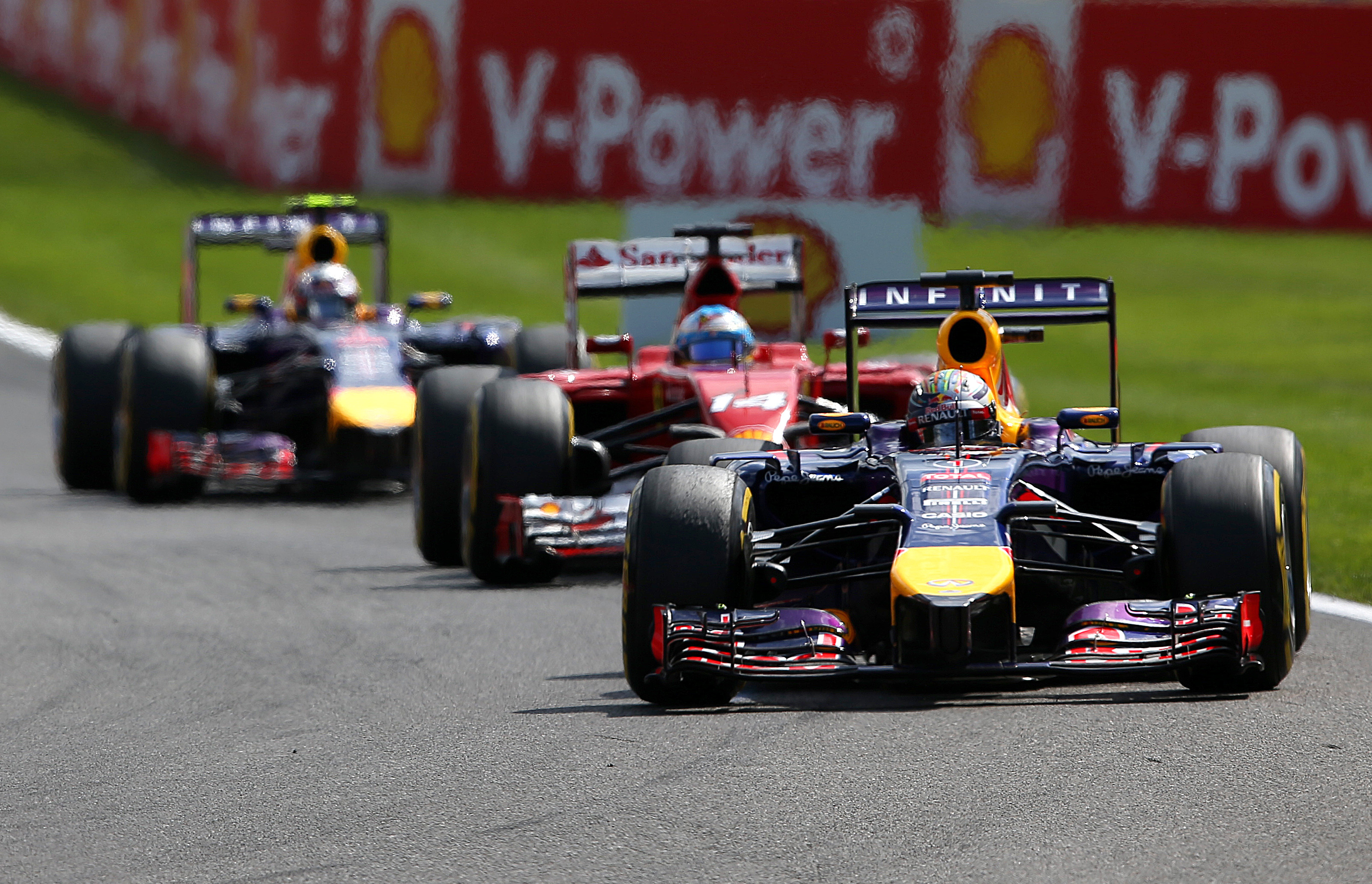 Sebastian Vettel of Red Bull Racing leads Fernando Alonso of Ferrari and Daniel Ricciardo of Red Bull Racing into Turn One, La Source, early in the Belgian Grand Prix at Circuit de Spa-Francorchamps on August 24, 2014 in Spa, Belgium. (Mark Thompson/Getty Images)
Rosberg, on the pole, blew the start, while Hamilton nailed it, taking the lead at the La Source hairpin, with Sebastian Vettel following through. Vettel then pushed too hard at Les Combes and ran wide, letting Rosberg back through.
The championship-leading Mercedes driver, perhaps frustrated by his poor launch, then tried an outside pass on Hamilton at Les Combes on the next lap. Rosberg couldn't get by, but he didn't back off enough to cleanly tuck back in. Rosberg's right front win cut Hamilton's left rear tire; the flailing tire carcass damaged the undertray, eventually forcing Hamilton to retire, scoring zero points, while Rosberg eventually finished second and increased his championship lead from 11 to 29.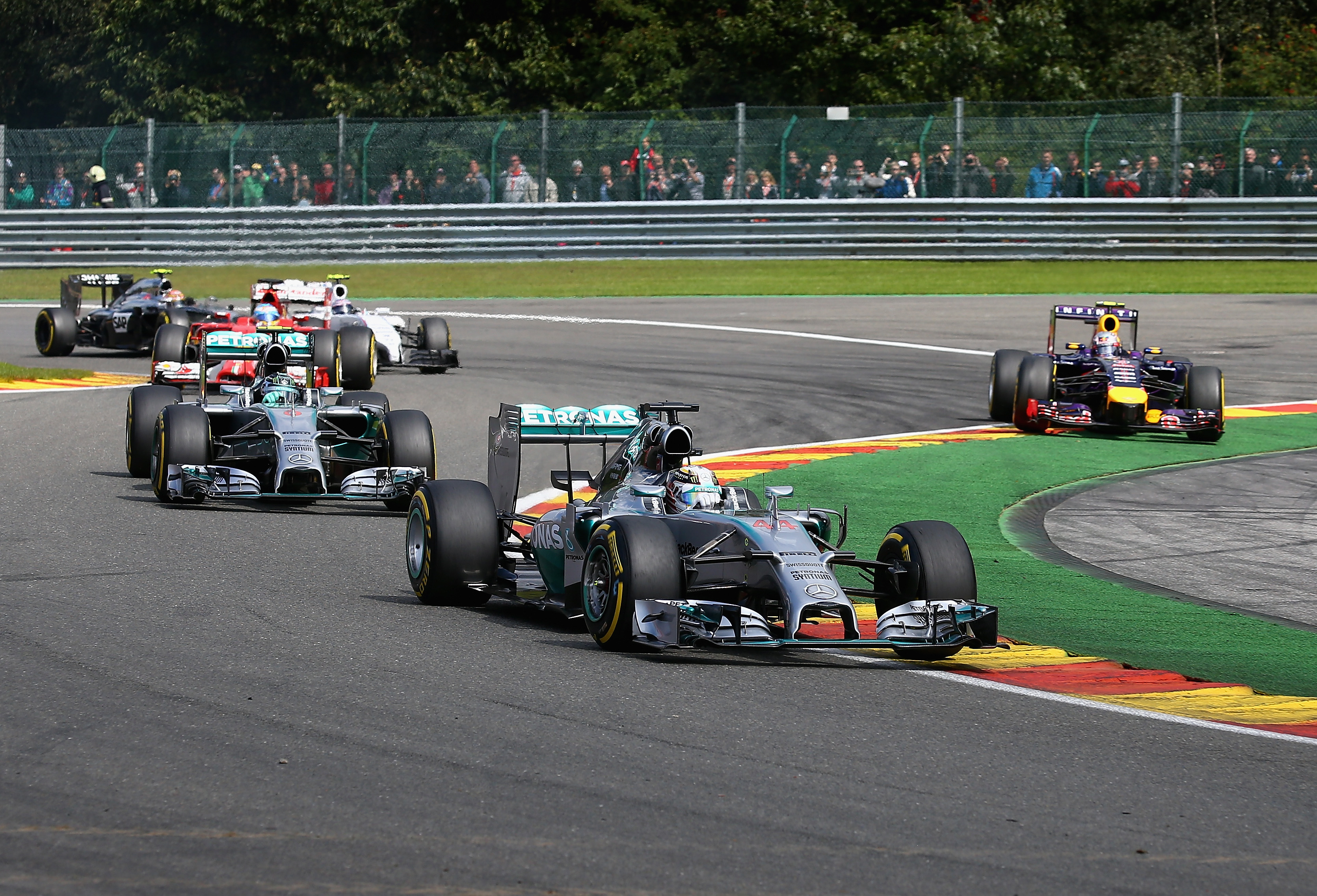 Sebastian Vettel runs wide as Lewis Hamilton leads Nico Rosberg during lap one of the Belgian Grand Prix, August 24, 2014 in Spa, Belgium. (Clive Mason/Getty Images)
Rosberg was the target of a round of boos when he took the podium after the race—the fans obviously weren't pleased with the way he handled Hamilton.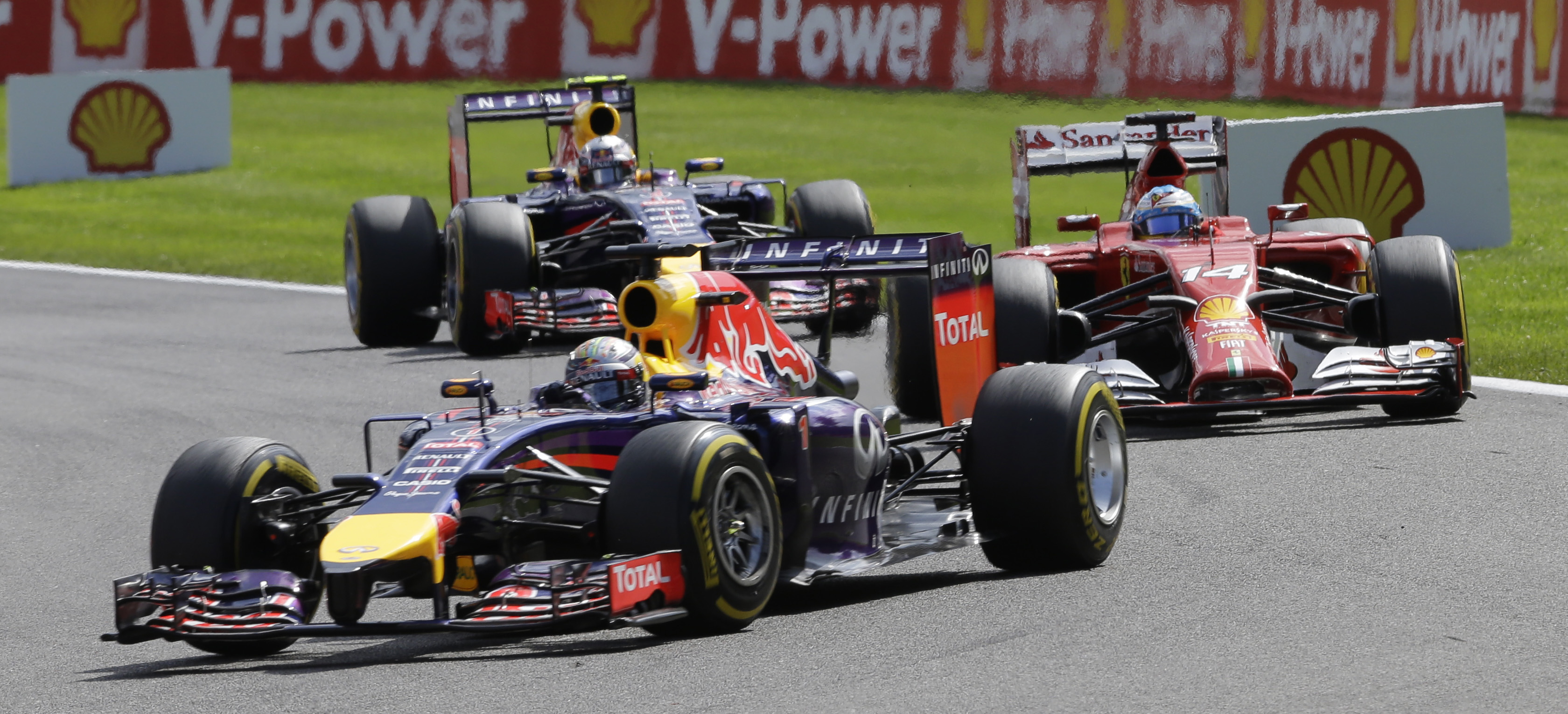 Sebastian Vettel leads Fernando Alonso and teammate Daniel Ricciardo of Australia during the Belgium Formula One Grand Prix at the Spa-Francorchamps circuit, Belgium, Sunday, Aug. 24, 2014. (AP Photo/Luca Bruno)
The Other Red Bull Driver Takes the Lead
Ricciardo passed Williams' driver Vattern Bottas on lap three; on lap four he passed Fernando Alonso to take third behind Vettel. Vettel, struggling to adapt to the Red Bull's extremely low rear downforce, nearly lost control at Pouhon on lap five, letting Ricciardo into second.
The Red Bull racer took the lead on lap nine when Rosberg pitted, and simply drove away from the competition. He pitted on lap 28 for medium tires and rejoined three seconds ahead of Rosberg. Rosberg pitted on lap 35 for a set of Softs and immediately began tearing through the field, but the 22-second gap to Ricciardo was too much to make up; the points leader was four seconds behind the young Red Bull pilot at the finish.
With his third win of the 2104 season Daniel Ricciardo moved into third in driver points with 156, behind Hamilton's 191 and Rosberg's 220.
Bottas Continues to Impress
The supposedly second Red Bull driver has not been the only youngster to have breakout season. Vattern Bottas of Williams continues to impress, driving both fast and smart, and getting good results. Bottas took third at Spa and moved into fifth in the points, only nine behind Ferrari's Fernando Alonso's 119.
Alonso had a terrible day, though it was not due to his driving. The two-time world champion started the race with a five-second penalty because his mechanics didn't clear the grid within 15 seconds of the race start.
The Ferrari is not one of the better cars on the grid, but Alonso seemed determined to carry the car beyond its limits to make up the deficit.
Despite some inspired efforts, Alonso found himself stuck behind McLaren rookie Kevin Magnussen in the closing laps of the race, with Sebastian Vettel and McLaren's Jenson Button stuck with him. For several laps this quartet diced as if they were fighting for the win, not the top five.
Alonso made an exceptional effort on lap 42, two laps from the finish, but Magnussen ran him wide and onto the grass. Button pounced, passing Alonso, but the Ferrari driver fought back by at the next corner. Vettel got by Button on the next lap, and on the final lap, while forcing his way past Alonso, ripped off the Ferrari's front wing, which dropped Alonso to eighth, while Vettel went on to overtake Magnussen for fifth.
What made this more bitter for the lead Ferrari driver was that Kimi Raikkönen, nominally the second driver at La Scuderia, had his best race of the season and finished fourth. Good for the team, but the extra constructors' points probably didn't soothe Fernando Alonso's nerves; he has been carrying a substandard car all season, and it has taken Raikkönen all season to show a decent result. Alonso would have been happier if his Finnish teammate could have had his best day so far when Alonso was having a better day.
Seven Races, Double Points, Total Uncertainty
There are seven races left in the 2014 F1 season, and the final race, the Abu Dhabi Grand Prix, is worth double points under Bernie Ecclestone's ... interesting ... new arrangement. This means that the standings could be totally upended by some twist of racing—a collision among backmarkers which collects a front-runner, a mechanical failure, or even a questionable maneuver like Rosberg taking out Hamilton could elevate or devastate a driver's World Championship chances.
Formula One heads to another legendary track for its next event: the Italian Grand Prix at Monza on September 7. This is a high-speed, low-downforce track like Spa, where Mercedes power should dominate and Red Bull's aerodynamics should be a disadvantage. Daniel Ricciardo apparently didn't get that memo before Spa; and probably won't pay much heed if he is told before Monza.
Tickets and travel arrangements for the Italian grand Prix are available through F1's official website, Formula1.com.