Vice President Mike Pence on Friday urged Georgians to vote Republican in upcoming U.S. Senate runoffs that will determine which party controls the upper congressional chamber.
"The president wanted me to be here today. Because we need Georgia to send these two great senators back to a Republican majority," Pence
told a rally
in Canton.
"First, because of who they are. Second, because of all we've accomplished. And because the Republican Senate majority could be the last line of defense for all that we've done to defend this nation, revive our economy, and preserve the God given liberties that we hold dear."
Sens. Kelly Loeffler (R-Ga.) and David Perdue (R-Ga.) failed to get a majority of the votes in the Nov. 3 election, triggering twin runoffs with their Democratic challengers.
Filmmaker Jon Ossoff, who is facing Perdue, received about 90,000 fewer votes than the senator. Pastor Raphael Warnock and Loeffler emerged from a so-called jungle primary to complete the remaining term of Sen. Johnny Isakson (R-Ga.), who retired last year and whose seat Loeffler is filling at present.
Warnock got the most votes, 1.6 million, but Republicans hope voters who chose Rep. Doug Collins (R-Ga.) in the election will shift to Loeffler in the runoff, which would put her at 2 million votes.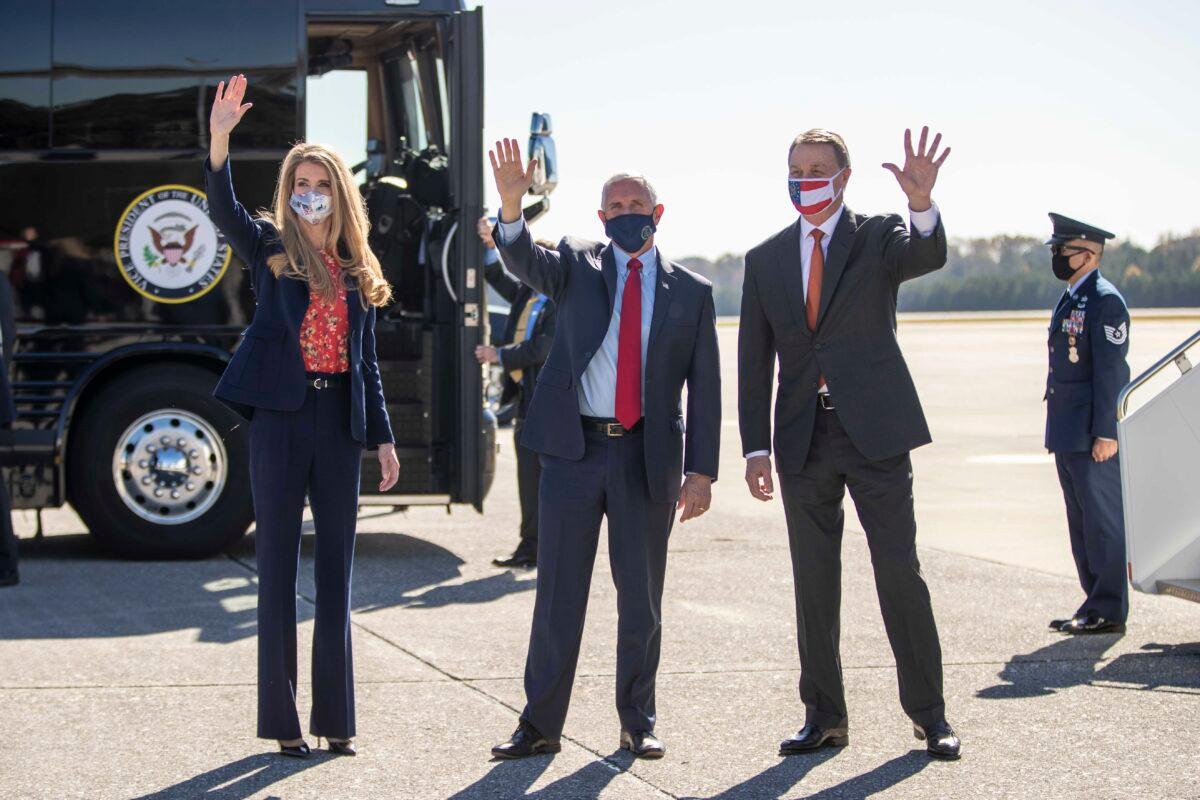 Projections and unofficial and certified results from the presidential election have Republicans with 50 Senate seats and Democrats with 48 in the next Congress.
If the GOP wins just one of the twin runoffs, they keep control of the Senate. But if Democrats win both and the presidency, they will control the body because the vice president can cast tiebreaking votes.
Pence praised Loeffler and Perdue as consistent votes for President Donald Trump's judicial nominees and as two pro-life lawmakers who have worked to protect Americans' right to live and worship according to their faith.
He said Warnock and Ossoff would assist the Democratic agenda of higher taxes, open borders, socialized medicine, and abortion on demand.
Pence urged people to talk to their neighbors and friends and impress them with why voting in the runoffs is important.
Perdue noted that there's a scenario where Democrats control the White House, the House, and the Senate if Democratic presidential candidate Joe Biden wins the election and Democrats win both runoffs.
"We cannot let that happen. We know what they want to do," he said.
"Kelly and I are asking you to stand with us. Stand in the breach here against socialism. Stand in the breach against Chuck Schumer. Stand in the breach against [Alexandria Ocasio-Cortez]. And let's make darn sure that road to socialism never runs through the state of Georgia," he said.
Ossoff and Warnock have pushed back against their opponents' attacks.
"What I'm putting forward in this race is American values. Listen, in no place other than America is my story even possible. I'm proud of my country. And what makes me love America is that, in spite of whatever challenges we have, there is always the path to redress our concerns, to make the country better," Warnock said on CNN's "State of the Union" this month.
"I grew up in public housing. And here I am running for the United States Senate against the wealthiest member of Congress. I understand the struggles of ordinary people. And that's what this race is about."
The White House hasn't said whether Trump will travel to Georgia to campaign for the senators. Biden aide Ron Klain said earlier this month that he believes Biden will visit the state.
"We're going to work hard to help win those Senate seats in Georgia," he said on NBC's "Meet the Press."