When Arizona Gov. Doug Ducey toured a wall of shipping containers stacked two-high along the state's southern border in Yuma on Sept. 8, he declared that the barrier would stem the flow of illegal immigration and drug smuggling into the United States from Mexico.
A month earlier, Ducey, a Republican, signed an executive order authorizing the Arizona Department of Military Affairs to erect the barrier topped with barbed wire to seal the gaps in the southern border wall.
The $6 million project was part of a $500 million fiscal year 2023 state budget package for border security signed by the governor earlier this year.
"Last time I stood along the border here in Yuma, multiple migrants crossed the border into Arizona illegally—right in front of us," Ducey said during a press conference near the Morelos Dam at the temporary border barrier.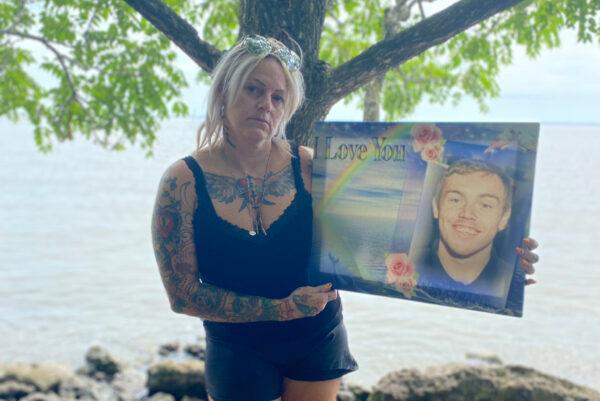 "Now, 130 shipping containers fill border wall gaps previously wide open for dangerous cartel activity and illegal entry into our nation."
Even as Ducey proclaimed that the barrier would block the "revolving door" for Mexican drug cartels, five Arizona residents would die of an opioid overdose that day.
The Arizona Department of Health Services shared that grim statistic on its website as the state faces a worsening opioid crisis linked directly to illegal immigration and smuggling.
In 2022, nearly 400 people have died of an opioid-related overdose in Arizona—and the year isn't over.
Nationwide, the Centers for Disease Control and Prevention reported a staggering 107,375 people died of drug overdoses and poisonings in the 12 months ending in January, with 67 percent of those deaths involving fentanyl and other synthetic opioids.
"We are in the midst of a national opioid crisis, and the deadliest drugs smuggled into our country [are] from Mexico," Florida Attorney General Ashley Moody, a Republican, said in a statement on her official webpage.
"President [Joe] Biden knows this, yet he continues to double down on his terrible immigration policies, knowing full well these policies are emboldening and enriching [the drug cartels and] profiting off the deaths of thousands of Americans."
The worst illegal narcotics entering the United States from Mexico are heroin, cocaine, methamphetamine, and the highly lethal and addictive synthetic opioid fentanyl.
In the case of fentanyl, China remains the world's dominant producer and supplier.
At the same time, Mexican drug cartels are aiming to capitalize on new regulations in China that address the U.S. opioid crisis.
Many of the precursor ingredients used to make fentanyl are made in India, although Mexican drug cartels also produce the drug using laboratory-grade equipment in ever-increasing quantities for sale in the United States.
A Drug Enforcement Administration (DEA) Intelligence Report for 2020 found that the influx of fentanyl—90 percent pure at times—into the country is far more diverse than the 2014 fentanyl crisis.
While a lot of illegal drug smuggling occurs along the southern border in Texas, New Mexico, and California, six land ports of entry in Arizona provide ready access for narcotics traffickers, or "mules."
Significant gaps in former President Donald Trump's unfinished border wall and open flood gates near critical entry points in Douglas, Bisbee, and Sasabe, make illegal immigration seem easy. And the sheer volume of drugs seized by the DEA and U.S. Customs and Border Patrol (CBP) that cross over from Mexico into the United States is astonishing.
During the first nine months of fiscal year 2022, Southern California CBP agents seized more than 5,000 pounds of fentanyl, about 60 percent of the 8,425 pounds of fentanyl intercepted throughout the entire country.
"A decade ago, we didn't even know about fentanyl, and now it's a national crisis," U.S. Attorney Randy Grossman said in a statement. "The amount of fentanyl we are seizing at the border is staggering. The number of fentanyl seizures and fentanyl-related deaths in our district is unprecedented."
On Aug. 26, CBP agents seized $4.3 million worth of fentanyl pills during a traffic stop near the city of Gila Bend, Arizona. The shipment included 340 packages, weighing 187 pounds, with enough fentanyl to kill more than 42 million Americans.
Sending Drugs Through Tunnels
In July, the CBP operating at the Arizona southern border recovered in excess of 40 pounds of drugs and 150,000 fentanyl pills from inside a vehicle.

The National Intelligence Center's 2003 Threat Assessment For Arizona reports that illegal drug smuggling takes place by rail, couriers on horseback, and camouflaged backpackers traversing remote areas in Arizona to avoid detection.

These areas include the Tohono O'odham Nation, Coronado National Forest, and Organ Pipe Cactus National Monument.

Mexican drug cartels frequently build underground tunnels to ship products illegally into the United States (one smuggler even used the sewer system linking both countries).

Law enforcement in Arizona discovered a dozen tunnels between 1995 and 2003 connecting Nogales, Arizona, with Nogales, Sonora, in Mexico.

The report states that drug cartels and criminal gangs would also use their family ties and personal networks in the United States to transport and distribute "significant quantities" of illegal narcotics.

The amount spent on border security at the state level is significant. State funding for border security in Texas alone is nearly $3 billion for fiscal 2023 as part of Operation Lone Star.

Since the launch of that operation, law enforcement has made more than 279,000 illegal alien apprehensions and 17,100 criminal arrests, confiscating 5,800 weapons and $43.5 million in currency.
In June, Ducey authorized $564 million for Arizona's border security, including the barrier and a central command center.
Increased spending on illegal narcotics interdiction in Arizona has spurred major fentanyl seizures statewide.
The Arizona Criminal Justice Commission stated that $3.7 million in funding to 14 drug task force units resulted in a significant increase in drug confiscations between 2019 and 2020.
But despite the best efforts of law enforcement, the death toll from opioid use and illegal smuggling continues to mount.
During Overdose Awareness Week last August, Biden said the overdose epidemic has taken a "heartbreaking toll on our nation, claiming the lives of far too many Americans and devastating families and communities across the country."
"Every loss is a painful reminder that now more than ever, we must address our nation's overdose epidemic," Biden said, promising to spend more on mental health and substance use care infrastructure to "beat" the opioid crisis.