If you are looking to fill up your vehicle and want to pay less than $4 a gallon for gas then forget it in Ohio.
The state's price at the pump is stuck well over $4 a gallon and those who need to drive to work, among other places, fear that it will go sky-high by July 4. Possibly hitting $5 a gallon.
Over the past few weeks gas is averaging $4.25 to $4.29 a gallon in Ohio and, according to gas station managers, may not drop at all.
The cost is not only is pinching the pocketbooks and wallets of consumers, but may also turn out to be the catalyst for pushing the political party in charge—the Democrats—out of office.
The national average for regular gasoline went up to $4.328 a gallon, according to AAA. The record high was $4.331 a gallon set on March 11.
It has climbed 13 cents over the past week and stands well above the recent low of $4.07 a gallon.
Ohio was below the national average for the most part, but in the Dayton area regular unleaded was $4.39 a gallon at some places and $4.75 a gallon in Ottawa County's Port Clinton where the charter boat season is getting underway.
Premium unleaded is more than $5 a gallon, around $5.29.
When asked about the price of gas and if they have had to cut back on anything in their budgets, consumers and motorists buying gas in the Democratic stronghold of Cleveland on May 12, have shifted from just voicing concerns over cutbacks.
They now are signaling their intentions to vote President Joe Biden and the Democrats out of office over the price of gas alone—starting with whomever is on the ballot in the Nov. 8 general election.
When gas started going up following Russia's invasion of Ukraine in late February, Biden tapped into the oil reserves to help lower the price of gas. However, that didn't last long.
"Don't vote Democratic," said Ryan Ballog of Cleveland, who was pumping gas at a Shell station in west Cleveland.
"We wouldn't be in this situation if we hadn't. I was pumping gas for $3.90 last week. It's horrible. But what are you going to do?
"I've had to cut back on entertainment," Ballog added. "I have a little bit of money put away in case this gets worse. You have to."
Wally Nagn, the manager of the Shell station, told The Epoch Times he doesn't see gas going up to $5 anytime soon, but it may hit $4.49.
"Shell has always been a little more expensive because it's a higher quality of gas," Nagn said. " If the price of gas goes down, it might be $4.09 or $4.19 a gallon."
The sentiments of Adam Hasan, the manager of a BP station in west Cleveland, differed from Nagn's.
Hasan told The Epoch Times he believes that by the July 4, gas will be $4.79 to $4.99 a gallon.
"The price of gas is like the stock market," Hasan said. Two weeks ago, it was $3.99 a gallon. Then, two days ago, it went up 20 cents more, so now, it's $4.29 a gallon. I think this is very political.
"A lot of our oil comes from Russia and the Middle East," Hasan added. "But will people stop buying it? C'mon. You gotta have it to get to work."
"Where these high prices will stop, no one knows," Hasan said. "It's been tough on everybody."
At Speedy, a gas station and convenience store on Lorain Road, also on Cleveland's west side, they try to keep their gas prices the lowest in the area. On May 12, it was $4.09 a gallon, and was $3.89-3.99 at the beginning of the week, the manager there said.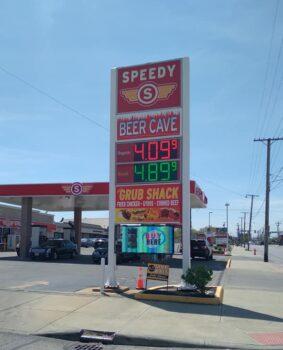 A man named Mike of West Park, who was spending $80 to fill up his Jeep Wrangler at a Speedway in Lakewood, said, "This is Joe Biden's fault. He just shut down another pipeline in Alaska. It's ridiculous. The Democrats are going to get shut down or voted out of politics if this doesn't stop.
"This is terrible," Mike added. "I'm also an Uber driver, and these gas prices make my profit margins smaller. The price of a gallon of gas from two years ago has more than doubled. It was about $1.70 a gallon then, and I was able to make a little more money. Now, it's a lot tougher."
Craig Indoe of Berea, who owns a construction company in west Cleveland, agreed.
His company uses vans to haul materials, but they are limiting their use of them. Indoe said he recently put $50 of gas in one and that only filled one-fourth of a tank.
"The price of gas has doubled since last year," Indoe said. "It's the worst I've seen it. We're more careful of how much we use the vans."
Instead, Indoe rides a 1995 Harley-Davidson Road King. He was filling that up at Gas USA in west Cleveland on May 12.
Comparably, his motorcycle gets about 30 miles on a gallon of gas, and the vans get 11, Indoe said.
Indoe said he also owns five sober houses or rehabilitation group homes for men healing from alcohol or substance abuse addictions, and costs of utilities also are higher.
"If this has taught us anything, it's to not vote Democratic," Indoe said. "If everything keeps going the way it is, I don't know how people are going to make it through this."
The manager of Gas USA told The Epoch Times that he did not see the price of gas going down anytime soon, and if it does, it won't be by much.
"The gas market right now is crazy," the manager said, who didn't want to provide his name. "We have no control over the price of gas, but the petroleum companies do. They tell us what the price of gas is, and we work with them.
"The price might drop a few pennies or five cents," the manager added. "But, anytime something happens in the world or the country, it affects the price of gas."