A massive explosion at an ammunition depot in central Ukraine has led to the evacuation of over 24,000 people, according to authorities.
The explosions, which started on Tuesday night at a military base where over 80,000 tons of munitions are stored, are being treated as suspected sabotage by the Ukrainian Security Services (SBU).
According to Ukrainian emergency services the incident started at 10pm local time at a military base near Kalynivka in the Vynnytsya region, 168 miles west of the capital Kiev.
One piece of video footage of the incident shows a few munitions rocketing from the burning site, before  a large-scale fireball that leaves a large black mushroom cloud. Other videos and photos show fireballs and munitions thrown up into the night sky.
"The Military Prosecutor's Office of the Southern area has added a new criminal case to the National Register of Pretrial Investigations under Article 113 of the Criminal Code—subversive activity. Our agents will be part of the investigation team. The investigation is under way," SBU press secretary Olena Hitlianska told  Ukrainian news agency UNIAN.
According to the news agency over 30,000 people have been evacuated from the affected area.
"Stocks of weapons and ammunition in the town of Kalynivka have caught fire with the subsequent detonation of the ammunition," Vinnytsia Town Hall said in a statement on its website. 
The incident is the fourth ammunition depot explosion incident in the past two years in Ukraine. A fire at a military depot in Ukraine's east in March raged for hours, prompting over 20,000 to be evacuated.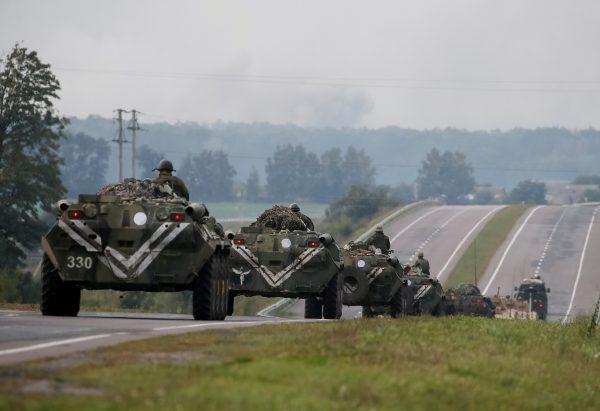 Munitions at the military base were still exploding on late morning Wednesday, a spokesman from the Ukrainian Defense Ministry told the 112 television station, according to the Telegraph. 
The regional administration says that the warehouses in the depot in Kalynivka contain 83,000 tons of ammunition, according to 112 television.
Reuters contributed to this report