A man was killed by a chainsaw while helping a neighbor clear tree branches after Hurricane Irma hit Florida.
The man was identified as Wilfredo Hernandez, who died at 5115 Town N Country Blvd. in Hillsborough County, Florida, (near Tampa Bay and St. Petersburg) on Monday,
ABC Action News reported
 on Sept. 11.
A branch got tangled in the chainsaw blade. Then it kicked up the blade and hit him in the throat. He was working in a tree.
The Hillsborough County Fire Rescue responded to the scene and had to use a harness to take him down from the tree.
Hernandez was pronounced dead on the scene, ABC reported.
Other details about his death were not released.
According to ABC News, at least 10 people were killed in the United States after Irma devastated the southeastern U.S. Deaths were reported in Florida, Georgia, and South Carolina.
As of 8 p.m. ET, Irma is 120 miles south of Atlanta and moving north-northwest at 16 mph. Atlanta was lashed by winds on Monday night.
Tropical storm warnings remain in parts of Florida, eastern Alabama, Georgia as well as southern South Carolina.
Irma, which made landfall in the Florida Keys on Sunday morning as a Category 4, weakened to a tropical storm Monday.
Especially hard hit was the resort archipelago of the Keys, extending into the Gulf of Mexico from the tip of Florida's peninsula and connected to the mainland by a single, narrow highway, Governor Rick Scott told a news conference on Monday, Reuters reported.
"There's devastation," he said, adding that virtually every mobile-home park on the island chain was left upended. "It's horrible what we saw."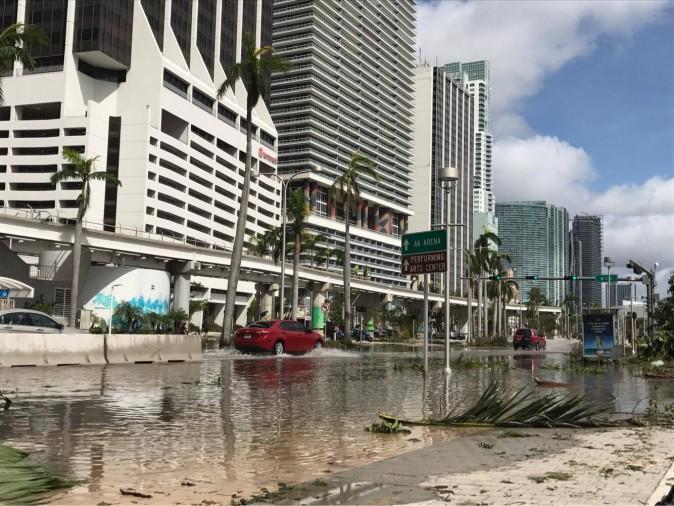 The Keys were closed by officials, and they refused to let people return to their homes. No timetable for reopening the Keys has been given.
In Florida alone, 7.4 million homes and business were without power as of Monday night. That number is expected to swell. In Georgia, Alabama, and South Carolina, it's likely that hundreds of thousands of people will lose their power.
Reuters contributed to this report.