Many of the major airlines in the United States have committed to providing meals for customers who are left waiting three hours or more for delayed flights, as well as hotel rooms for customers who are left stranded, so long as the delays are due to issues under the airlines' control.
American Airlines, Delta Air Lines, United Airlines, JetBlue, and Southwest made updates to their customer service policies this week, which state that passengers can receive meal and hotel vouchers if a flight is canceled or delayed.
The updates come ahead of a busy Labor Day travel weekend and follow Transportation Secretary Pete Buttigieg's
request
in August that airlines provide meals and hotels to customers amid lengthy delays.
United Airlines' newly updated policy
states
that the airline will offer meal vouchers for flights delayed more than three hours. Previously, the free meal vouchers applied to passengers whose flights were delayed for four hours or more.
"When a delay or cancellation within our control, like a mechanical issue, keeps you away from your home city and you need to stay overnight, we'll give you digital or printed hotel vouchers that can be used at a partner hotel," the airline said, adding that if vouchers are not available for its partner hotels, customers who are able to find and pay for a different place to stay can submit their receipt to the airline's Customer Care Team, and will be reimbursed up to $200.
"We will provide a higher reimbursement amount if you demonstrate that a reasonable cost for a hotel is higher than $200 for that location," it added.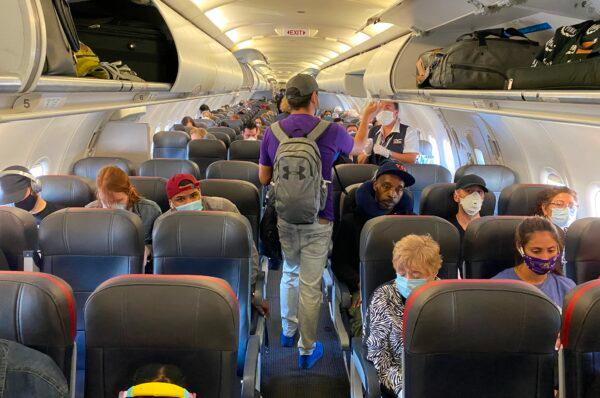 Customers to Receive Complimentary Hotel Accommodation
Meal vouchers are also being offered by
 American Airlines
for delays of three hours or more, while vouchers for approved hotels will also be granted if customers are delayed overnight due to the airline.
Southwest Airlines
states
that meal vouchers will be provided "upon request at the airport for participating vendors within the airport" for flights that are delayed for three hours or more, as well as in cases where cancellations initiated by the airline result in a wait of three hours or more.
"If participating vendors and/or vouchers are not available, we will honor reasonable requests for reimbursement for meals purchased during such irregular operations," the policy states. "Additionally, we may provide complimentary snacks and beverages for customers."
The airline will also arrange hotel accommodation upon request, "if available," if cancellations result in an overnight delay or stay. Alternatively, the airline will "honor reasonable requests for reimbursement for lodging accommodations," provided the customer does not live locally.
Delta Air Lines will also
provide
a meal or meal voucher if a cancellation or delay results in customers waiting three or more hours beyond the scheduled departure time.
The airline will also provide complimentary hotel accommodation at Delta-contracted facilities for customers away from home who are "involuntarily bumped from a flight and we are unable to accommodate you on an alternative flight on the same travel day."
In cases where hotel accommodations are unavailable, the airline will "compensate you with a transportation credit commensurate in value with the contracted hotel rate up to $100." Customers who book their own accommodation when a Delta-contracted hotel accommodation is unavailable will be reimbursed reasonable costs for the room as well as transportation to and from the hotel.
"Controllable Cancellations"
JetBlue
states
that it will provide meal vouchers of $12.00, including taxes and fees, in cases when a "controllable cancellation" results in passengers waiting for three hours or more for a new flight.
"In the event that meal vouchers are not available or otherwise accepted in an airport, or food or beverages are not otherwise available in an airport (e.g., the concessions are closed), JetBlue will make its best efforts to provide an appropriate meal/beverage to the customer (e.g., order food and provide water for the delayed flight) or otherwise reimburse the customer, subject to valid receipts, for expenses associated with meals not to exceed the allowable limit of the JetBlue meal vouchers," the policy states.
The airline will also provide complimentary hotel accommodations at a local airport area hotel for any passenger affected by a "controllable" overnight cancellation. If such accommodation is not available, JetBlue will reimburse the customer for "reasonable and appropriate expenses associated with the overnight hotel accommodation," provided they can show the receipt.
As of Aug. 31, there were 539 delays within, into, or out of the United States, and 66 cancellations within, into, or out of the country, according to
data
from real-time flight tracker FlightAware.