5:23 PM: DOE Updates on Post-Idalia Power Restoration
The U.S. Department of Energy (DOE) announced that as of mid-afternoon Thursday, electrical service had been restored to almost half of those left without power as Idalia clawed its way across Florida, Georgia, and the Carolinas, to the Atlantic Ocean.

And that number still waiting continues to drop rapidly.

As of 3 p.m. Wednesday, there were 135,000 customers without power in Florida, and more than 79,000 still waiting for electrical service to be restored in Georgia. Two hours later, the number waiting for power in Georgia had dropped to 68,000.

As Idalia roared across the states on Wednesday, about 500,000 customers were without power, the DOE posted on X, formerly known as Twitter.
5 PM: Idalia Downgraded to Post-Tropical Cyclone
Idalia is a tropical storm no more.

In a 5 p.m. advisory, the National Hurricane Center (NHC) officially downgraded the storm to what's known as a post-tropical cyclone. Storms in that category can continue to carry heavy rains and high winds, the agency noted.

All tropical storm warnings and storm surge watches for North Carolina have been discontinued,  the NHC said.

However, the system still has sustained winds of 65 mph. Tropical storm-force winds still expend 230 miles out from its center.

Idalia is moving east at 21 mph. A tropical storm watch is now in effect for Bermuda. Weakening storm systems often strengthen again after moving over warm waters.
NHC meteorologists expect Idalia to decrease speed and continue east-southeast through Saturday.
Surf swells generated by Idalia are expected to affect the southeastern U.S. coastline over the next few days, the NHC advised. Bermuda is expected to get 5-7 inches of rain from the storm through Sunday.
The NHC will continue to issue advisories on Idalia for now.
4:30 PM: Florida Schools Reopening After Idalia
Florida's Commissioner of Education, Manny Diaz, Jr., announced that 53 out of the state's 75 school districts safely reopened the day after Hurricane Idalia hit. Another 10 districts are set to reopen on Friday, he said.

Mr. Diaz visited Big Bend area schools on Thursday to assess the damage and coordinate recovery efforts. He visited Cedar Key School in Levy County with Superintendent Christopher Cowart, then visited Madison County schools with Superintendent Shirley Joseph, according to the Florida Department of Education (FDOE).

"Following a major disaster like Hurricane Idalia, my main priority is to have students back in classrooms as quickly and safely as possible," Mr. Diaz said in a news release.

"District leaders have worked diligently to take care of their communities, and I am proud of the work they have accomplished to safely reopen schools. Thank you to Governor Ron DeSantis for his leadership in our time of crisis and for providing the support our schools need to get back on their feet and reopen their doors."

Mr. Cowart gave a nod to the community, Mr. Diaz, and the FDOE for the effort to "come together to help our students. And I could not be more proud of the work they have accomplished to support our recovery following the devastation caused by Hurricane Idalia."
4 PM: Power Restored to More Than 200,000 in Georgia
When Hurricane Idalia crossed the Florida-Georgia line on Wednesday as a Category 1 hurricane, it left hundreds of thousands without power and thrashed scores of counties.

Though it had weakened since making landfall in Florida, the storm still was a menace with 90 mph winds when it blasted into Valdosta, Georgia Gov. Brian Kemp (R) said.

"We're fortunate this storm was a narrow one, and it was fast-moving and didn't sit on us," Mr. Kemp told reporters Thursday in Atlanta. "But if you were in the path, it was devastating. And we're responding that way."
Georgia's Emergency Management and Homeland Security Department has been working to restore power to the southeast portion of the state. By 4 p.m. on Thursday, the agency reported that more than 200,000 residents had their power restored.
Still, "77,596 customers remain without power," the department posted on X, formerly known as Twitter. The day before, there were 277,000 without power, the post indicated. And just within the previous hour, more than 2,000 had their power switched back on.
Two counties in Georga remain completely without power, authorities reported. Two more have more than 60 percent without electrical service due to the storm.
3:45 PM: Florida AG: Law Requires Jail Time for Looters
Now that Hurricane Idalia is gone, some Floridians are turning their focus to other unwelcome visitors—looters.

As Floridians obey mandatory evacuation orders, their homes and businesses are left empty and defenseless. With that in mind, Florida Attorney General Ashley Moody sent a letter to state attorneys in circuits affected by Idalia on Thursday.

Ms. Moody reminded them of the state law stating that no one caught and charged with committing theft under a declared state of emergency can be released without appearing first in court.

"Looters must be locked up in pretrial detention for as long as possible to ensure they do not continue to wreak havoc on displaced Floridians or pull vital resources from ongoing recovery efforts," Ms. Moody said in a press release.

"I have been in contact with the state attorneys in the hardest hit areas and have asked them to seek pretrial detention to the fullest extent possible for looters looking to take advantage of Floridians during their greatest time of need."

The Attorney General asked state attorneys to "consider seeking pretrial detention to the fullest extent possible of those that commit such crimes during this state of emergency."
And under
Florida law,
 no non-monetary release shall be granted for dangerous crimes at the first hearing appearance under certain circumstances, she reminded prosecutors.
"These brazen and unscrupulous criminals are taking advantage of our citizens at one of the most feared and dangerous times of their lives," she said in her letter. "They should not be allowed the opportunity to be released during the emergency, or after during any recovery, so they may continue to use this opportunity to victimize others."
"When our citizens are ordered to evacuate and stay away from their homes, they need to do so for their safety without additional fears of becoming victimized by criminals. We need to deter such illegal actions."
Looters aren't the only criminals known to frequent disaster areas. Price gougers and restoration scammers also are a concern, Ms. Moody warned in an earlier statement to the press.
"I have already been in touch with local law enforcement and state attorneys in the hardest hit areas of our state," she wrote. "And we will not allow criminals to exploit this crisis to target Floridians trying to rebuild their lives."
3:32 PM Florida Collects $2.5 Million for State Disaster Fund
Florida First Lady Casey DeSantis joined her husband,  Gov. Ron DeSantis, in Steinhatchee, Florida, on Thursday to give an update on hurricane recovery efforts, specifically on the Florida Disaster Fund.

"These are situations where some of these communities are relatively small," Mr. DeSantis said at the press brief. "There's going to be discrete needs. And having something like the Florida Disaster Fund gives us the ability to be able to meet needs that a government bureaucracy may not be able to meet."

Ms. DeSantis also spoke, saying, "I'm happy, and I'm honored to be able to work with the private sector to be able to free up these resources to help folks in need. There were some tears earlier from folks who have lost everything. They had the water come into their home. They're not sure where to turn. And so that's where the Florida Disaster Fund comes in."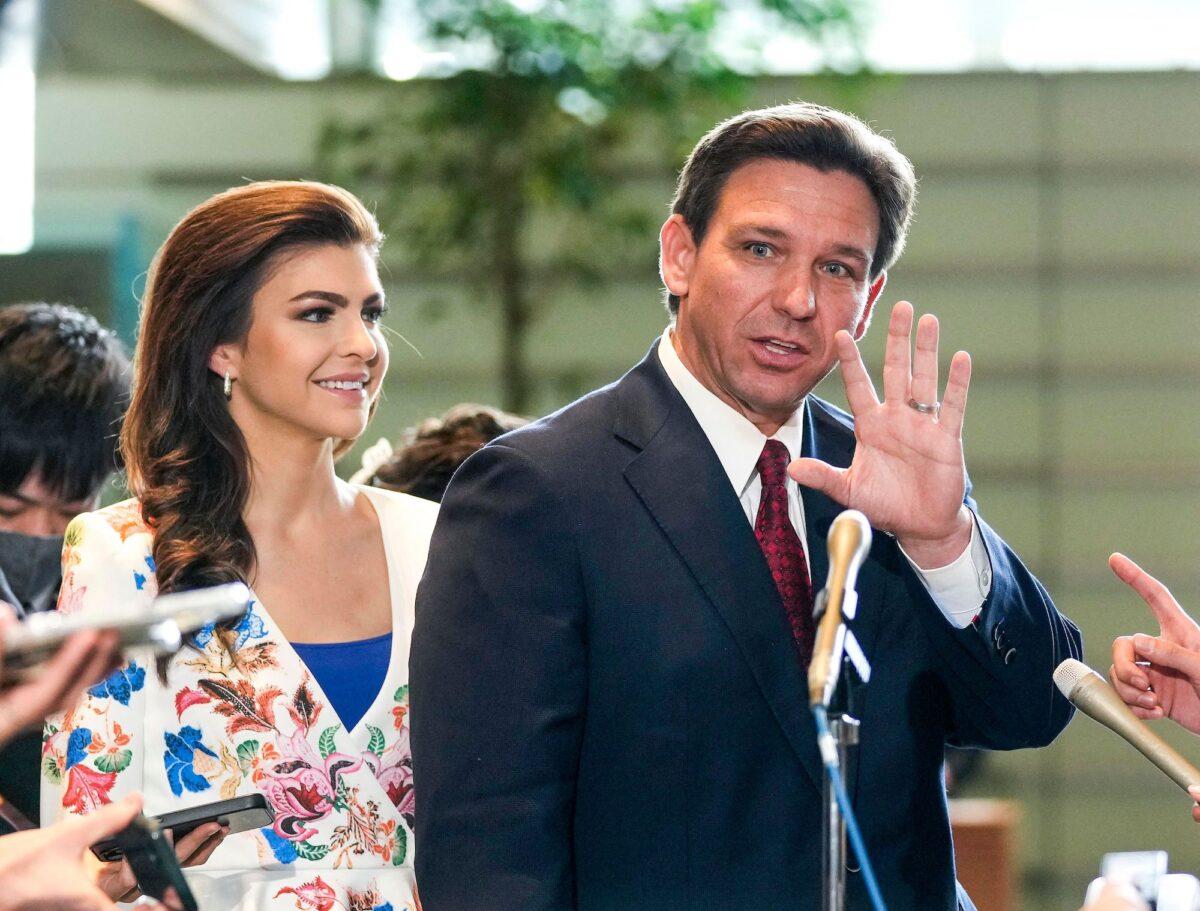 The First Lady said Federal Emergency Management Agency (FEMA) administrator Deanne Criswell, who was visiting Florida early Thursday, is working the the director of Florida's Department of Emergency Management to set up a special program with the Internal Revenue Service. The goal is to create a special tax status that allows individuals to get funds directly, she said.
The collaboration could send "those funds into an entity to go right directly to the individuals and the homeowners," Ms. DeSantis said. "That will be a game-changer to cut through the red tape" usually associated with government.
At 3:32 p.m. the governor's office issued a statement announcing that "since activating, the fund has raised more than $2.5 million to support impacted Floridians."
2:45 PM: Florida's DeSantis Reacts to Hurricane Damage
Florida Gov. Ron DeSantis and his wife, First Lady of Florida Casey DeSantis, surveyed the Big Bend region of Florida Thursday with Federal Emergency Management Agency (FEMA) administrator Deanne Criswell to assess the aftermath of Hurricane Idalia.

"I've seen a lot of really heartbreaking damage," Mr. DeSantis said during a press briefing.

He pointed out that many had lost a church, a home, a business.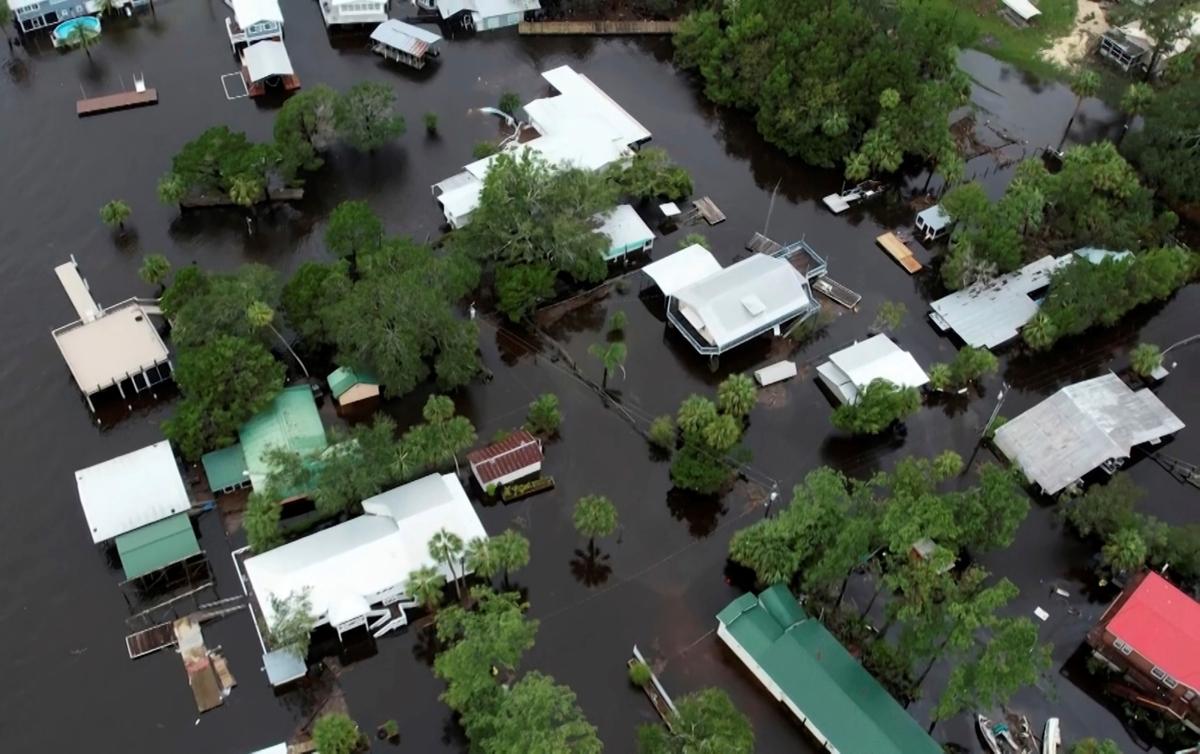 As he spoke to people, he said, "it was all very raw. When you have your whole life's work into a business and it ends up under five feet of water. That's a lot of work that you've got to do going forward."
But, Florida will recover from the disaster, Mr. DeSantis said.
"I know it's going to be a lot of work," he said. "But we will get everyone back on their feet."
2:37 PM: Florida CFO Surveys Recovery Efforts
Florida's Chief Financial Officer Jimmy Patronis arrived in Madison County in the early afternoon Thursday to assess damage from Hurricane Idalia's battering of the area the day before and to speak with those helping with recovery efforts.

"Damage I saw while driving in was worse than I expected," Mr. Patronis posted on X, formerly known as Twitter.

Mr. Patronis was briefed by first responders and addressed Urban Task Force 7 out of Tallahassee, the capital of Florida. On X, he shared a video of massive pine trees ripped down by Idalia's winds. And he called attention to the efforts of linemen from Duke Energy, as they worked to repair power lines taken out by falling trees.

The damage assessment, he said, was still ongoing.
2:30 PM: President Biden Urges Congress to Increase Funding for Disaster Relief
President Biden made an unexpected visit to the headquarters of the Federal Emergency Management Agency (FEMA) headquarters in Washington on Thursday to thank staff for their role in the federal response to Hurricane Idalia and the wildfires in Maui, Hawaii.

While there, the president asked Congress to provide more funds for disaster relief.

"We need to do it in September—we can't wait," he told reporters.

He will visit Florida on Saturday morning, he said.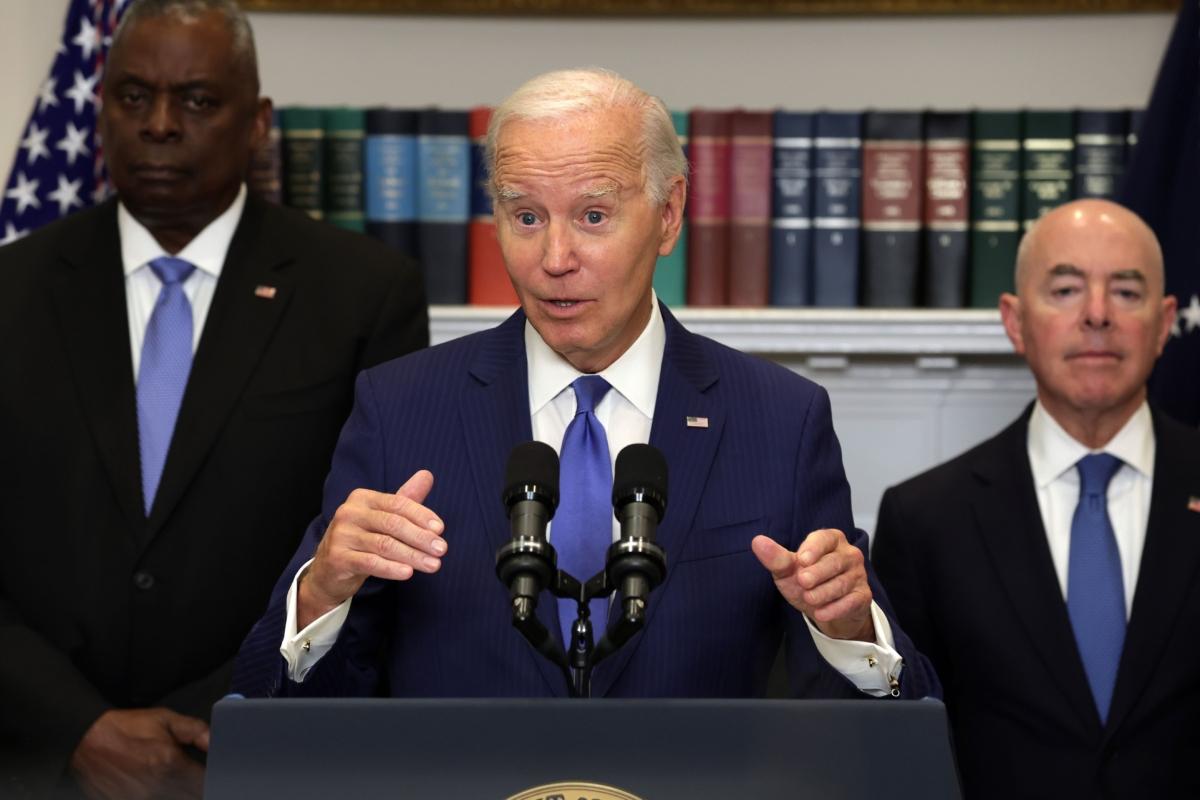 2 PM: National Hurricane Center: Idalia 'Losing Tropical Characteristics'
The National Hurricane Center (NHC) issued its latest intermediate advisory that showed Tropical Storm Idalia was continuing to deteriorate, while still leaving potentially dangerous conditions in its wake.

"Idalia losing tropical characteristics," the NHC announced.

But the danger hasn't fully subsided, the center warned.

"Strong winds and storm surge continue along the coast of North Carolina," the NHC advised.

Idalia is now about 120 miles southeast of Cape Lookout, North Carlina, moving eastward at 20 mph. It still has sustained winds of 65 mph.

Tropical Storm Warnings remain in effect along the North Carolina–Virginia border. Storm surge warnings remain in effect along the coast.

The storm is expected to be downgraded to a post-tropical cyclone later today.
1:15 PM: NC Oyster Farmer Hopeful As Idalia Heads into Atlantic
Tyler Hofe looked out from his home in the Outer Banks of North Carolina to his oyster farm, as tropical storm-force winds whipped across Hatteras Island on Thursday.

He wasn't sure yet how it had fared, he told The Epoch Times in a phone interview. But he was hopeful.

In North Carolina, oyster aquaculture, as it's known, was a $30 million industry, as of 2021, according to the North Carolina Coastal Federation. The federation and partners have set a goal of building it to a $100 million industry by 2030.

A single farmer can run 50 acres of oyster farming, a process that naturally cleans water as the animals feed, according to the federation.

As Mr. Hofe looked out over his farm Thursday, winds were sustained at about 45 mph, with gusts up to 60 mph, he said. And the tide was "really low," because the storm was blowing to the northeast and pushing all of the water south-southwest, he said.
He's co-owner of Kinnakeet Oyster Company in Avon Village, and he has operated the company for almost three years with his business partner, Crew Hayes.
Oyster farmers on the Outer Banks "get this type of weather all winter,"  he said. And they're constantly preparing for dangerous weather.
"All the farms are always taking the steps needed [to be prepared] throughout the year," he said in a calm, seasoned voice.  "These [storms] aren't the ones that we worry about. We worry about westerly storms."
But he can't be sure all is well with his oysters until Idalia has fully left the state, he said.
"No farmer knows until the storm has passed, and you can go out there and really assess things."
12:41 PM: Tropical Storm Conditions Continue in Eastern North Carolina
Rainfall is expected to diminish by early afternoon from coastal North Carolina into far southeast Virginia, according to the National Hurricane Center (NHC).

River flooding "with considerable impacts" was predicted across coastal North Carolina through Thursday, the NHC advised.

Tropical storm conditions were expected to continue across eastern North Carolina for the rest of the day. Tropical-storm-force winds are greater than 39 mph for an average of one minute.
11:45 AM: More Florida Counties Lift Evacuation Orders
Evacuation orders across Florida continue to be lifted as Tropical Storm Idalia continues to move offshore, floodwaters recede, and rescue-and-recovery efforts are executed.

As of 11:45 a.m. Thursday, the Sunshine State had lifted mandatory evacuation orders for 16 counties. Pinellas and Levy Counties lifted voluntary evacuation orders. Baker and Madison Counties downgraded evacuation orders from mandatory to voluntary.

Remaining under mandatory evacuation orders were Citrus, Dixie, Gilchrist, Lafayette, Suwannee, and Taylor Counties.
About 140,000 homes in the state remain without power, according to a post by Gov. Ron DeSantis on X, formerly known as Twitter. The state, he wrote, is working with Florida Power & Light and Duke Energy to restore power as soon as possible.
11 AM: Idalia Moves Offshore, Flooding Still Likely
Tropical Storm Idalia's center now is moving eastward into the Atlantic Ocean, about 85 miles southeast of Cape Lookout, North Carolina.

But flooding and storm surge warnings remain for much of the Outer Banks and the North Carolina coastline, according to the National Hurricane Center (NHC).

Up to three feet of storm surge is expected across the entire coastline of North Carolina, and up to four feet is expected on the Pamlico, Pungo, Neuse, and Bay Rivers.

Nearly all of North Carolina's coastline also remains under a tropical storm warning. Frisco Woods, on the Outer Banks, still is recording sustained winds of 50 mph and gusts up to 64 mph, the NHC advised.

A moderate risk of flash flooding still persists on North Carolina's eastern points from New Bern, through Marsh Island, and up to Elizabeth City.

A slight risk of flooding remains for the North Carolina cities of Jacksonville and Greenville and extends north to Virginia Beach, Va.

Tropical Storm Idalia is recording maximum sustained winds of 60 mph and is moving east at 20 mph. It is expected to downgrade to a post-tropical storm later today.

The storm is expected to strengthen again over the warm Atlantic water and return to tropical storm status this weekend.
10:45 AM: Fatality Reported in Georgia, Storm Recovery Continues
In Georgia, there has been a fatality reported in connection with Idalia in Lowndes County, according to James Stallings, director of the Georgia Emergency Management and Homeland Security Agency (GEMA/HS).

A tree limb fell on the unidentified victim's vehicle, Mr. Stallings said.

Many storm-related injuries have been reported, he said. And the state has two shelters in operation housing 44 residents who've been displaced by the storm.

"I'd like to say a huge thank you to our EMC [Electric Membership Corporation] and Georgia Power partners who have really gotten after it," Mr. Stallings said. Crews have restored more than half the power outages, he said.

Power also has been restored to the majority of the 32 cell phone towers that lost power during the storm, he said. And the Port of Savannah was being inspected, with a goal to reopen shortly.

"Significant crop loss" had been reported, he said.

During the storm-related briefing, Gov. Brian Kemp (R) addressed recent efforts of state legislators to defund Fulton County District Attorney Fani Willis over her prosecution of former President Donald Trump.
"Let me be clear: We have a law in the state of Georgia that clearly outlines the legal steps that can be taken if constituents believe their local prosecutors are violating their oath by engaging in unethical or illegal behavior," Mr. Kemp said.
"Up to this point, I have not seen any evidence that DA Willis's actions, or lack thereof, warrant action by the prosecuting attorney oversight commission. But that will ultimately be a decision that the Commission will make."
The governor criticized Republicans for targeting Ms. Willis, charging that their actions were "distractions that get you to lose an election."
"As long as I'm Governor, we're going to stay focused on the issues that help all Georgians," Mr. Kemp said. "That is the way you win races. … That's what helps people fight through [President] Joe Biden's 40-year-high inflation, not focusing on the past or some grifter scam somebody's doing to help them raise a few dollars into their campaign account."
During Mr. Kemp's campaign for reelection in 2022, former Vice President Mike Pence, who served with former President Trump, campaigned for the incumbent Georgia governor.
Mr. Pence and President Trump are rivals to represent the Republican party in the 2024 presidential election against incumbent President Joe Biden.
10 AM: Hundreds of Thousands in Idalia's Path Still Without Power
As Idalia made her way off the East Coast on Thursday morning, more than 140,000 Floridians were still waiting for their power to be restored.

Florida Power & Light Company (FPL), the state's largest utility, advised that it had "essentially completed" the restoration of power to its Southwest Florida customers and was working to do the same in North Florida.

"We continue to work day and night to restore power safely and as quickly as possible to our customers affected by Hurricane Idalia's destructive path across Florida," FPL President and CEO Armando Pimentel said in a written statement. "As power and a sense of normalcy are restored, we remind everyone to stay alert and safe and to avoid any hazardous conditions."
Just to the north in Georgia, nearly 100,000 people remained without power. However, in a post on X, formerly known as Twitter, Georgia Power assured residents that its teams were working to evaluate the damage and restore power "as quickly as possible."
In the Carolinas, power outages were less widespread, affecting more than 14,000 in South Carolina and more than 21,000 in North Carolina.
9:35 PM: FEMA Administrator Visits Florida
Deanne Criswell, administrator of the Federal Emergency Management Agency (FEMA), was with Florida Gov. Ron DeSantis in the Emergency Operations Center in Tallahassee Thursday morning to inspect the damage to the state–particularly in Taylor County and other counties directly in Hurricane Idalia's path.

"We have received the governor's request for a major disaster declaration, and that is in process right now," Ms. Criswell said. And as President Biden has stated in numerous phone calls, we are committed to bringing the entire federal family in here to continue to support" recovery efforts.
Mr. DeSantis said the state requested a major disaster declaration from the federal government for "all 25 counties that fell under the hurricane warning."
"Why I'm here today is to join the governor and see firsthand the impacts that the communities have had,  so we can determine what level of assistance and what other programs we will need to bring in to help support those people that were in the storm's path, help them on their road to recovery," Ms. Criswell said.
"We are working very closely with FEMA to establish recovery resources," said Kevin Guthrie, director of Florida's Department of Emergency Management. That includes "disaster recovery, recovery centers, mobile registration, intake centers, and even disaster support assistance teams."
9:20 AM: Still No Storm-Related Deaths
Rescue efforts continue to be made by Florida's Urban Search and Rescue teams, Florida National Guard, the Coast Guard, Florida Fish and Wildlife Conservation Commission, and the Florida State Guard, Gov. Ron DeSantis reported.

"There are still reports rolling in," he said, "but as of last night, there were approximately 40 successful rescues made, including 29 by the Florida National Guard. Our Fish and Wildlife officers assisted with a medical evacuation yesterday, and they are conducting high water and welfare checks."

Florida Department of Emergency Management director Kevin Guthrie said there have been no deaths related to the storm.

"At this time, no deaths have been reported to the medical examiner's commission," he said. "The governor and I really hit that hard, 'Evacuate. Evacuate. Evacuate. If you need power, please evacuate.' So, it seems that people have heeded that call. And we're grateful for that."

But Mr. Guthrie and Mr. DeSantis pointed out that this situation differs greatly from what they found in Lee County.
Idalia's forecast was much more consistent, as compared to Hurricane Ian's, they said. And that provided more time to accurately stage preparations. Also, Lee County is far more densely populated than areas hardest hit by Hurricane Idalia.
9:15 AM: Florida's DeSantis: 'This Community is Resilient'
More than 24 hours have passed since Hurricane Ialia made landfall in the State of Florida. The Category 3 hurricane brought sustained winds just under 130 mph to the Big Bend Gulf Coast and sent torrential storm surge up and down the peninsula from Cedar Key to Port Charlotte.

But as the sun rose on Thursday, more than 80 percent of the reported power outage accounts had been restored, Cedar Key bridge and all state bridges were opened, and more than half of the school districts that closed were reopening.

"Yesterday morning, Hurricane Idalia made landfall," Mr. DeSantis said during his 9:15 a.m. press conference at the Emergency Operations Center in Tallahassee. "The State of Florida immediately began response operations, including search and rescue debris cleanup and power restoration efforts. There has been significant damage, particularly along Florida's Big Bend, but the community is resilient, and we're going to work hard to make sure people get what they need."
The governor reported that 420,000 accounts of power loss across the state had been restored as of 6 a.m. Thursday morning, with 146,000 accounts remaining without power. But he said that power is being restored quickly.
8:15 AM: 'Looks Like We Dodged a Bullet'
As Tropical Storm Idalia pushed its way along the North Carolina coast on Thursday morning, South Carolina Emergency Management Director Kim Stenson briefed the state's Emergency Response Team during the morning shift change.

"Looks like we dodged a bullet, but we've still got some work to do to make sure the counties have what they need."

Idalia brought coastal flooding to the Carolinas overnight. In Charleston, South Carolina waves crashed over the seawall that protects the downtown area, sending water gushing into the surrounding streets and neighborhoods.

The storm also unleashed short-lived tornadoes on the area—including one whirlwind that flipped a car on a highway in Goose Creek, South Carolina.
The National Hurricane Center said that a tropical storm warning remained in place for certain areas along the coasts of North and South Carolina. Storm surge was also still a threat to North Carolinians located along the Neuse and Pamlico Rivers and from the Beaufort Inlet to Ocracoke Inlet.
Idalia was recorded to be moving east-northeast at 20 mph along the coast of North Carolina with maximum sustained winds near 60 mph. Forecasters projected that later in the day, the storm would make a southeastward turn and continue that track through Saturday.
T.J. Muscaro, Emel Akan, Samantha Flom, and Th Associated Press contributed to this report