A Justice Department employee was caught on film telling an undercover reporter that she and other federal employees have been trying to resist the Trump administration from within. She also described what appears to be an illegal use of government resources for her political activities.
Allison Hrabar, a paralegal at the Justice Department antitrust division, gained notoriety in June for chasing Homeland Security Secretary Kirstjen Nielsen from a Washington restaurant.
She's a member and organizer for the DC Metro chapter of the Democratic Socialists of America (DSA), which openly promotes implementing socialism in the United States.
Undercover reporters with Project Veritas have infiltrated the ranks of the DSA in Washington and secretly filmed some of its members.
During one encounter, Hrabar said some of her coworkers are DSA members, though most are "regular liberals."
"Are they doing anything to, like, fight against Trump?" an undercover reporter asked.
"Yeah. I mean, a lot of us talk about it so most of them are, like, vaguely politically involved, so they might support candidates and do fundraisers, and some of them canvas," Hrabar said.
Then, in a lower voice, she added, "There's a lot of talk at work about, like, how we can resist from the inside, and there's a lot of, kind of like, push back."
She went on to describe how she sometimes intentionally delays her work and waits with deadlines until the last moment in order to sabotage the Trump administration.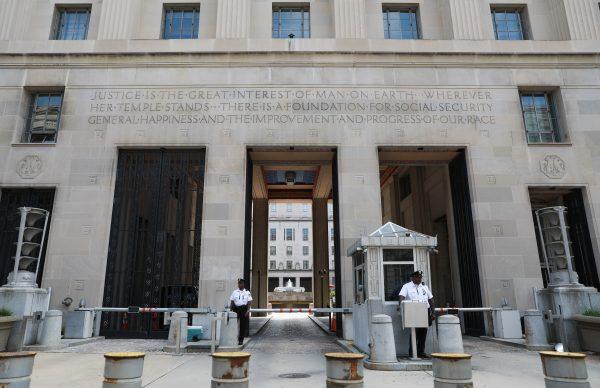 Another DSA member, she said, is slowing down President Donald Trump's reform of food stamps, the Supplemental Nutrition Assistance Program.
"We have a [DSA] member who works for the people who distribute food stamps, and they can like take that away, and they're slowing what they do. Taking their time," she said.
"That means, what they're doing, means that people are going to be able to stay on food stamps for another month or two, which is, like, really important."
Despite such activities, Hrabar expressed confidence in her job security.
"What's kind of lucky is [that] at the DOJ, we can't really get fired," she said.
Thanks to union agreements, federal employees enjoy far more job protection than private sector employees.
Use of Government Resources
On another occasion, during what appeared to be a DSA meeting, Hrabar alluded to improper use of government resources.

To track down the home address of Washington lobbyist Jeremy Wiley, Hrabar said the DSA "ran the license plate" of his car.

"We cannot do it officially," Hrabar said.

Wiley is the managing director of Federal Government Relations at CoreCivic, a company that runs private prisons.

Other DSA members described how Hrabar uses access to the paid LexisNexis database on her work computer to do research on people targeted by DSA.

"She has used it. She uses it probably on her work computer," said Natarajan Subramanian, auditor for the Government Accountability Office and also a DSA member.

"It's not like DSA got a LexisNexis?" an undercover reporter asked.

"No," Subramanian replied.

He said Hrabar could get into trouble if anyone outside of the DSA learned about her use of DOJ LexisNexis access for the DSA.

"That's the kind of thing that you would get fired for if people knew about it," he said.

"If they were able to get proof of that, you know. I mean, we're all walking that line in a lot of ways."

The use of government resources for political purposes could be a violation of the Hatch Act, which, among other things, prohibits federal employees from engaging in political activities while on duty. It could also be a violation of the

basic obligation of public service statute

of the Code of Federal Regulations, which states that federal employees "shall act impartially and not give preferential treatment to any private organization or individual."

Hrabar and the DSA didn't respond to requests for comment.

"These allegations are deeply concerning," a DOJ spokesperson told The Epoch Times in an email. "Department policy prohibits misuse of government resources to advance personal interests. We are looking into this immediately and have referred this matter to the Inspector General as well."
Deep State Series
Veritas released clips from their undercover videos on Sept. 19. The footage also revealed what appeared to be a group of federal workers who resist the Trump administration by leaking internal information, including classified documents.

Veritas promised more exposés of this sort in the near future as part of its series on the "deep state"—holdovers in the federal government from previous administrations who try to damage the current one.

"If you think what you've seen here is bad, you won't believe what's next," Veritas President James O'Keefe said in the latest video.