UPDATE ON MONDAY AFTERNOON:
Irma, downgraded from a hurricane to a tropical storm, is expected to hit southern Georgia by Monday afternoon, said the National Hurricane Center (NHC) in a Monday update.
After crossing the eastern Florida Panhandle, the storm will cross into southwestern Georgia and eastern Alabama on Monday night and Tuesday, 
the agency said.
The post noted that Tropical Storm Irma is expected to weaken as it moves along the northwestern coast of Florida. It has winds of 75 mph, storm surges, and heavy rains.
The Atlanta Journal-Constitution 
reported
 at 12 p.m. ET that some 500,000 homes and businesses had lost power in Georgia.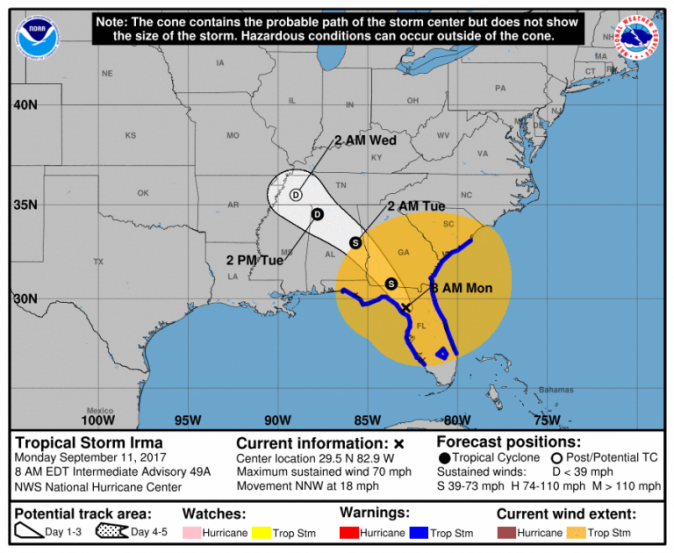 ----
UPDATE as of 5 p.m. ET: The National Hurricane Center said on Sunday afternoon that Hurricane Irma weakened to a Category 2 hurricane.
According to the National Hurricane Center's latest
update at 5 p.m. ET
, Irma is now near Naples. It will bring "dangerous storm surges" that will be expected immediately after Irma's eye passes along the Florida coast.
The strongest winds will be felt in Marco Island and Naples, Florida, for the "next couple of hours," the agency stated in its last
update
. According to
The Weather Channel
, when Irma hit Marco Island at 3:35 p.m. ET, it was the "second landfall" for the storm after it slammed the Florida Keys (that happened at 9:10 a.m. ET Sunday).
The National Weather Service
tweeted
at 4:34 p.m. that the "Naples Municipal Airport recorded a wind gust of 142 mph."
Irma now will take a north-northwestward motion "with a further increase in forward speed" that will occur later on Sunday, said the NHC. That motion will persist until Monday.
"On the forecast track, the center of Irma should move near or over the southwest and west coast of the Florida Peninsula later today through tonight. Irma should then move inland over northern Florida and southwestern Georgia Monday afternoon," the NHC stated.
"Eyewall heading north toward southern Lee County. Extreme wind warning has been issued for Lee County," the National Weather Service
tweeted at 4:15 p.m.
 Lee County encompasses Fort Meyers and Cape Coral. It's located about 50 miles south of Tampa and St. Petersburg, which will be hit by Irma later today, according to the NHC's and other weather prediction models.
The National Weather Service Key West division tweeted at 4:18 p.m. that Irma's eye is now at Naples.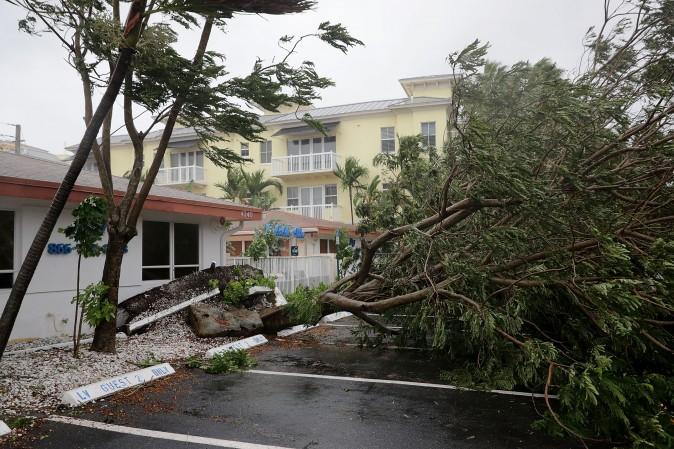 The storm hit Florida as a Category 4 storm on the Saffir-Simpson Hurricane Wind Scale. Even though it weakened, Irma is still considered a "powerful hurricane" as it moves north along the west coast of Florida, the agency noted.
After the eye of Irma passes, a storm surge can be expected, the Weather Channel reported.
The NHC said that Cape Sable to Captiva can expect 10 to 15 feet of storm surge, while Captiva to Ana Maria Island can see 6 to 10 feet. North Miami Beach to Card Sound Bridge may see 3 to 5 feet. And Miami Beach to Jupiter Inlet might see 1 to 2 feet.
There have been reports of flooding in downtown Miami, St. Augustine, and other areas. The Marco Island Police Department tweeted a photo that appears to show flooding and severe damage on the island.
The NHC also cautioned: "Do not venture outside when the calm eye of the hurricane passes over, as dangerous winds will return very quickly when the eye moves away."