North Korean despot Kim Jong Un reportedly had a third child after there was speculation over why his wife Ri Sol Ju, a former singer, disappeared from the public eye for several months.
The South Korean Yonhap News Agency had 
reported
that Kim and Ri had their third child in February of 2017. The news outlet cited South Korean lawmakers who were briefed by the National Intelligence Service.
Ri and Kim got married in 2009 before she gave birth the following year. Their second child was born in 2013, according to media reports.
The children, unless the regime collapses, will likely follow in the footsteps of Kim in North Korea's communist-monarchy.
Dennis Rodman, the former NBA star, told reporters that Kim's second child is a girl after he visited the country, but it's unclear if Kim has a male heir to succeed him. His father, Kim Jong Il, and grandfather, Kim Il Sung, were both dictators of the communist regime.
However, South Korean opposition lawmaker Yi Wan Yong has said: "Kim's first child is a son and the second child is a daughter."
"The gender of their new child is unknown," the lawmaker told
CNN
this week.
Ri was partially educated in China. In 2005, she visited South Korea "as a member of North Korea's cheering squad," a South Korean lawmaker told CNN.
The details come as Kim and his delegation visit Vietnam to meet with President Donald Trump. On Wednesday, he and Trump shook hands.
"It's an honor to be with Chairman Kim," Trump said of the meeting, according to
Fox News
. "I thought the first summit was a great success and I think this one, hopefully, will be equal or greater than the first."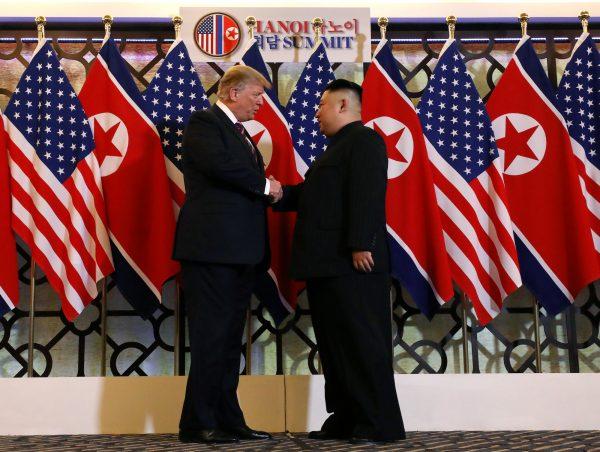 Trump told the North Korean dictator that he believes North Korea "has tremendous economic potential, unbelievable, unlimited."
"I look forward to watching it happen and to helping it to happen and we will help it to happen," he continued.
Trump also was asked about formally ending the Korean War. Only an armistice was declared in the conflict, which occurred over 60 years ago.
"We will see," Trump said.
"Those 261 days [since we met in Singapore] were the days during which a lot of painstaking efforts were necessary and a lot of patience was needed. As I see you here today…that gives us a hope that we will be successful this time…" Kim said.  "That's nice, that's really nice, thank you," Trump said.
"I hope and I think it'll lead to wonderful it'll lead to really a wonderful situation long term. And our relationship is a very special relationship," Trump said.
The second summit comes amid a stalemate over talks regarding the denuclearization of the Korean Peninsula. In recent months, North Korea has ramped up its statements against the United States.