Electricity generation from hydropower generation fell to its lowest level globally since 2000, owing to low rainfall last year. It is expected to drop further this year as heat waves and droughts sweep across China, the United States, and Europe.
According to Global Electricity Review 2022 by Ember, an independent energy and environment think tank, clean energy accounted for 38 percent of global electricity in 2021, including 15 percent generated from hydropower.
China
Since 2000, two-thirds of global hydropower growth has come from China, where five of the world's top ten largest hydropower stations are located.

Sichuan Province, China's hydroelectric powerhouse, has been hit hard this summer by severe drought coupled with extremely high temperatures.  Summer is usually Sichuan's flood season.

According to data collected by CITIC Construction Securities, the average rainfall in Sichuan Province between July 1 and Aug. 10 was about 50 percent less than the historical average.
Water levels in the middle and lower reaches of the Yangtze River were significantly lower, as were the levels in the reservoirs.
In July and August, the average inflow of the river into the Three Gorges Reservoir—the world's largest hydroelectric power station—dropped 34 percent compared with the same period last year and 46 percent compared to three years ago.
United States
In the United States, 33 percent of its territory experienced severe to extreme drought conditions in July.

California had extreme drought conditions in the first quarter of the year, making 2022 the driest year in California in the past 128 years since record keeping began. In August, 17 percent of the state had abnormally dry conditions.

The U.S. Energy Information Administration (EIA) reported in June that California's reservoir levels were well below historical averages this summer due to drought, and hydroelectric generation is expected to be halved, with the power shortfall expected to be filled by an increase in natural gas power generation.
The EIA report also revealed that California's two largest reservoirs—Lake Shasta and Lake Oroville—are currently at critically low levels.
Lake Shasta's water level is only 48 percent of the historical average, while Oroville's level is 67 percent of the historical average.
According to the California Energy Commission, 19 percent of California's in-state electricity generation in 2019 and 2020 came from hydropower, but due to high temperatures and drought, the share of hydropower dropped to 11 percent and could drop further.
Europe
In Europe, the European Commission's Joint Research Center (JRC) has warned that Europe is facing the worst drought in 500 years, which is expected to have a significant impact on hydroelectric power generation.

Data from the European Drought Observatory show that large parts of Europe are under "warning" or "alert" drought levels this summer.

In late August, reservoirs in the southwestern region of Norway, known as "Europe's battery," were already half empty, while reservoirs in eastern Norway were at their lowest level in 20 years. Currently, Norway's reservoirs create very little power output, and the country is expected to impose restrictions on winter electricity exports.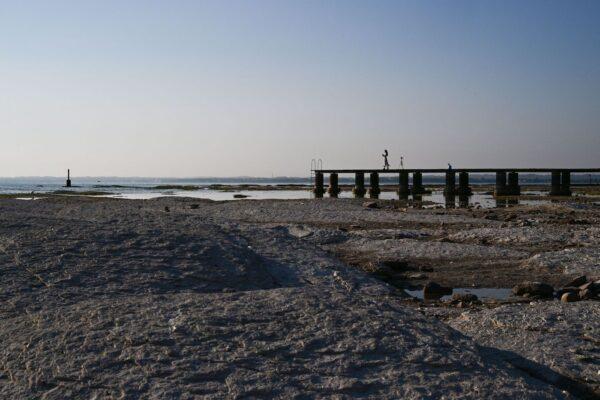 In Italy, due to severe water shortage, the country's total hydropower generation in the first half of this year was estimated to be only half of the same period last year. Italy's largest freshwater source—the Po River—is facing its worst drought in 70 years.
France also had record low rainfall in July this year, only 16 percent of the historical average for the same period in the past 30 years. The country's rivers and lakes have fallen to their lowest levels in more than 20 years.
According to an August report by Electricité de France, hydropower generation in the Rhone Valley, Alps, and Cote d'Azur regions, which account for 70 percent of the country's hydroelectric power, has fallen by 60 percent in the eight-month period from January to August this year.