Some former Major Leaguers—who were in baseball for the love of the game long before multi-million-dollar contracts—recall a simpler era and the first time they appeared on a Topps players' card.
Former pitcher John D'Acquisto well remembers the first time he saw his image on a card even though that was nearly 50 years ago. D'Acquisto was 23 when he appeared on a 1974 Topps rookie card he shared with three other up-and-coming players.
"I thought 'Wow' I guess I made it to the show," D'Acquisto, now 70, told The Epoch Times. "I guess the $5 I got when I first signed my contract with Topps was worth it. Knowing I would live on in the annals of baseball history was pretty darn exciting to me."
Today, collectors and fans see the 2022 season with mixed emotions.
Topps, the company that produced the baseball cards since 1951, sold the company to Fanatics for a reported $500 million in January. The 2022 season technically is the last year for Topps as fans and collectors know it as the eCommerce and sports apparel giant prepares to step up to the plate and take a big swing with its ideas for the baseball card world.
Fans and players alike have fond memories of opening the cellophane packs of cards they often rushed to buy at the local corner store when they were kids.
D'Acquisto, who pitched for the San Francisco Giants in the early 1970s, was on a card by himself in 1975. It features a Topps All-Star Rookie Trophy on it—an added feature Topps did for top prospects.
His '75 Topps is one of his two favorites. The 1980 Topps when he pitched for the San Diego Padres, is his other favorite card.
D'Acquisto said being a teammate of baseball legend Willie Mays in the early 1970s when Mays was near the end of his career also was a big thrill.
Mays, who appeared on dozens of Topps baseball cards from the early 1950s to the early 70s, was a close friend of Sy Berger, a former executive of Topps. When Mays retired from baseball in 1973 as a New York Mets player, Berger presented Mays with all of his Topps cards in a matted frame.
Berger is considered "The Father of the Modern Day Baseball Card," because he came up with the idea of putting out a larger set of cards consisting of more players in 1952. It was the second year Topps printed cards, and they were just beginning to become more popular.
In 2016, D'Acquisto wrote a book "Fastball John" that chronicled his career, living in California, and baseball in the 1970s.
Now living in Phoenix, Arizona, D'Acquisto often appears at Major League Alumni events where he is still well remembered and speaks before baseball-related groups.
On his Facebook page, D'Acquisto posts collages he renders of former players who pass away as a tribute to them. Most of the collages feature a number of the Topps cards the player appeared on. The posts receive hundreds of comments from people sharing memories of that person's career.
"On average, I receive 20-25 baseball cards in the mail for autograph requests," D'Acquisto said.
If they have a self-addressed-stamped envelope, D'Acquisto obliges and returns them.
Going back to an earlier decade, former MLB pitcher Ron Nischwitz's sentiments echoed D'Acquisto's. Nischwitz first saw himself on a baseball card—a 1962 Topps Rookie Parade card when he played for the Detroit Tigers.
He appeared on the card with other notable pitchers Sam McDowell of the Cleveland Indians and Dick Radatz of the Boston Red Sox. The high-numbered card was in the set's later series and is somewhat hard to find. One in excellent or mint condition is valued at $75 to $80.
"I was pleased when I saw myself on a baseball card for the first time," Nischwitz, 84, said. "I used to collect baseball cards as a kid and had stacks of them. Warren Spahn was my hero, and I always liked to get cards of him."
Nischwitz later appeared by himself on a '63 Topps when he played for the Cleveland Indians and also a '66 Topps when he returned to the Tigers.
In fact, as part of its Heritage and Commemorative series, Topps reprinted Nischwitz's '66 Topps in 2016, marking the 50th anniversary of his last year in the Major Leagues. Topps had him autograph a limited number of them that they put in assorted packs that year for collectors to discover.
"I'd like to get some more of those cards, but with Topps changing hands, I'm not sure how or if I'll be able to do that," said Nischwitz who lives in Fairborn, Ohio near Dayton, and often buys his old cards at sports memorabilia shows.
Nischwitz said he receives about 10 autograph requests through the mail each week to sign his cards from the 60s.
Another former player, who started playing in the Majors in the late 1960s, remembers when Topps didn't pay the players money—but provided them a catalog to order gifts from instead.
Darrel Chaney, a former shortstop for the early years of the Cincinnati Reds' "Big Red Machine" powerhouse days, ordered a grandfather clock from the catalog, and he and his wife, Cindy, still have it in their home in Georgia.
"It's still here in our house tickin' away," Chaney said.
When he received his first set of bats from Louisville Slugger, he ordered a new set of golf clubs from the catalog the bat manufacturer provided.
Chaney also has fond memories of seeing himself in print—a 1969 Topps rookie card he shared with Terry Harmon of the Phillies and former New York Mets catcher Duffy Dyer who played on the '69 Mets World Championship team.
Chaney played in three World Series with the Reds—in 1970, '72, and the '75 World Championship team.
"I remember the first time I saw myself on a card, I thought it was kind of neat," Chaney, 74, said. "I didn't know what it would get me or if it would lead to anything, but when you're a young 21-year-old kid, it was a thrill.
When Chaney heard that Fanatics bought Topps for $500 million, he said, "That's a lot of bubblegum."
Growing up in Hammond, Indiana, 26 miles from Chicago's Wrigley Field, Chaney told The Epoch Times he was a Cubs fan and said Ernie Banks was his idol. He said really didn't collect cards, but he had some when he first became interested in baseball in 1954 and '55.
"We weren't really well off, so I didn't buy a lot of them," said Chaney, who lives in Georgia. "I actually put some of them on a clothespin and folded them up in my bicycle spokes to hear the sound they would make when I was riding my bike. I had a box of cards in my closet, and my Mom wound up throwing them away."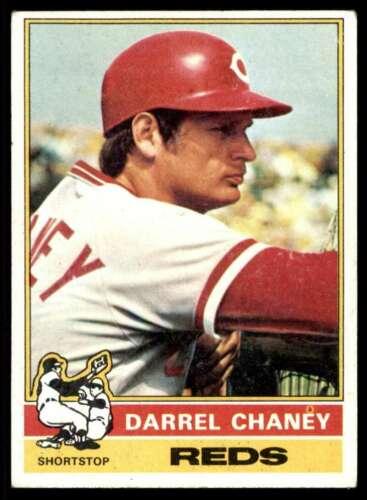 Overall, Chaney appeared on 12 Topps cards from 1969 to '79. He played for the Atlanta Braves for the last four years of his career and was one of their broadcasters in 1982.
Although Chaney said he really doesn't have a favorite baseball card of himself, the one he likes the most is his 1976 Topps. It's a close-up shot of him from the side leaning on the batting cage before the Reds played the Mets at Shea Stadium.
When he worked with Pastor Dan Hettinger on his book "Welcome to the Big Leagues: Every Man's Journey to Significance, the Darrel Chaney Story" released in 2013, he used the photo from his '76 card on the cover.
Chaney's son, Keith, briefly played in the Braves minor league system. His grandson, Chase, is in the Los Angeles Angels system.
Today, Chaney is a motivational speaker and speaks about faith and family with former Reds teammate Doug Flynn for the Pro Athletes Outreach Organization. They minister to younger married players.
Chaney said he receives about six autograph requests a week, fans often asking him to sign his baseball cards, mostly his Reds cards from the 70s. He also send out a special-made card featuring a picture of him as a Reds shortstop in 1969.
Chaney has a $5 fee per autograph on cards or pictures and $10 on baseballs or round items.
He donates the money to the Major League Alumni Association to help former players going through hardship.
"A lot of people don't mind paying the fee," Chaney said. "It's going for a good cause. "Back when I played, the players didn't make near the money they do today."