The Chinese Communist Party (CCP) has been imposing COVID-19 vaccinations upon the public, amid concerns over efficacy and health implications, according to people familiar with the situation.
A female netizen named Duan Da Dan
posted in Chinese on social media site Weibo
on March 31: "I'm really annoyed that my employer forces me to receive shots even if I'm planning to get pregnant. [They] never consider the possible impact on the fetus."
Another internet user claimed in
a Chinese-language Weibo post
on March 30 that she had broken out in hives twice, indicating she suffers from allergies, yet her employer was still pressuring her every day to get vaccinated.
No Vaccination Certificate, No Entry
The Epoch Times has learned that a local market authority in Hainan Province has ruled that no one is permitted to enter the market without a vaccination certificate. A vegetable retailer with the surname Liu in the Honggang Market of Sanya city, Hainan Province, told The Epoch Times that no one can enter the market without having received the vaccine.
"We didn't receive the notice until March 23. But we have to get vaccinated on March 24," Liu said. He added that reduced customer traffic had led to a one-third drop in sales.
"It's true in the whole city of Sanya. It's mandatory.
"Nobody wants it. ... Nobody can tell what impact it will have on our health."
A seafood retailer with the surname Wang reported that early on March 24, more than 100 urban administrative and law enforcement personnel showed up to guard the market. They examined every visitor's health code before letting them in.
Vaccination: A Critical Political Task
Getting the shot is deemed an important political task to be performed in all of China's enterprises, schools, and community centers.

Recently, Sokon Group, a large private firm in Chongqing city, demanded that its employees complete vaccination as a critical political task, according to an internal notice obtained from the company by The Epoch Times.

The document, dated March 25, required all units under the group to "take vaccination as a critical political task" and perform their responsibility to ensure "it be applied in principle to all employees between the ages of 18 and 59 except pregnant or breastfeeding women ... and the vaccination should be completed at local town hospitals by April 30, 2021."
"Whichever unit or individual fails to respond to the vaccination properly or commits an error will be held accountable," the notice said.
Even though it's a private firm, Sokon has links to the CCP. Company Chair Zhang Xinghai is a deputy to the CCP's National People's Congress, its website says.
CCP branches are also available in the company, whose Chinese-language site says, "The CCP committee of the company always adheres to the party's leadership, maintaining a high degree of consistency with the Central CCP Committee in terms of ideology and action."
Likewise, vaccination is also at the top of the agenda in many other parts of China.
An online image dated March 25 shows a notice issued by Kuliushu village of Shunyi district, declaring that residents who fail to be vaccinated by April 6 will be banned from entering the community.
A man with the surname Li from Simajia town, Jiamusi city, in Heilongjiang province told The Epoch Times that local authorities issued a notice on March 29 to residents via WeChat that vaccination was required. To emphasize its importance, the notice was reissued on the morning of March 30. It was also broadcast on loudspeakers in individual villages already set up for the shots.
The notice highlighted "unconditional vaccination," unless people show a recent medical record indicating ineligibility for vaccination.
"Those who refuse vaccination will have to bear all expenses when they contract COVID-19 and will be held legally responsible for spreading the virus to others," the notice threatened.
In parts of Beijing, community centers promised benefits to encourage vaccination, including tickets to visit Beijing's Lama Temple, extra holidays, and other incentives. In some cases, elderly people could be given one or two boxes of fresh eggs if they consent to the vaccine.
Hesitant Staff at State-Run Enterprises
Likewise, employees from Beijing's state-run enterprises feel pressure as well, according to Chinese news reports.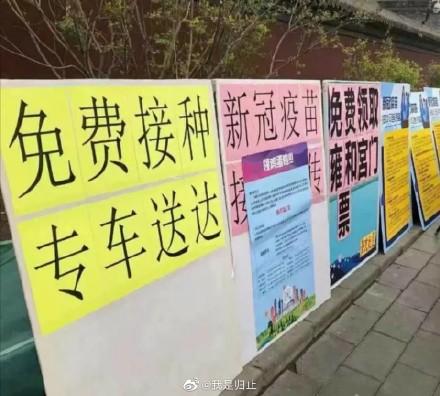 A female staffer with the surname Hu said her employer posted a notice requesting all employees to be vaccinated as soon as possible, according to a Chinese-language report in VOA on March 15.
She revealed that the utility management company in their office building had ordered a vaccination rate of more than 90 percent of tenants and that all units must collect relevant data. Though she hated implementing forced vaccination, Hu was afraid she would face investigation or punishment if she didn't comply.
Another staffer with the surname Ho, also from a Beijing state-run company, corroborated Hu's statement, adding that all local state enterprises followed similar policies regarding COVID-19. He told VOA that he had decided not to take the vaccine because he was preparing to have a child and was concerned about its impact on the fetus.
Security Concern Leads to Hesitancy
There is vaccine hesitancy among the Chinese public due to concerns over the vaccine's efficacy.

In mid-February, a survey of 756 medical workers in Zhejiang province demonstrated that only 28 percent of respondents wanted to get vaccinated after the shots were available, according to the Chinese Journal of Vaccines and Immunization.

Evidence suggests that Chinese authorities are concerned about the current rate of vaccinations, which has been slower than expected, although more than 100 million shots have been administered, according to China's state media outlets.

An internet user nicknamed TuCaoFakeNews expressed strong skepticism in a March 31 post, with an image of a local informed consent notice for inactivated vaccines against COVID-19. When it came to vaccine clinical trial data, it read in Chinese, "There has not been human observation data available; and we cannot root out the possibility of increased condition of a vaccine taker when he or she contracts COVID-19 after receiving shots."

A study suggested that China's Sinopharm vaccine efficacy rate is only 11.5 percent to 33 percent, according to a March 10 report on Speevr, a California-based financial technology platform.

In Hong Kong, 11 residents died after receiving shots of CoronaVac, a vaccine developed by Chinese drugmaker Sinovac. The deaths are under investigation, according to Hong Kong media.

Additionally, Brazil's findings in a late-stage trial show that CoronaVac was found to be only

50.4 percent effective.
Activist Lawyer: CCP Treats Public as Guinea Pigs
An activist lawyer with the surname Wu told the Chinese-language Epoch Times that China's public servants are also being forced to receive shots, although it's said they have priority.
He emphasized that Chinese-made vaccines are unreliable, and noted that it's impossible for China to develop a safe product within a short time period, given the history of previous vaccine accidents that have led to children's deaths and adult disability cases.
Wu says it's shocking that Chinese authorities are promoting China-made vaccines to more than a billion citizens while they are clearly of poor quality.
"They're really taking citizens' lives for granted," he said.
Gu Xiaohua, Hong Ning, and Zhang Yujie contributed to this report.