PUNTA GORDA, Fla.—Gov. Ron DeSantis signed House Bill 5, the Reducing Fetal and Infant Mortality Act, into law on April 14, banning most abortions after 15 weeks.
Exceptions to the law, which goes into effect on July 1, would include procedures to save a mother's life or if the fetus has a fatal abnormality.
"We are here to defend those who cannot defend themselves," DeSantis said at the signing in Nación de Fe Church in Kissimmee, surrounded by Republican lawmakers and other pro-life supporters. "We are here today to protect life."
HB 5 gives the state one of the most "restrictive abortion measures" currently in the nation as the U.S. Supreme Court is set to rule on a similar measure this summer that was approved in Mississippi, also banning nearly all pregnancies after 15 weeks. People opposing legislation that restricts abortions fear the high court will overturn Roe v. Wade, which gave women the constitutional right to abortion in 1973.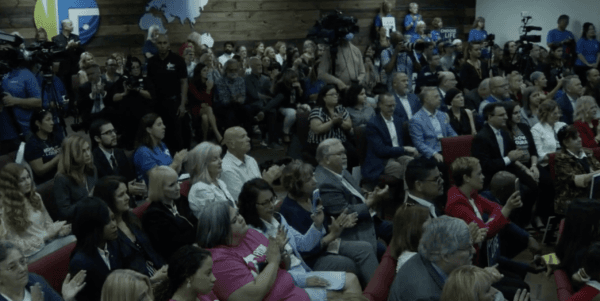 The HB 5 signing comes on the heels of a decision made by a Tallahassee judge on April 12 that upheld Florida's 24-hour waiting period for women seeking an abortion.
Seven years ago, former Florida Gov. Rick Scott, also a Republican and now U.S. Senator, signed the waiting period legislation. Afterward, a lawsuit was filed on behalf of a Gainesville women's clinic.
Last week, Circuit Judge Angela Dempsey tossed out the lawsuit, saying that "medical procedures have similar waiting periods" as well as "other decisions," such as getting married, getting a divorce, and even "buying a gun have longer waiting periods."
Julia Kay, a staff attorney with the ACLU Reproductive Freedom Project, issued a statement in response to the ruling.
"This will force Floridians to delay obtaining time-sensitive care for at least 24 hours after meeting with a physician and to make an additional, medically unnecessary trip to a clinic," Kay said. "The law will be put into effect immediately, without any grace period for implementation, which will cause further harm, up-ending health care operations and forcing patients to reschedule appointments."
She further wrote that the legal team is still assessing its next steps for the litigation.
Barbara Zdravecky, president and CEO of Planned Parenthood of Southwest and Central Florida, said in a written statement that "Floridians have had enough of politicians and court continuing to restrict people's freedom."
"Women and pregnant people do not need our health care choices second-guessed by politicians in Tallahassee who know nothing of our lives, our stories," she wrote. "The repercussion of the mandatory delay will be even worse now that the Florida legislature has taken the extreme step of passing a ban on abortions after 15 weeks."
The new law will replace a previous one that allowed abortions until 24 weeks of pregnancy.
A statement to The Epoch Times from the governor's office said HB 5 will also appropriate $1.6 million in recurring funds from the General Revenue Fund for the Fiscal Year 2022–2023 to the Florida Department of Health to fund related programs and initiatives.
Included in the measure are provisions for reporting human trafficking, fetal and infant mortality review committees, perinatal quality collaboratives to improve the quality of care for mothers and babies, and tobacco education and use prevention.
"House Bill 5 protects babies in the womb who have beating hearts, who can move, who can taste, who can see, and who can feel pain," DeSantis told the standing-room-only crowd waving pro-life signs in approval of the legislation. "Life is a sacred gift worthy of our protection, and I am proud to sign this great piece of legislation, which represents the most significant protections for life in the state's modern history."
Lawmakers on both sides of the aisle shared personal—at times visibly painful—stories of how abortion had affected their lives during the March legislative process.
State Rep. Robin Bartleman, a Democrat, told The Epoch Times in a written statement that "women across the state of Florida expected this day to come."
"This egregious law takes away a woman's right to make personal decisions about her body and her health," Bartleman wrote. "As a mother of two daughters, and a woman who was faced with the painful choice of terminating a much-wanted pregnancy due to fetal abnormalities, it is unconscionable that women no longer have the right to make personal decisions about their families and bodies. It should be noted that the earliest an amniocentesis can be performed is at 16 weeks and a fetal anatomy scan is performed at 18 weeks. This 15-week abortion ban takes the decision-making process away from women and their families. This draconian law has no exceptions for rape and incest. It's a sad day for women."
While Democrats argued that abortion is "an established woman's right" under both the U.S. and Florida constitutions, their Republican counterparts maintained that abortion is the "taking of human life."
"We should trust the women of Florida to make this decision," state Rep. Anna Eskamani, a Democrat, said during the discussion of the legislation in March. "This is not something with which the government should be involved."
House Republicans rejected proposed amendments that would have added exemptions for rape, incest, and human trafficking. Democrats also tried, without success, to reduce—from two to one—the number of doctors who must sign off on any abortion after 15 weeks.
At the signing ceremony in Kissimmee, the sponsor of HB 5, state Rep. Erin Grall, a Republican, said the "consequences of abortion are devastating."
"Our society has become increasingly numb to the intrinsic value of human life," Grall told the crowd. "Abortion sanctions the killing of a child if a parent deems that child to be inconvenient."
She estimated that more than 60 million children have been aborted since 1973 after Roe v. Wade and said that "late-term abortion was barbaric" and hoped that HB 5 would "end such evil practices" that can have a wide-reaching effect on people you love.
Grall's sister Heather Grall Barwick was also in attendance and had her own story to tell.
"I am the person [whom] she loves, who has had an abortion," Barwick said, describing herself as the crowd immediately quieted. "I have held on to my painful secret for 20 years. I made a mistake that I cannot change, but I can let others learn from my mistake."
It took a long time for her to "come to grips" with her decision to have an abortion, she said, and for her, that time was two years ago.
"Being able to speak publicly about my abortion has allowed the healing to begin," Barwick said. "Honesty has been liberating."
Florida's measure, while modeled after Mississippi's law, doesn't go as far as the Texas law, which prohibits abortions after six weeks of pregnancy and "empowers Texas citizens to enforce the law through the court remedies."
The Florida Constitution includes privacy protections that have been interpreted in the past by the Florida Supreme Court as protecting a right to abortion. DeSantis has filled three of the seven seats with conservative judges who would hear any appeals to the new law if it's challenged.