PUNTA GORDA, Fla.–Florida Gov. Ron DeSantis, on April 29, rejected the Biden administration's newly formed 
Disinformation Governance Board
, comparing its aim to educate the public about disinformation to "stifling dissent" and likening it to George Orwell's "Ministry of Truth."
The creation of the 
Disinformation Governance Board
 was announced by 
Homeland Security
 Secretary Alejandro Mayorkas during a House Appropriations subcommittee hearing on April 27.  Its purpose, he said, was to counter the spread of false information.
Heading the board will be Nina Jankowicz, who previously served as a disinformation fellow at the Wilson Center. Her appointment drew harsh criticism from some on social media who contend that she would not be an impartial executive director because she has previously 
referred
 to Hunter Biden's laptop as a "Trump campaign product" and suggested it was a  "Russian influence op."
"This is not acceptable," said DeSantis. "They want to stifle dissent ... The public is sick of this."
"We know they actually appointed somebody to lead [the board], who herself has been an advocate for COVID lockdowns who herself has put out disinformation about the Hunter Biden tapes, who supported Russia collusion, conspiracy theories," he said at a press conference.
"You cannot have a 'Ministry of  Truth' in this country," DeSantis said in reference to Orwell's "1984" novel. "People can speak the truth to a very decaying and discredited ruling elite in this country–so let's get real here."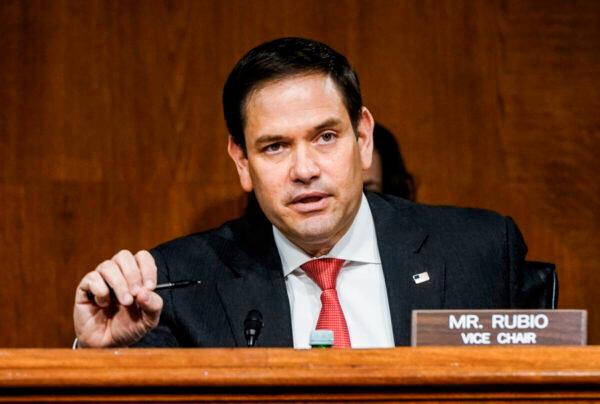 Florida Sen. Marco Rubio sounded the alarm about the newly formed agency in a
tweet
on April 27, warning the public that "the Marxist left (is) coming after your most basic constitutional rights, you better believe it now."
"This is under the Department of Homeland Security, so instead of the Department of Homeland Security focused on stopping drugs from coming into America, or securing the border, stopping illegal immigration, they're not going to be focused on that," he wrote on Twitter. "They're focused on policing speech, on making sure that people can't share information or say things that they decide is misinformation."
DeSantis stated that he "was not having it in Florida."
"We believe it's essential that individual Floridians and Americans are able to speak out against false narratives trying to be jammed down our throats by this regime," the Republican governor told a crowd of supporters during a check presentation for infrastructure improvements to Levy County. "I honestly thought this was just a bad April Fool's joke, but they are actually going to create [it] through the Department of Homeland Security."
DeSantis said that you don't have to look any further than the recent purchase of Twitter by Elon Musk to know that "people are fed up."
"Musk saw that and saw people being censored–like the Babylon Bee, a satirical site, being locked down," he continued. "All because they had the temerity to do satire about some of the transgender ideology."
Florida owns stock in Twitter through the State Retirement Fund, and DeSantis said he was prepared to take the company to task if they had rejected Musk's offer because the Twitter board would have breached their "fiduciary duty" to the shareholders.
"They had to accept the offer because financially, it made sense," he explained.
DeSantis said he believes the current government wants to stifle dissent, and he's glad that Americans can now—through platforms like Twitter—"speak the truth and fight back."
As far as the disinformation bureau, the governor said, "We're not going to let Biden get away with this one, so we're fighting back."