WYNNEWOOD, Pa.—Matt Peskin was glad to see thousands of people attending the annual National Night Out (NNO) on Tuesday, an annual event he initiated decades ago.
"It's a great turnout," said Mr. Peskin of the event held behind the Wynnewood Shopping Center that's part of a campaign in its 40th year promoting police-community partnerships.
"National Night Out brings people from the community out together with first responders so that they become closer with first responders in case we need them," he said.
"And it's a way for the community to be closer together in the event somebody has to call 911; they're more comfortable if they know the first responder that they're calling."
National Night Out seeks to make neighborhoods safer and more caring places to live, and each year, people across the country now participate in its events.
"We all want to live in a safe place. If you think about the 1940s and the 1950s, they were safe because everybody knew each other. They looked out for one another," Mr. Peskin said.
"And everybody knew the cop on the street. So that's what my dad was trying to recreate (this kind of environment)," Mr. Peskin said.
"We have about 16,000 cities that participate in the event. So there are more cities out there. We try and introduce it to new communities each year."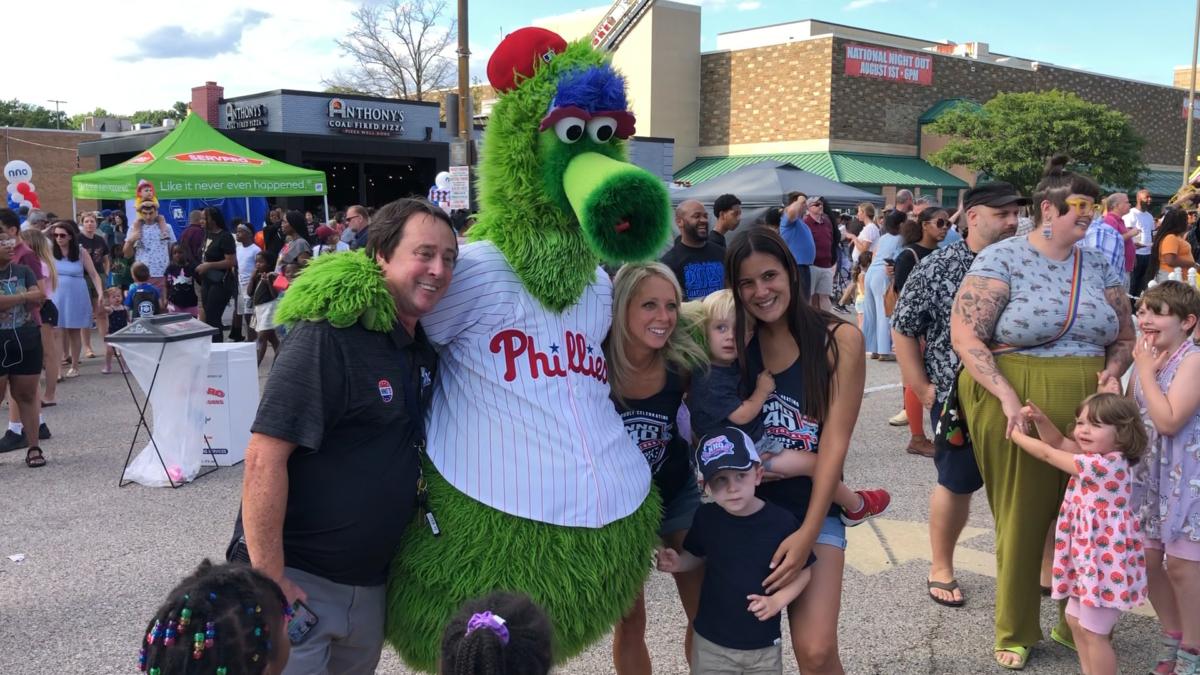 Mr. Peskin established the National Association of Town Watch in 1981, working with community leaders, law enforcement agencies, and local officials to advance crime and drug prevention.
In 1984, he created National Night Out, which takes place annually on the first Tuesday of August.
Mr. Peskin has been recognized by the White House, the U.S. Department of Justice, and the U.S. Congress for his achievements in leadership.
Pennsylvania State Rep. Mary Jo Daley was also at the National Night Out in Wynnewood.
"I really enjoy coming to the National Night Out because it's a great fun night for kids with all the amusements and the games," she said.
"And it's also educational because all the tables have information that is helpful in terms of health and mental health."
New Castle County Hosted National Night Out
Several cities in Delaware also held National Night Out.
The New Castle County Division of Police hosted its event at Kirk Middle School in Newark, Delaware, with food, games, fun, static displays, police vehicles, a K9 demo, mounted patrol, and community resources.
"National Night Out is a community-building event. It brings out our officers and some of our specialized units, trucks, and community partners for a positive event," Corp. Michael McNasby, Public Information Officer, said.
"This way, the public can engage with our officers and see what our department has to offer. We want to try and build that trust and transparency with the community."
Corp. McNasby also gave tips for people on how to keep safe.
"The biggest thing we're dealing with now these days in Delaware are burglaries and car break-ins," he said.
"We're just stressing for folks to use the 9 pm routine. Every night go out to make sure your car is locked. Make sure your keys are out of the car, the garage door is closed, lock up your house, put your exterior lights on, and report any suspicious behavior by dialing 911."
Crimestoppers
Besides the police department, other companies and organizations had tables at National Night Out at Kirk Middle School in Newark.

Delaware Crimestoppers, part of the global network of Crime Stoppers USA and Crime Stoppers International, had a table at National Night Out.

Executive Board Member Charlie Manelski explained how nonprofit Crimestoppers works: "Basically what we do is we collect information from the community on crimes, suspicions."

He said Crimestoppers offers anonymity to people who provide information about crimes and pays cash rewards when the information supplied leads to an arrest.

He encouraged people to call 1-800-TIP-3333 if they know information about criminals or fugitives.
Kristina Balun, marketing director and HR coordinator of Eagle One Federal Credit Union, had a booth at National Night Out in Newark.
"The biggest thing that we love to be a part of with National Night Out is giving back to our community and giving back to our members that we love so much and take very big pride and take care of them financially," Ms. Balun said.
"We offer higher dividends on our savings, lower interest rates on any loans, and you become part owner when you join our credit union.
Adam Trungold, a solution advisor at ADT in New Castle, Delaware, had a table with his colleagues to distribute materials.
"We sell alarm systems, video surveillance systems, card entry systems, and we do that for business and residential," Mr. Trungold said.
Ashley Cooper, a licensed drone pilot, founder, and president of Droneversity, which teaches people how to fly drones, had a table and a large tent to exhibit.
Besides entertainment, Ms. Cooper said drones can be used in many areas. "They can be used with agriculture, farming, public safety, search and rescue, as well as helping out with various collision-related jobs, so firefighters and police officers can use it," she said.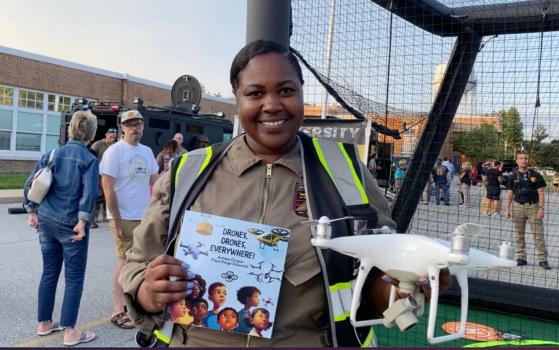 She also mentioned there is a new international sport called drone soccer and added that high schoolers can build a drone program, then learn how to fly competitively.
May Lin contributed to this report.