Arizona's top law enforcement official on Wednesday opened an inquiry into complaints regarding Sharpies at polling locations.
Hundreds of people filed complaints with Mark Brnovich, a Republican, prompting his office to demand answers from a Maricopa County election official as to what happened.
"Voters are concerned that the use of Sharpies may have caused ballots to be rejected, spoiled, or cancelled," Michael Catlett, deputy solicitor general, wrote in
the letter
.
To investigate the complaints, Maricopa County Director of Elections Day Scott Jarrett was told to provide written answers by noon on Thursday.
Brnovich's office wondered in which voting centers Sharpies were provided to voters, how many ballots were rejected because ink from a marker bled through to the reverse side of the ballot, and about the process for cancelling ballots.
Claims from voters that using Sharpies led to their ballots being canceled spread widely on social media.
The Maricopa County Board of Supervisors said in an open letter to county voters that Sharpies "do not invalidate ballots."
"Sharpies are recommended by the manufacturer of the new vote tabulation equipment because they provide the fastest-drying ink," the board said.
"The offset columns on ballots ensure that any bleed-through will not impact your vote. For this reason, Sharpies were provided to in-person voters on Election Day. People who voted by mail could use Sharpies, or blue or black pens. Our Elections Department has been communicating this publicly for weeks," it added.
Katie Hobbs, Arizona's secretary of state, called Sharpie complaints "misinformation," issuing a statement saying, "If you voted a regular ballot in-person, your ballot will be counted, no matter what kind of pen you used (even a Sharpie)!"
Officials in Pima and Pinal counties
also responded
to complaints about Sharpies.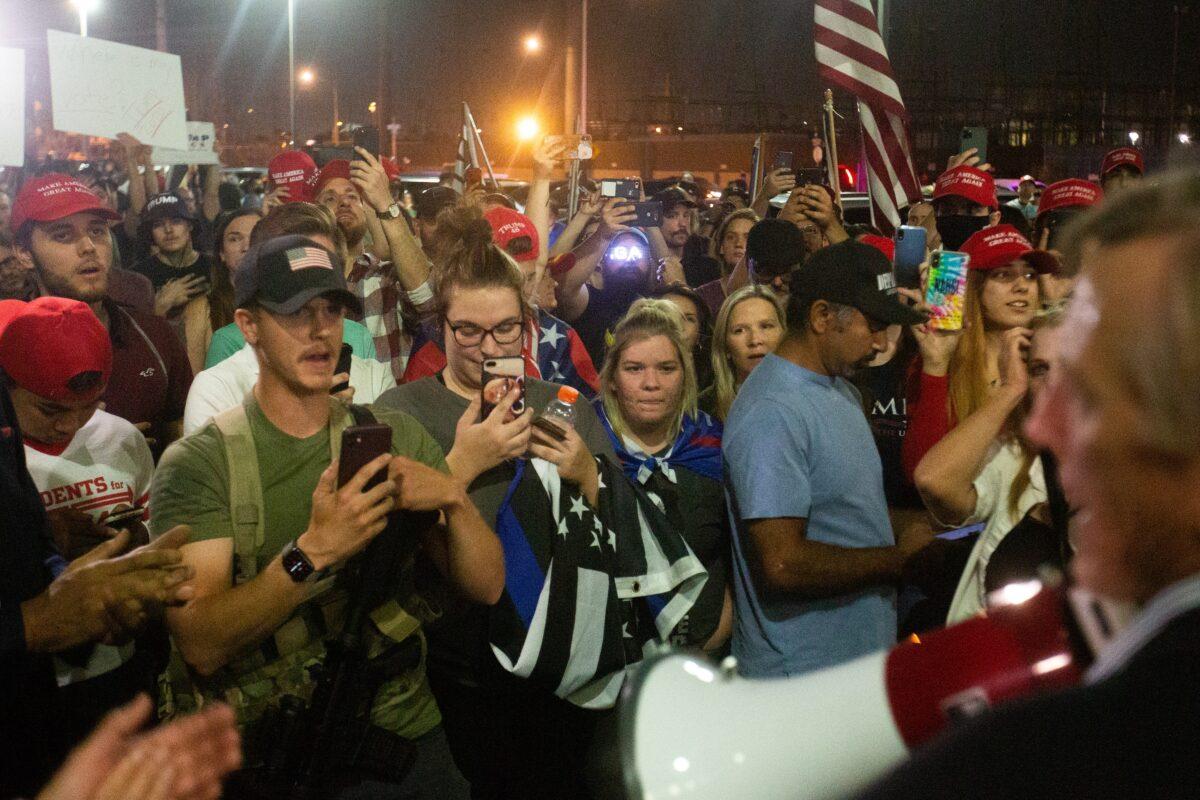 Pima County officials said: "The felt-tip pen ballot controversy burning through social media is false. Don't get caught up in it. Arizona ballot tabulating machines can read ballots marked with a felt tip pen. Felt pens are discouraged because the ink can bleed through."
Pinal County officials said they do not provide Sharpies at polling places.
A woman in Maricopa County on Wednesday
filed a lawsuit
alleging the new tabulation equipment failed to record her ballot because she used a Sharpie issued by the county.
Laurie Aguilera asked for a new ballot, but poll workers declined her request, according to the lawsuit, which seeks a court order letting all voters whose ballots were rejected because of Sharpie use be allowed to fix their ballots.
Megan Gilbertson, a spokeswoman for the Maricopa County Elections Department, did not respond to a request for comment on the suit.
The situation unfolded as the count in Arizona tightened late Wednesday.
President Donald Trump
cut into
Democratic presidential nominee Joe Biden's lead, with some ballots left to count.
Full results are expected on Thursday.
Arizona delivers the winner 11 electoral votes.