The Art of Zhen Shan Ren International Exhibition opened in Atlanta on July 8 with a warm welcome from local and state government officials.
The art exhibit was held at the 20-story James H. "Sloppy" Floyd Building adjacent to the Georgia State Capitol, the central work location for thousands of Georgia's state employees. Leaders of local communities and Georgia state legislators attended the opening ceremony and delivered speeches to express their appreciation and support of the event.
"Zhen Shan Ren" translates to "truthfulness, compassion, tolerance"—the three main principles of the spiritual meditation practice Falun Gong.
Over 60 realistic oil paintings and Chinese watercolors are on display, depicting the beauty of Falun Gong, as well as raising awareness of the plight of its adherents who face ongoing persecution by the Chinese Communist Party (CCP), including the heinous crime of live organ harvesting, in China.
Speaking to a large group of attendees at the opening ceremony, State Senator Kay Kirkpatrick, the exhibit sponsor and also co-sponsor of a recent state senate resolution condemning organ harvesting atrocities in China, thanked organizers and volunteers for bringing "this powerful and important exhibit" to the state capital.
"A picture is worth a thousand words, and it really makes a huge impact to see [through the] art form what's actually going on," she said.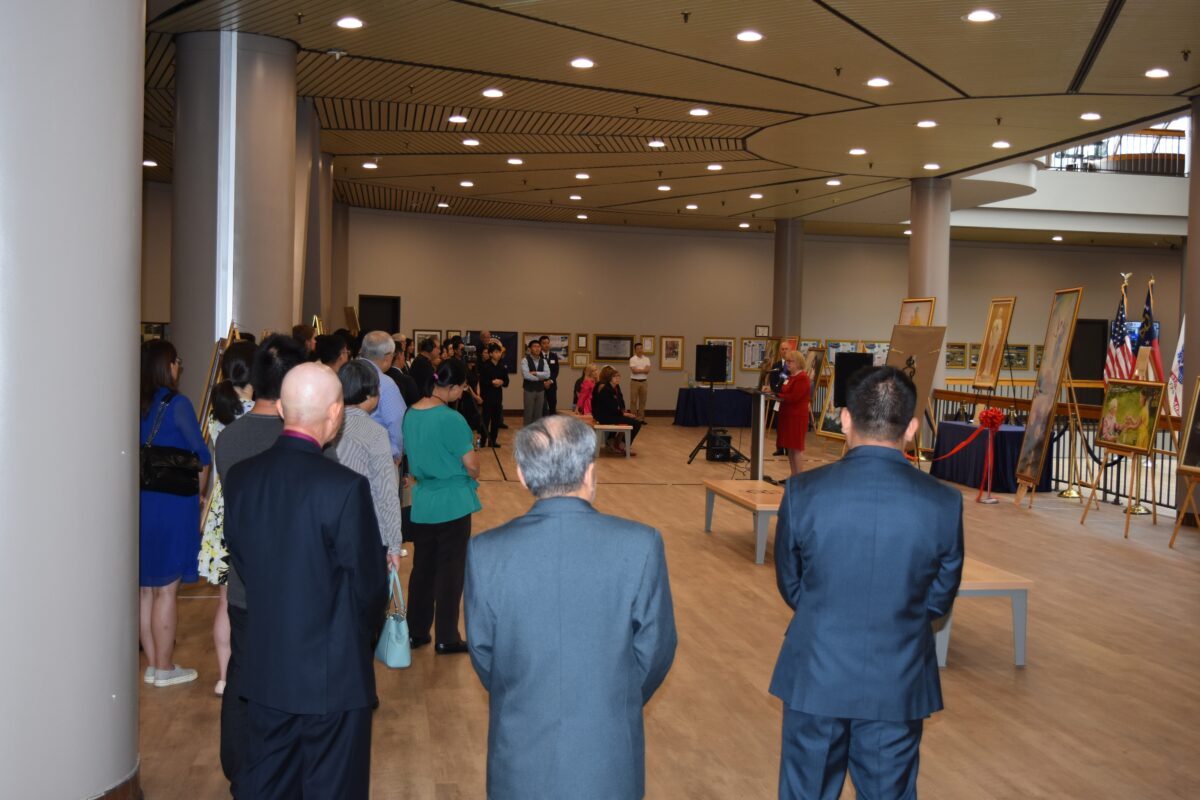 Falun Gong, also known as Falun Dafa, is an ancient Chinese spiritual practice consisting of simple, slow-moving meditation exercises and moral teachings that incorporate the principles of truthfulness, compassion, and tolerance in everyday life. As it grew in popularity due to its tremendous health benefits during the 1990s, the Chinese Communist Party under Jiang Zemin launched a systematic elimination campaign in July 1999. Since then, millions have been detained inside prisons, labor camps, and other facilities, with hundreds of thousands tortured while incarcerated, according to Falun Dafa Information Center.
Some of the artists whose works are on display at the exhibit have been detained and tortured for their faith. They use Western classical oil painting techniques to convey the universal view of Falun Gong, as well as the persecution, through their own personal experiences.
Professor Zhang Kunlun is one of China's most accomplished sculptors, yet the renowned artist became a victim of the persecution when he stood up for his faith. In November 2000, Zhang was sentenced—without a trial—to three years in a labor camp in China. While in detention, he was tortured with electric batons by prison guards and forced to watch propaganda films demonizing Falun Gong, according to Falun Dafa Information Center.
"The aim was to force us to give up our faith, and anyone who protested or tried to meditate faced a savage beating," Zhang told The Epoch Times in a 2019 interview. "Two policemen shocked me with electric batons at the same time … my skin was burned, my left leg was injured to the point that I couldn't move it, and my clothes were torn in several places. I could smell my flesh burning. The pain was excruciating."
Due to pressure from Canadian lawmakers and the international community, including Amnesty International, Chinese authorities released Zhang after three months.
Zhang currently resides in the United States where he has curated "The Art of Zhen Shan Ren" exhibit. The exhibition has toured more than 50 countries with over 1,000 shows worldwide since it was launched in 2004.
"Cultivators [Falun Gong practitioners] look at issues from a deep perspective and inspiration springs forth like a fountain," Zhang said in a previous interview with The Epoch Times.
"As artists, we have a duty to present this magnificent period of human history for the future," he said.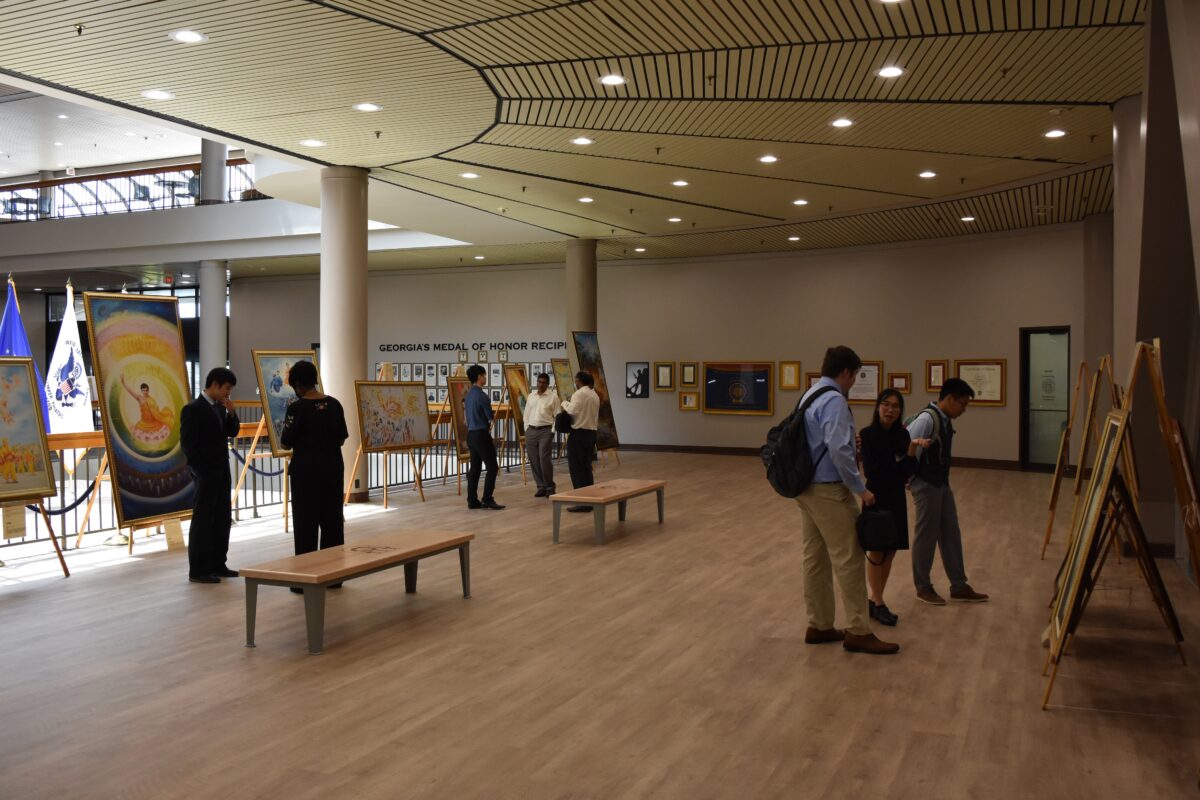 Ken Clark, one of the attendees at the event, said that it was shocking to see the severity and scope of the persecution. "The presentation is extraordinary and obviously depicts something very necessary to bring awareness to what is going on in China … it [the persecution] must be stopped," he said.
Many children of Falun Gong practitioners were left behind due to the persecution. The plight of orphans is portrayed in some of the paintings.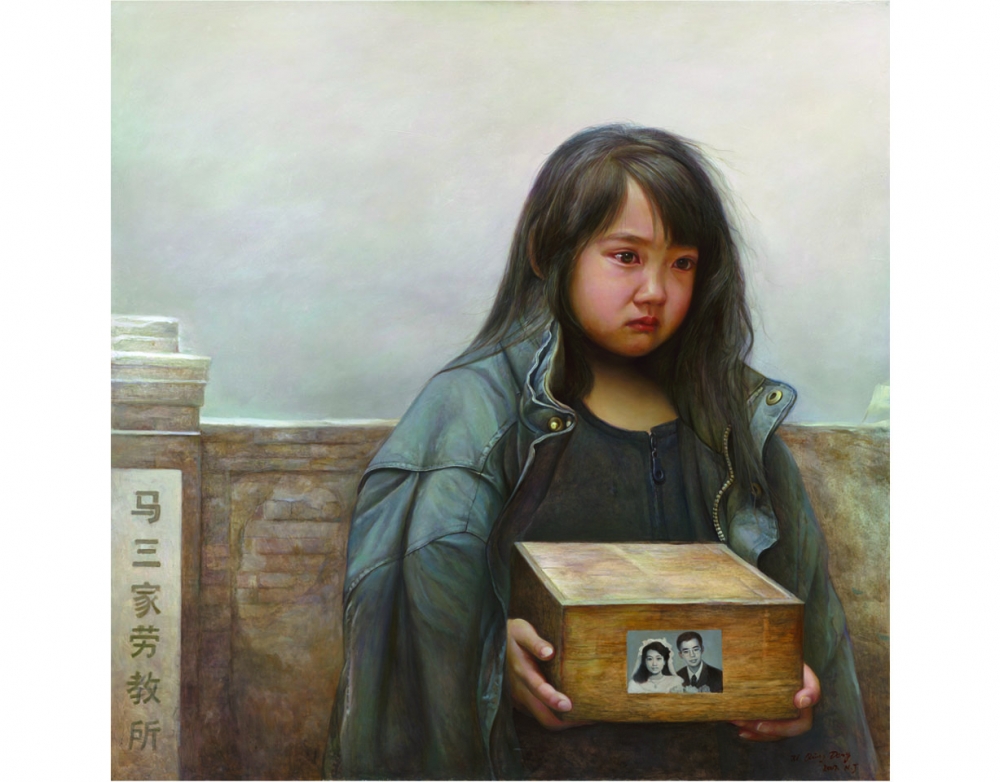 As a mother, State Rep. Shea Roberts said she was particularly moved by the painting, "An Orphan's Sorrow," which portrays a young girl whose parents were persecuted to death. "This exhibition is just so truly powerful … everybody needs to see it because the world needs to know about the ongoing persecution by the Chinese Communist Party to people who are just practicing their faith," she said.
One of the special guests urged the public to come to the art exhibition to learn about the perils of communism.
Salleigh Grubbs, the chairperson of the Cobb County Republican Party, said, "They need to see the art and understand through this wonderful exhibit that it [communism] is real and it is in the world. America is the last stand for religious freedom, and if they think it can't happen here, they're deceiving themselves."
The art will be on display through July 22.