Arrests Made in Gutter Oil Scandal in China
September 15, 2011 11:23 pm Last Updated: October 1, 2015 3:37 pm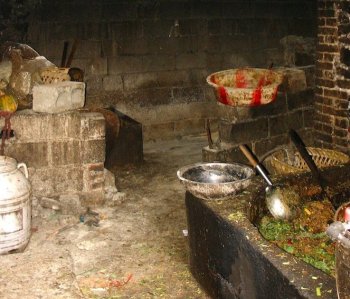 China's Ministry of Public Security announced on Sept. 13 the arrest of 32 in connection with the sale in 14 provinces of cooking oil made from gutter oil, with 100 tons of the toxic oil seized. The arrests come on the heels of a newspaper report on Sept. 7 on the scandal of gutter oil being used by restaurants in China.
According to the Chinese Communist Party's (CCP's) mouthpiece, Xinhua News Agency, and some other Chinese media outlets, the Gelin Bio Energy Co., Ltd. in Jinan, Shandong Province, collected gutter oil in various provinces including Zhejiang, Sichuan, Guizhou, and Jiangsu, in the name of producing biodiesel, and then "refined" it into cooking oil. Gelin Bio produced dozens of tons per day, and all of the oil was sold to cooking oil dealers.
Huang Zhangshui, a resident of Ninghai City in Zhejiang Province, used to make a living collecting waste engine oil, but he turned to collecting gutter oil. He told Xinhua, "Some people from other areas came here to collect leftovers from restaurants and the waste from sewers to produce gutter oil by doing some simple filtering and refinement. It looks very dirty and has a bad smell."
The gutter oil Huang collected was then resold to enterprises in Jiangsu and Shandong provinces; the one in Shandong Province was Gelin Bio Energy Co. Ltd.
Gelin Bio Energy Co. Ltd appears to be an enterprise producing 40,000 tons of biodiesel yearly that has never produced cooking oil. In fact, according to Gelin Bio's remittance records, many companies that transferred large sums of money into Gelin Bio's bank account are enterprises that sell grain and cooking oil exclusively, either retail or wholesale.
Gelin Bio's manager, Liu Liguo, would not admit selling oil for human consumption. He said, "We originally intended to use gutter oil to produce biodiesel, but it's hard to find a market for biodiesel. So we produced oil for animal feed instead," Xinhua reported.
Most of Gelin Bio's downstream companies are grain and cooking oil dealers in various cities. Among them is the Hongda Oil Company in Zhengzhou City, Henan Province.
Hongda's manager, Yuan Yi, said in the same report, "Though Gelin Bio claimed that what it sold was rice bran oil and cottonseed oil, I suspected that it was gutter oil. For this reason, I have never used it to prepare a meal at home."
Yuan Yi wholesaled the oil to some cooking oil dealers in the suburbs of Zhengzhou City, or retailed it to nearby hotels, restaurants, school canteens, and the food stands that operate in the market at night. Part of the gutter oil was also labeled with well-known cooking oil brands, but the authorities haven't disclosed the brands involved.
The black market production of gutter oil is very profitable.
A man surnamed Fei in Guizhou Province who is in the business of making biodiesel told Sound of Hope Radio that it was not profitable to produce biodiesel from discarded food leftovers, so it is difficult to run that business.
He said that as dealing with gutter oil was very profitable, there were many people in that line of work. He added, "They usually go out to collect gutter oil at night. On average, they collected several carloads of gutter oil each month, with about 3 to 6 tons of gutter oil per carload."
"The prices in the black market were ranging from 4,000 (US$626) to 5,000 (US$782) yuan, but it could be sold in the market at the prices ranging from 7,000 (US$1,095) or 8,000 (US$1,251) to over 10,000 yuan (US$1,564)."
While the arrests on Tuesday have been widely publicized, the scandal they are part of is not new. Media in China has reported the use of gutter oil in the preparation of food for 10 years, according to Voice of America.
In the past, authorities have denied that gutter oil was being used in food preparation.
According to VOA, in March 2010, professor He Dongping of Wuhan Polytechnic University told Chinese state media that, based on his research, he estimated about 2 million to 3 million tons of gutter oil landed on Chinese people's dinner tables each year. But state officials denied this was the case, and professor He then had to deny in turn that he had said it.
Nonetheless, Chinese society has been concerned about the quality of oil being used in restaurants.
A few years ago, there were media reports that more and more white-collar customers in Guangdong Province, worried about the quality of the oil, brought along their own cooking oil when going to restaurants.

Southern Metropolis Daily, the same newspaper that reported on Sept. 7 about use of gutter oil, recently reported that a member of the Guangzhou City's CCP Political Committee, Song Chuan, carried two cans of cooking oil in the trunk of his car, which he gave to the restaurant before his meal was cooked, as he worried about the oil used by the restaurant.
When interviewed by the Changjiang Daily recently, Wang Chengming, a professor at the College of Food Science and Technology of the Huazhong Agricultural University, estimated the amount of gutter oil consumed by Chinese every year might amount to 4 million to 5 million tons. The total amount of the cooking oil consumed in China per year is about 22.5 million tons. If these numbers are correct, then up to 22 percent of China's cooking oil is toxic.
Guangzhou Daily quoted the director of the nutrition department Zeng Jing at the Wu Jing Zong Dui Hospital of Guangdong Province as saying, "Gutter oil contains aflatoxin and benzopyrene, which are carcinogens liable to causing cancers of the stomach, colon, kidney, breast, ovaries, and intestines."
Read the original Chinese article.