After picking up a brain injury and post-traumatic stress disorder during a tour in Afghanistan, then spending over seven years in jail for a drug conviction, before being deported to his native Mexico, a U.S. Army veteran has finally saluted the flag he fought under for the first time as a U.S. citizen.
Miguel Perez Jr. was sworn in as a U.S. citizen on Oct. 4, two months after being pardoned for the drug conviction which had seen him thrown out of the country last year. Immigration officials last month then granted him permission to reenter to try to apply for U.S citizenship.
Perez came to the United States aged eight, growing up in the city of Chicago, and later wrongly assuming that joining the army automatically granted him citizenship.
After being jailed for drug possession after leaving the army, the green card holder found himself subject to deportation proceedings and wound up living in the border town of Tijuana in Mexico.
After the naturalization ceremony in Chicago, Perez told the Chicago Tribune, "I'm just overwhelmed."
"It's been a long journey, a long battle," he said, according to the Chicago Sun-Times, holding up his citizenship certificate.
"Just two months ago, all this seemed impossible. I was in Tijuana wondering about my future, not sure about what was the next step," Perez Jr. said, according to WGN-TV.
To clear the path for Perez to apply for citizenship, Illinois Gov. J.B. Pritzker pardoned Perez in August, effectively erasing his drug conviction.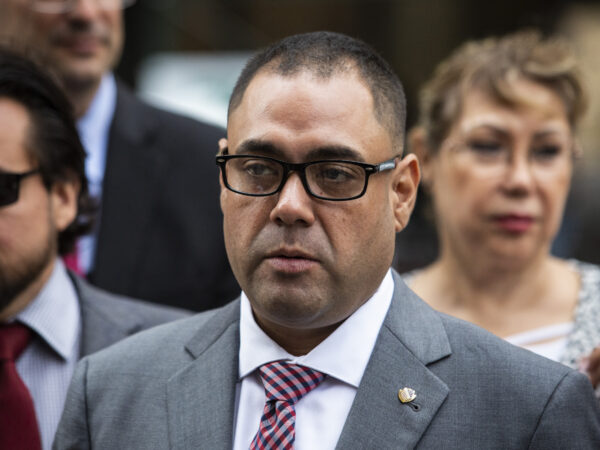 "Miguel Perez should not have been deported," the Democratic governor said at the time. "I recognize this pardon is not a perfect solution, but it is the most just action to take to allow a U.S. veteran the opportunity to be treated fairly by the country he served."
"Tears started running down my face," Perez told the Tribune, describing his reaction to Pritzker's clemency. "There's nothing I can really say to put this feeling into words."
The previous governor, Republican Bruce Rauner, had declined to pardon Perez prior to the deportation.
Perez joined the Army before 9/11 and served with a Special Forces unit in Afghanistan. He still suffers from post-traumatic stress disorder and a traumatic brain injury which, according to his family, contributed to his drug problems.
Perez was convicted and sentenced to seven-and-a-half years in jail after being caught handing a suitcase of cocaine to an undercover officer in 2008, causing his citizenship application to be thrown out.
"It took a whole lot of work and a whole lot of praying," the 41-year-old Perez said while meeting with supporters and reporters at the Chicago church who have been helping to fight his corner.
His parents are naturalized U.S. citizens and his two children were born in the United States.
After reciting his oath of citizenship, according to the Chicago Times, Perez turned and saluted the American flag,
"It was something that came from the heart and naturally because it's always been here," he said, according to WGN-TV. "I fought for the country, the flag, and Constitution and today the Constitution responded by saying, 'Welcome home.'"
The Associated Press contributed to this report.