The U.S. Army has managed to exceed its recruitment targets this year despite the pandemic, concerns about politicization, and the COVID-19 vaccine mandate.
While the pandemic has forced recruiters from the nation's largest military branch to adapt, other issues haven't significantly affected their work—at least not yet, The Epoch Times has learned from interviews with current, former, and prospective Army officers.
The pandemic severely disrupted recruitment, especially in areas with more stringent restrictions.
"We had to come off of a lot of our face-to-face engagements, we had to come off of our outreach programs and different things that we did and had to very heavily go into a virtual effort," said Brig. Gen. John Cushing, deputy commanding general at the U.S. Army Recruiting Command.
It was a daunting task since the Army has always relied heavily on in-person engagement to attract talent.
"Recruiting is most effective when you're face-to-face and you can get a feel for each other and the people that you're recruiting," said Lt. Col. Brandon Oliveira, Special Forces commander at the Army Phoenix Recruiting Battalion in Arizona.
He assumed his role around the end of June 2020, "right at the height when everything was shut down," he told The Epoch Times.
"It was very frustrating," but it spurred innovation, he said.
The Army found that 90 percent of its recruitment process could be completed online. Recruiters focused on phone-calling, video-calling, and engaging people on social media, Cushing told The Epoch Times.
The recruiting headquarters invested significant resources to figure out how Generation Z functions on social media and how best to approach them. It developed a 50-hour social media training for recruiters, who set up accounts on Instagram and Snapchat and started to experiment with going viral.
The effort is led by the Virtual Recruiting Division at the headquarters that works with battalion-level Virtual Recruiting Stations, each consisting of several people who work solely on social media engagement. Once they get someone interested in enlisting, they transfer the person over to the nearest recruiting station.
In practice, it isn't that easy.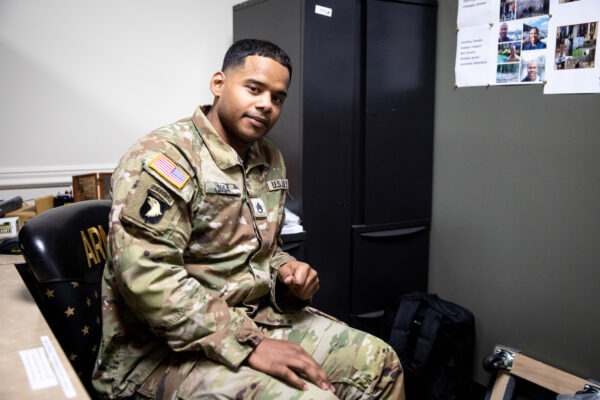 Generation Z
Recruiters are all non-commissioned officers (NCO)—staff sergeants and above. It takes time to rise to those ranks and so there's usually a generational divide, Oliveira said.
"The officers are all millennials or Generation X, which means that we're not social media natives, so there's been a lot of learning and that's something we're struggling with."
The goal was to produce videos that are "very watchable but also educational. And that's not always the easiest thing to do," he said.
Another challenge is that today's youth isn't particularly quick to make long-term commitments, according to Cushing.
"They are a wait-and-see generation," yet "they're not thinking beyond the next couple of years," he said.
The officers repeatedly stressed education.
"The level of knowledge, the level of understanding, and clarity of everything that the Army's got to offer has certainly declined," Cushing said, noting that about half of the target audience for recruitment has "very little knowledge of the Army."
Oliveira didn't see a trend, but acknowledged "that a lot of what the Army is about is unknown to the applicants prior to engaging a recruiting NCO."
These may be among the reasons why Army and other polling show only about 10 percent of young people seeing themselves as likely enlisting at some point. The only year on record with a worse propensity to serve was in 2007 at 9 percent, Army Recruiting Command spokeswoman Kelli Bland wrote in an email to The Epoch Times.
There may be other factors, too, Cushing said.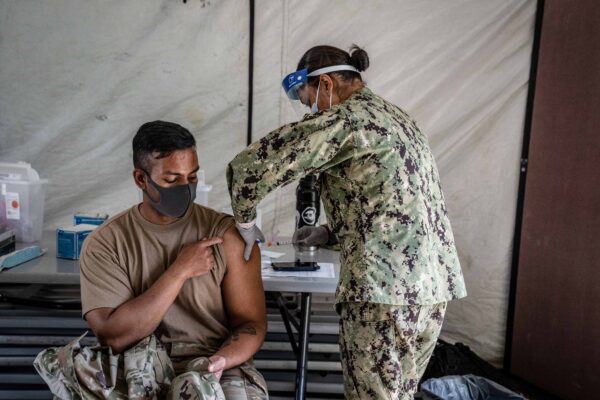 Vaccines and Politics
"You can't walk away from everything that's happened in our country throughout the past year, whether it be some of the COVID stuff or the social unrest or some of the movements with the Afghanistan departure," Cushing said.
After the Jan. 6 Capitol incident, some top military commanders initiated a campaign to suppress "white supremacy" in the ranks, sparking concerns of an attempt in the higher echelons to purge the military of political dissenters by labeling them as "white supremacists."
Some have seen the COVID-19 vaccination mandate for troops as serving a similar purpose, since resistance to the novel vaccines is greater among conservatives.
Some veterans told The Epoch Times they wouldn't recommend joining the military at this time. One Army officer previously told The Epoch Times that political thinking is seeping into lower command ranks that once had maintained political neutrality.
However, the recruiting officers and commanders who spoke to The Epoch Times said they haven't seen this as a significant barrier to enlisting.
"We're really not having those types of conversations," Cushing said.
Several recruiting NCOs at a station in Manhattan's Washington Heights said they haven't encountered those kinds of concerns at all.
"It's mainly a question the applicants have: Are they required to be vaccinated? And the answer is yes," said Lt. Col. Harold Morris, head of the New York City Recruiting Battalion.
Oliveira, who works in a more conservative area, acknowledged some resistance.
"We've had young people who decide not to join the Army because they're unsure of the vaccine," he said, though he noted he'd "only heard of a handful of cases."
"If you look at our mission of recruiting on average about 200 people a month, you're looking at one or two," he said.
"It is an impact, but it's not devastating."
Concerns about the political climate in the military also have come up.
"We've experienced that, of course. We've had people say that they're not going to join the Army right now because of politics," Oliveira said.
However, it's mostly older generations bringing up the topic.
"They kind of come out of the woods and say, 'Thank you for doing what you're doing. I don't know how you can do what you're doing right now with all the turmoil,'" he said.
Oliveira says politics are still to be ignored while serving.
"We joined for a job and we're doing our job the best we can. For the most part, we tune that out while you're in the force. We don't engage in politics."
Recruits typically ask about practical matters such as pay, benefits, housing, and days off, multiple officers said.
Oliveira divided recruits into two major groups. In one are those coming from military families. They see the positive impact of service on their relatives and decide to join, too.
The other group is people "looking to get something out of the experience," he said.
"They want adventure, they want a change of pace, they want to get out of their town, or they want to get money for college."
'I Can Still Do It'
Eddie Tabar, a personal trainer in Washington Heights, has recently put in his application. He has already served two tours between 2007 and 2011, and now, with a baby on the way, he'd like to reclaim the Army pay grade he had reached.
"I want to be able to provide the best for [the baby]," he told The Epoch Times.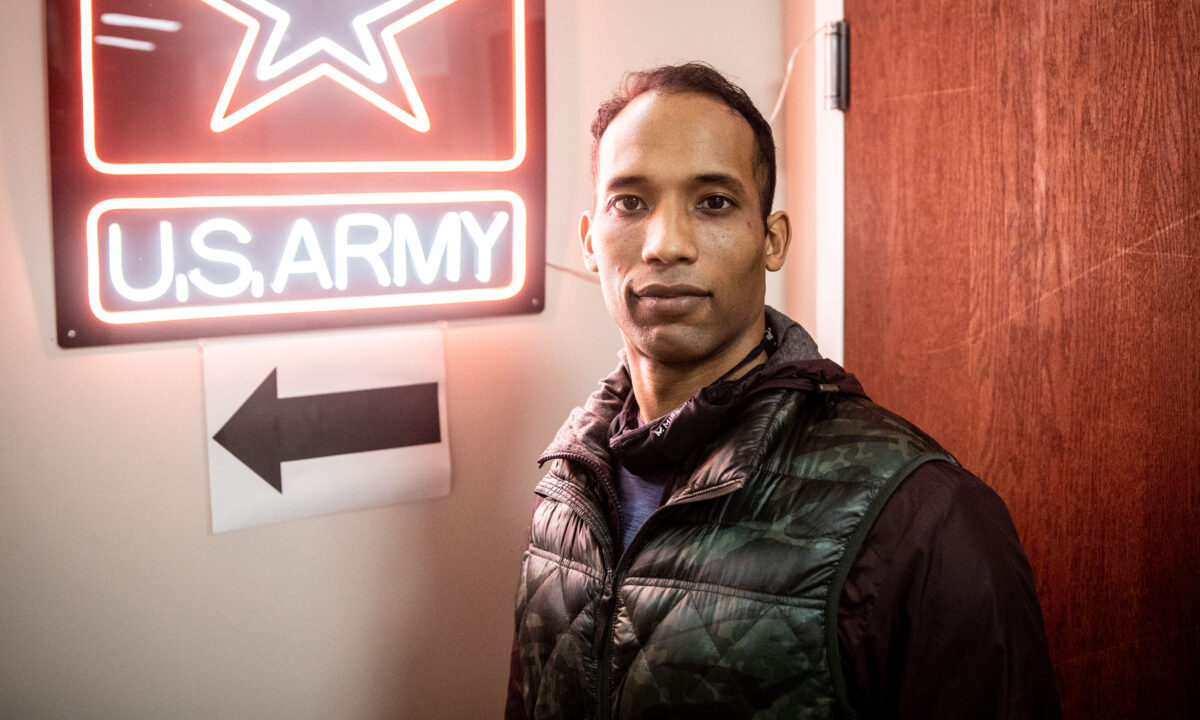 When he was about to join for the first time, he had a mix of reasons.
"I didn't know what to do in college," he said.
But it was also "family tradition," since his brother and father served. He became an Army cook—a surprisingly tough job with little time off, as everybody is always hungry.
One of the things he cherished the most about serving was the friendships he forged.
He remembered a time in 2009 in Iraq, when he and a fellow soldier got lost in a sudden sandstorm.
"You don't get a warning. Sometimes, it's very fast," he noted.
This was his "turning point," he said, when he realized the military allowed him to find people he could rely on. "We trusted each other, we tried to find the way, we didn't sit and complain, we were able to pull through that."
There are downsides, too.
The Army has a culture of doing everything to one's maximum limit. After returning to civilian life, Tabar had to learn to dial down that intensity.
"It's too stressful," he said.
Service has also left a mark on his health. "I have insomnia."
He's learned to manage the condition and overall viewed his Army experience as positive. He's now thinking of at least four more years, perhaps in supply logistics.
"I feel like I can still do it," he said.
Hitting the Target
Some officers acknowledged that people with concerns about politics and vaccine mandates may not engage with recruiters to begin with. If that's the case, it hasn't been a phenomenon significant enough to affect their quotas.
"Our numbers, in terms of the propensity of the applicants to enlist, we haven't seen a significant change, so if there are individuals who are not enlisting because they're concerned about the vaccine, our estimate is that those numbers are very small," Morris told The Epoch Times.
The Army slightly exceeded its 2021 target—more than 57,000 for active duty—which was about 5 percent lower than the target for the year before, because of stronger retention during the pandemic. Recruitment in Republican-leaning states didn't notably decline, based on data provided by Bland.
The Army runs its numbers from September to September. Much of the politicization controversy around the military only gained prominence after the Biden administration took over in January. The withdrawal from Afghanistan took place in August around the same time as the announcement of the vaccine mandate. As a result, it may be too soon to judge their impact on recruitment.
Meeting the goal indicates the Army's virtual efforts ultimately had their impact.
Through trial and error, NCOs eventually discovered what content worked and what didn't.
"We've had some that have really trended and have appealed to applicants," Oliveira said.
Multiple officers mentioned push-up contest videos among successful ones.
"In good old Army fashion, we found a way to continue the mission and did quite well, frankly, and in many ways learned a ton about ourselves and gaining some efficiencies in terms of our virtual presence, social media presence, and things along those lines," Cushing said.
Hitting the Streets
As pandemic restrictions relax, the Army has been gradually returning to its standard recruiting modus operandi. Some officers are happy to hit the streets again. Others, however, may need a push out the door, Cushing noted.
"We've got to get back and educate, train our NCOs to get out and not be afraid to go out and do face-to-face prospecting, face-to-face engagements, and get back out on the streets."
Phoenix NCOs have now been able to return to schools and "it is making a difference," Oliveira said.
"It's not an immediate return on investment if we go to a sporting event or a local high school event. But we're building that relationship back so that we can put people in the military as they begin to get toward their senior year of high school or college," he said. "It's just going to take a little bit of time to really get back to 100 percent."
Aside from its own restrictions, the Army still needs to comply with local COVID-19 restrictions. In particular, the mask mandates have made recruiting work more difficult.
"We're in the relationship business and it's harder to relate to somebody when you've never met them and you have half your face covered," Oliveira said.
The increased social media presence will continue, however.
"The social media influence out there with the Instagram and the TikTok and everything, those are all here to stay and our best recruiting NCOs, they know how to capitalize on that and attract young men and women through those platforms," he said.