An outsized and upgraded U.S. Army cannon lobbed artillery a distance of 40 miles over the Arizona desert on March 6, reaching almost three times as far as its previous incarnation.
The Army is scrambling to boost the range of its missiles and artillery as the No. 1 modernization priority. That program includes an upgrade to a tank-like howitzer, the Extended Range Cannon Artillery, with three times the range and an autoloader that's able to launch a round every six to 10 seconds.
The prototype, with its unwieldy-looking gun, successfully fired two different types of munitions during a demonstration at the Yuma testing range in Arizona, according to Military.com.
The upgrade to the 57-year-old M109 armored self-propelled howitzer launched a rocket-assisted 155 mm round and an Excalibur precision-guided round.
The Excalibur round also hit a precision target, Brig. Gen. John Rafferty told reporters, according to Breaking Defense, but he added no further details.
Rafferty leads the Army's Long Range Precision Fires program (LRPF), which also includes the development of a monster gun that can fire rounds hundreds of miles.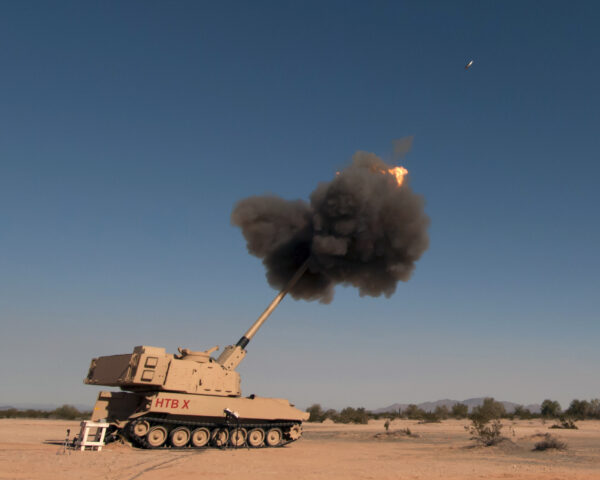 Rafferty previously told The Epoch Times that the development of longer-reaching missiles and artillery is key to countering Russia and China.
"While we've been concentrating our efforts in one particular area in the world, our adversaries have been investing in ways to offset our strategic and tactical advantages," Rafferty said.
"Specifically, China and Russia have been investing in sophisticated integrated air defenses, in coastal defenses, in long-range ballistic missiles, long-range and high altitude radars, and if you combine all those things, they create this layered standoff, which is often referred to as anti-access area denial (A2AD)."
But U.S. generals aren't planning on going toe-to-toe with Chinese or Russian artillery; they still want to fight on their own terms.
"Our adversaries are artillery-centric forces. We are not—we are a combined arms force," said Rafferty.
"What we need is enough of this capability to create these windows of opportunity—whether it's for the joint force, for the Air Force, the maritime force, or for a combat brigade team to make its bid."
LRPF comes under the auspices of the newly minted Army Futures Command, created in 2018 to drive what is described by many analysts as the biggest Army reorganization in 45 years, in line with the Trump administration's National Defense Strategy.
That strategy spelled out for the first time that the United States needed to gear up for an era of renewed great-power competition with Russia and China.