For three consecutive days, since May 21, nearly one hundred individuals (12th-grade students and their parents from Medical English Division, Ningbo No. 9 High School—Ningbo Economy and Trade Professional School) have been protesting outside the city's Municipal Education Bureau and city hall. The ongoing demonstration started when the school failed to keep their promise on students' graduation certificates and pre-determined career direction. On May 24, the city government dispatched dozens of armed police to suppress the protest.
Two students and one parent passed out due to anger and anxiety, and were later sent to a nearby hospital. Later, one student threatened to commit suicide by jumping off the city hall building, but fellow students stopped the incident. Protestors are demanding that the Municipal Education Bureau and school officials provide a satisfactory response to students, who currently feel as if their three-year of hard work has been wasted. Unless a compromise can be reached, students say they will continue to protest.
Students notified the local media, hoping to draw attention to their cause but their request was rejected.
Police Beat Students And Pedestrians
Miss Wang, the head of her class, was interviewed by The Epoch Times on the night of May 23. She said, "My sister, myself, and all the other students passed out because of anger and became hospitalized."
"Forty-nine students joined with 30-40 parents to protest together," said Wang. "My classmate took pictures [of the demonstration] but police confiscated the camera. I asked the officer to return the camera, and he forcefully pushed me away. And then they beat me very badly. Several pedestrians who spoke up for us were also beaten."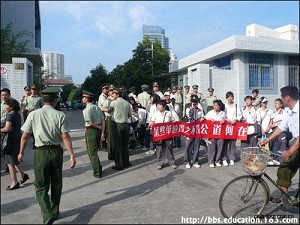 School Cheated Students
According to Wang, when Ningbo No. 9 High School initially admitted students, it claimed that the Medical English Division belonged to the nursing department in conjunction with the Ningbo Tianyi Professional College. Students were told that they could be admitted into the College, or immediately obtain a position at the hospital after three years of study. In addition, the school guaranteed 100 percent matriculation or job placement.
"However, after three years, as students were busy preparing for the college entrance exam, the school informed us that Medical English Division doesn't in fact belong to medical field, and Tianyi Professional College will not admit students from this division. In addition, hospitals and other employers will not acknowledge the graduation certificate from this division. Neither does the Public Health Bureau," said Wang.
"We felt that our school was a trustworthy institution, and we put our trust in what they told us," Wang said angrily, but we can't believe how they cheated us."
"This group of students are facing college entrance exams," explained Wang's sister. "The certificate they received is fake to them. Even taking the exam won't be useful to these students. This makes finding a job even more difficult and it's so upsetting to everyone."
School Avoids Responsibility
Wang said that the school refused to admit the promises they made to students.
During the protest, the principal came out to negotiate with students. Wang handed him her phone as she was being interviewed for this article and told him that it was the media investigating this incident. After refusing to talk several times, the principal reluctantly answered, "The government is trying its best to solve this issue."
In response to the discrepancy between what the school had initially promised to students and what they were currently being told, the principal said "This, this, I won't talk about it." Then he immediately returned the phone to Wang.
City Officials Protect School
"Because of our unrelenting demand, the vice city mayor, the vice head of the Education Bureau, and dozens of officials from the Labor Bureau and Public Health Bureau met with some of the students and parents," explained Wang. "They continuously protected the school, saying that the students had misunderstood admission rules. They insisted that the Medical English division doesn't belong to medical division."
Wang stated that students became deeply troubled with this response. Opting not to take the upcoming college entrance exam, the students instead decided to continue their protest until they are granted a fair outcome.