Arkansas Oil Spill: Aerial Footage and Updates
April 11, 2013 5:20 pm Last Updated: April 12, 2013 1:51 pm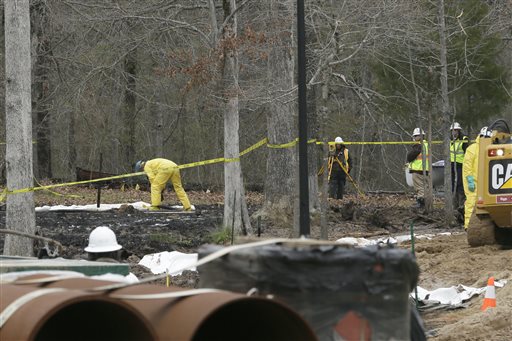 Arkansas Oil Spill: Some residents said they could move back into the affected area on April 11, while officials and ExxonMobile worked on cleaning up about 5,000 barrels of oil.
Aerial footage of a gigantic oil spill in Mayflower, Arkansas, has emerged on YouTube, amidst claims from journalists that they have been barred from the site.
The spill was reportedly from a pipeline that was transporting fuel from Canada. A gash opened that was 22 feet long and 2 inches wide.
"This latest pipeline incident is a troubling reminder that oil companies still have not proven that they can safely transport Canadian tar sands oil across the United States without creating risks to our citizens and our environment," said Rep. Ed Markey (D-Mass.), the top Democrat on the Natural Resources Committee, said in a statement.
Dustin McDaniel, the attorney general of Arkansas, has opened an investigation into the cause of the pipeline rupture. He and staff will review more than 12,500 documents received from ExxonMobile.
The video shows fuel spewing onto streets and into forests.
After the spill, clean up operations have been continuing for 24 hours every day, according to the town's Incident Unified Command Joint Information Center. Twenty-two homes were evacuated, and the spill has been deemed a major one, with about 5,000 barrels of oil, or 210,000 gallons, spilled. Officials say the drinking water is still safe, as it is sourced from a lake about 65 miles northeast of Mayflower.
On April 11, officials said the evacuated residents would be allowed to return soon, and said 95 percent of the oil has been removed from the subdivision that was most heavily damaged.
ExxonMobile is considering longer-term options including buying the homes, if homeowners wish, according to the Arkansas Star-Gazette. They have been paying for the evacuees' living expenses, according to Reuters. Exxon's representatives are handing out lots of money, according to interviews with residents, even rounding up figures like $140 to $200.
"It is their instinct to pay first and ask questions later," said Gerald Baron, an expert on emergency management communications at PR consultancy Agincourt Strategies . "That is par for the course for the oil industry majors. They don't want to alienate people whose backyard they're working in."
Journalists that were barred from the spill site included Michael Hibblen, who reports for the radio station KUAR. He and others were told ExxonMobil decided that they didn't want reporters there.
 "This gets back to who's really in charge, and it seems like ExxonMobil," he told Mother Jones. "When you throw the media out, that's when the media really get their tentacles up."