Three black bear cubs were rescued by an Arizona trooper after their mother was hit by a car and killed.
Arizona Highway Patrol troopers were responding to the crash near Dudleyville on April 29 when they stumbled on the cubs, and managed to load two into the back of their patrol car.
Pictures released by the Department of Public Safety show the 4-month-old cubs clambering on the seats in the back of the vehicle, while an officer from Arizona Game and Fish Department tracked down and caught the third cub.

"Sergeants Tarango and Marquez, with assistance from DPS and a concerned citizen, arrested these three bandits, charged with raiding picnic baskets!" wrote the Hayden Police department in a statement on Facebook.
The three cubs, who had a very slim chance of surviving without their mother, were taken to the Southwest Wildlife Conservation Center.
"They're only 4 months old, so they're pretty helpless right now," James O'Brien of Southwest Wildlife Conservation Center told the Arizona Family newspaper.
"Bears are incredibly smart animals," he said. "They need to be challenged. Our bears here are given games to play and puzzles to do."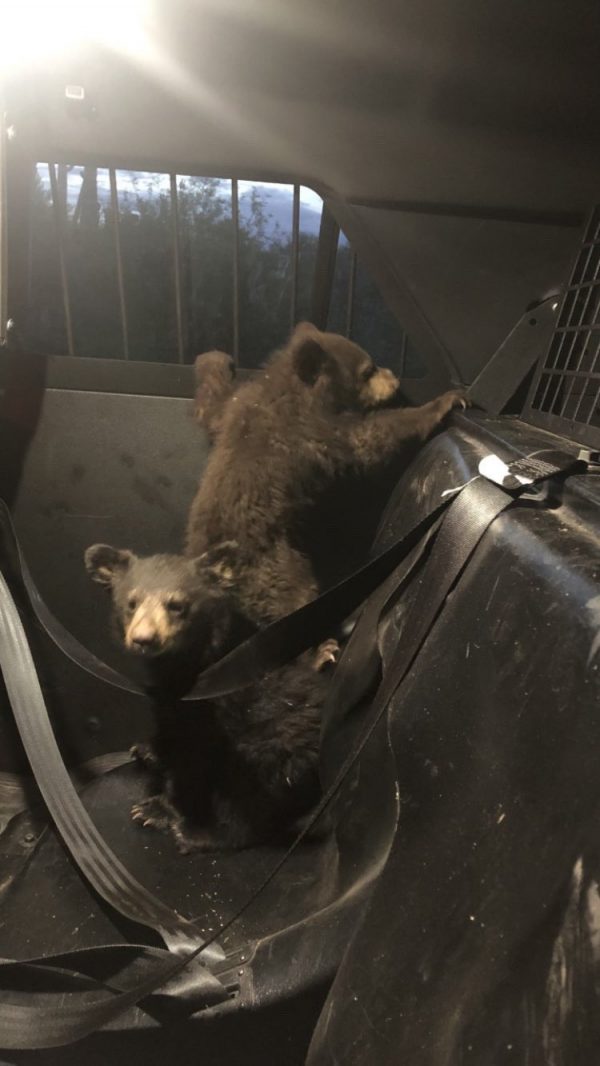 According to the Arizona Fish and Game department, the mother bear was likely killed instantly in the crash on State Road 77 south of Winkleman.
One of the first responders was taken to hospital to be treated for a scratch on the forearm caused by one of the cubs as they bundled them into the car.
According to the conservation center one of the cubs arrived with a bump on the nose, but otherwise they were in good condition.
AZGFD Tucson & Mesa responded today to three bear cubs orphaned and recovered by the AZ Hwy Patrol after a rare auto-on-bear accident on State Road 77 south of Winkleman. Their mother was likely killed instantly. The cubs are en route to the SW Wildlife Conservation Center in Scottsdale. One first responder rescuing the cubs was scratched on the forearm by one, is seeking treatment at Oro Valley Hospital and likely will be released.

Posted by Arizona Game and Fish Department Tucson on Monday, April 29, 2019
"Their weights are where they should be, they're eating good, and that's always a good sign," O'Brien told Fox news.
"They've got some decent fat on them from when I handled them for a little bit yesterday."
The police department took the opportunity to remind the public on the dangers of approaching bears with cubs: "Remember—if you see bear cubs, the momma is not far … stay away and don't touch. Call the police right away."