The Arizona Supreme Court struck down gubernatorial candidate Kari Lake's second request to take up her election appeal that is currently being heard by a state Appeals Court as Lake said Wednesday that she believes her case will be eventually heard by the Supreme Court.
In an order issued on Wednesday (pdf), the state's high court wrote that "as indicated by the Court of Appeals' order setting an accelerated briefing schedule, the Court has no reason to doubt that the Court of Appeals appreciates Petitioner's (Lake's) desire for an expedited resolution."
The Supreme Court then wrote that it will again deny the petition for transfer without prejudice "to seeking expedited review of an adverse decision after the Court of Appeals has had an adequate opportunity to consider the pleadings, conference the matter, and prepare a well-considered decision."
In her latest petition to the Arizona Supreme Court, Lake, a Republican, wrote that "in vacating the January 24 oral argument date on which this Court relied in part to deny Lake's prior petition to transfer, however, the Court of Appeals opened the door to months of potential delay."
The court responded to that argument by saying the Court of Appeals entered an order on Jan. 9 and set up an expedited briefing schedule regarding her case with the next conference starting Feb. 1. Earlier reports indicated that the appeals court initially wanted to start in March.
A former broadcast journalist endorsed by former President Donald Trump, Lake filed a lawsuit in December against former Secretary of State and now-Gov. Katie Hobbs and several Maricopa County officials, asking the courts to either re-do the election in Maricopa or declare her the winner. Before she was sworn in earlier this month, Hobbs had defeated Lake by 17,000 votes.
During a two-day trial last month, Maricopa Superior Court Judge Peter Thompson dismissed Lake's case and claimed she did not present enough evidence to make her case. That prompted Lake to petition both the Court of Appeals and the Supreme Court.
"Every single witness before the Court disclaimed any personal knowledge of such misconduct," Thompson ruled last month. "The Court cannot accept speculation or conjecture in place of clear and convincing evidence."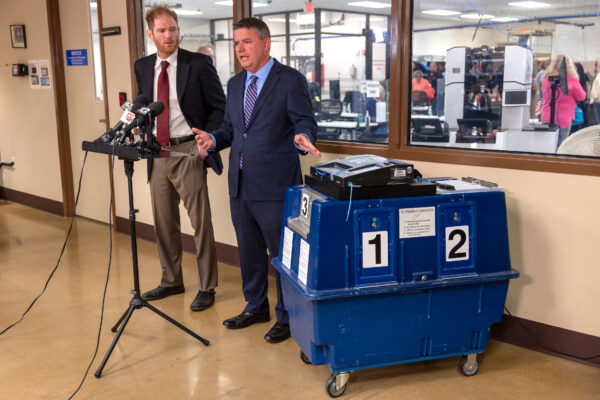 Lake's attorneys argue there were widespread issues in Maricopa County on Election Day on Nov. 8, including dozens of tabulators not being able to read ballots. That assertion was confirmed by Maricopa County Supervisor Bill Gates and county Recorder Bill Gates, although the county later said that no voters were disenfranchised.
In an interview with Jovan Pulitzer, Lake said she believes the Supreme Court will eventually hear her case. She argued there is "precedent" to throw out the election results in Maricopa or to "re-do the election" in the county, which includes the city of Phoenix.
"[It] could be a remedy to give us a new trial. I would be happy with that. I want people to know what happened … and we're going to move it all the way to the Supreme Court. It's going there anyways, we'd love to see it just go there rather than have to go to the appellate court. Whatever happens, either side will move it up to the Supreme Court," she said in the interview on Wednesday.
Hobbs Tries to Dismiss
Last week, Hobbs requested that Lake's lawsuit be thrown out, asserting that her GOP opponent failed to prove that voters were disenfranchised during the midterm contest.
"Despite seven witnesses, hundreds of declarants, and thousands of pages of exhibits, Lake failed to demonstrate any violations of Arizona law and offered no evidence that absent alleged violations the outcome of the election would have been different," a filing from Hobbs reads.
"Lake's arguments to the contrary depend on unsupported and untenable legal standards that would require elections to be thrown out upon mere speculation of election misconduct and conjecture regarding its supposed result," it said. "But Arizona law requires much more to disenfranchise millions of Arizonans."
Days later, on Monday, Lake's legal team suggested that more evidence is on the way. They signaled that the evidence could sway the courts in their favor but didn't provide any details.
"Yesterday [Hobbs] filed to get our lawsuit thrown out," the Kari Lake War Room Twitter account wrote. "Today, records revealed nearly a quarter of a million ballots were rejected on Election Day in Maricopa County in a race that came down to just [17,000] votes. She's illegitimate [and] she knows it. More evidence to come."