The Arizona Supreme Court on Wednesday denied GOP candidate Kari Lake's petition to transfer her election lawsuit to the high court, saying that it will be heard before an appeals court.
"The Court notes that the Court of Appeals has entered a scheduling order directing respondents in the special action proceeding to file a response and has indicated that the matter will be conferenced, with possible oral argument, on January 24, 2023," the Supreme Court wrote (pdf). "No good cause appears to transfer the matter to this Court."
Both the appeal and Lake's petition for special action without prejudice to seek an expedited review were denied, the Supreme Court ruled.
Last month, Lake filed a lawsuit against then-Secretary of State Katie Hobbs, Maricopa County supervisors, and other officials, arguing that issues that were reported during the Nov. 8 midterm election were enough to swing the gubernatorial race in her favor against Hobbs, a Democrat who was sworn-in as governor earlier this week. A Maricopa County judge, Peter Thompson, tossed her lawsuit on Dec. 24 and said she did not produce enough evidence.
Following the Supreme Court decision, Lake wrote Wednesday her case would be "going before the Appeals Court prior to the Arizona Supreme Court because it's already been scheduled for review," adding that she is "confident" the lawsuit will "end up in their hands" in the future. "We're moving forward," she added.
In a separate ruling, the three-judge panel in the Arizona Appeals Court wrote it would schedule a conference and oral arguments for Lake's appeal on Jan. 24, according to an order (pdf) issued Jan. 3. But it noted that the "case may be resolved, however, prior to that date if the panel declines to accept jurisdiction on the special action."
Lawyers for Lake wrote that "evidence put forward in this case, including the changing and conflicting testimony of Maricopa officials, and sworn testimony by whistleblowers employed by Maricopa" show that officials in the state's most populous county did not verify mail-in ballot signatures, didn't keep the proper chain-of-custody for thousands of ballots, and triggered "chaos" on Election Day due to ballot printing problems, according to her petition to the state Supreme Court.
Maricopa County Supervisor Bill Gates and County Recorder Stephen Richer said in a Nov. 8 news conference that tabulation errors were reported in dozens of polling sites across the county, telling voters to place their ballots in drop-boxes or find another location to vote. Hours later, the pair announced that those errors, which they blamed on tabulation printers, were solved and argued that no voters were disenfranchised.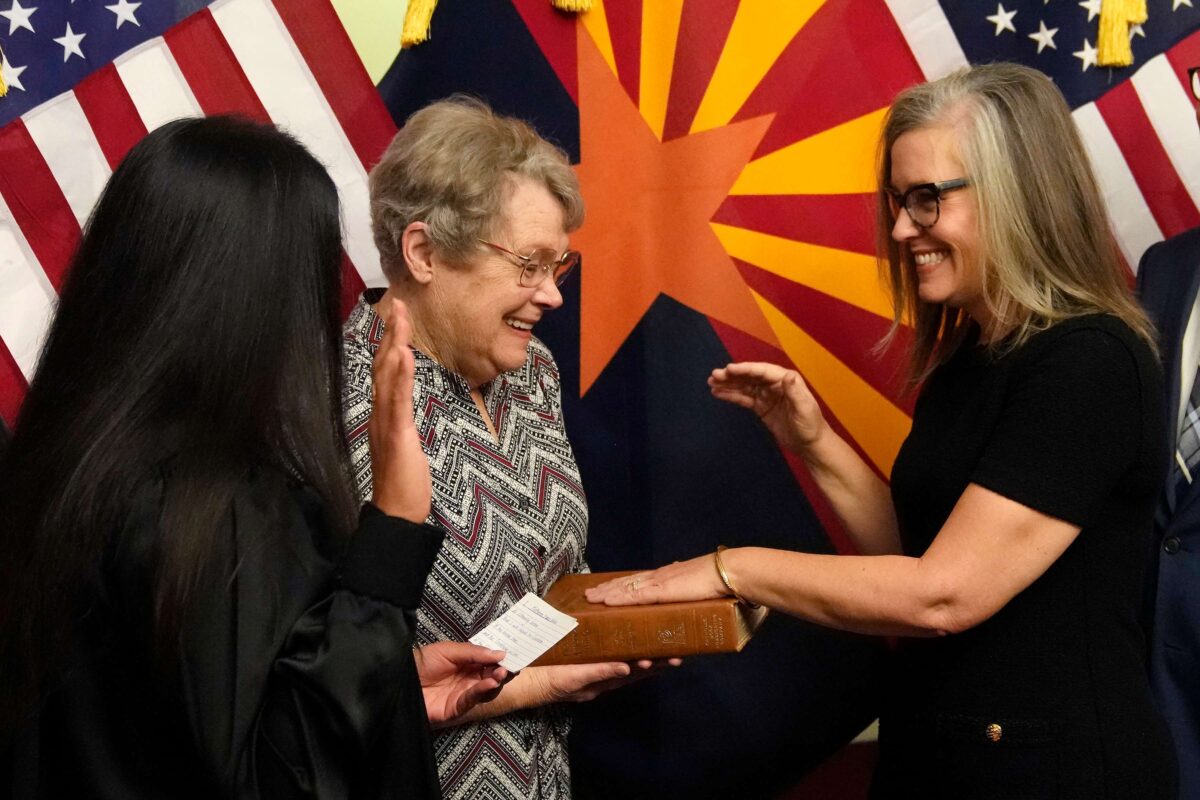 But Lake's team said that the two Maricopa officials "admitted, after first denying, that illegally misconfigured ballots were injected into the election" and claimed their actions caused the tabulators "to reject tens of thousands of ballots." Republican voters, Lake also wrote, were primarily impacted by the Election Day issues.
Meanwhile, a recount found that Republican Abe Hamadeh, an ally of Lake who was also endorsed by former President Donald Trump, lost to Democrat Kris Mayes by fewer than 300 votes in the state's attorney general's race. This week, Hamadeh filed a new motion for a new trial based on evidence that he claims shows additional voter disenfranchisement.
Hobbs Sworn In as Governor
Hobbs, a Democrat replacing former Arizona Gov. Doug Ducey, was officially sworn-in as Arizona's new governor on Monday during a ceremony at the Capitol Executive Tower in Phoenix. She's already signed executive orders about hiring state workers and contractors, adding provisions about gender, political affiliation, and other characteristics.
"Today marks a new chapter for Arizona," Hobbs said Monday. "As we look forward to a brighter future, I pledge that the needs of Arizonans—not partisan politics—will always come first. I will work with Republicans, Democrats, and Independents to tackle our state's biggest challenges—fully funding our public schools, securing our state's water future, ensuring reproductive freedom, making Arizona more affordable, and so much more."
This week, Hobbs called off plans to call a special legislative session to appeal Arizona's ban on abortions. During her campaign, she promised to call a special session during her first day in office, coming after the U.S. Supreme Court overturned Roe v. Wade last summer.
Mayes, too, was sworn-in as Arizona's attorney general on Monday at the Capitol Executive Tower.