Scottsdale, Arizona's governing school board has voted to replace Jann-Michael Greenburg as president over an online "dossier" that he and his father allegedly had kept on parents critical of school board policies.
During a Nov. 15 emergency session, the Scottsdale Unified District No. 48 Governing Board voted 4–1 to appoint Patty Beckman to serve as president for the remainder of 2021. 
Greenburg cast the dissenting vote.
It's been an "incredibly difficult week," said board member Zack Lindsay after the vote. "I find some of the allegations [against the Greenburgs] very troubling."
The so-called Greenburg dossier was allegedly kept by Mark Greenburg and later shared by Jann-Michael, reportedly by accident. 
The dossier now is the focus of an investigation by the Scottsdale Police Department.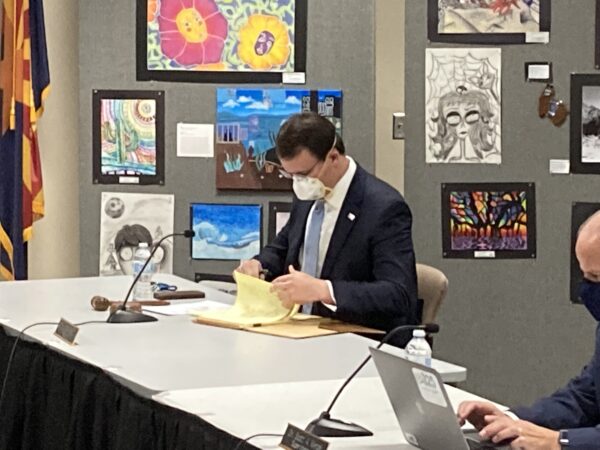 Jann-Michael Greenburg said he will remain on the board until "we have all the facts" at the conclusion of the investigation.
He opened the Nov. 15 emergency meeting by saying: "I am reassured the Scottsdale Police Department is investigating this matter. There appears to be bad actors involved and I am confident our law enforcement will quickly resolve these issues."
More than 100 concerned parents gathered outside of school district offices on Nov. 15 and demanded Greenburg's resignation. 
"Resign, Resign, Resign," one parent's sign read.
Arizona state Rep. Joseph Chaplik held a press conference before the meeting. He called for an independent investigation of anyone involved in the alleged dossier, which targeted parents "simply for opposing critical race theory and mask mandates."
"I've seen the Greenburg file and it doesn't look good for Mr. Greenburg," Chaplik said. 
The dossier allegedly contained parents' identifying information, including Social Security numbers, mortgage documents, divorce papers, personal background checks, family contact information, as well as photographs of their children.
Scottsdale parent Amanda Wray said she came forward after the dossier with her family's private information went public. Like many other parents at the Nov. 15 gathering, Wray said she didn't expect Greenburg, a Scottsdale attorney, to resign willingly.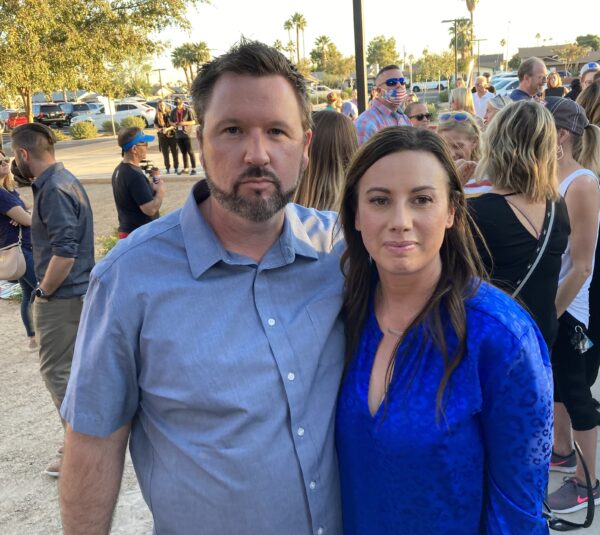 "He's a career politician. He was not here for children. This was a stepping stone," Wray said. "I think he's going to dig his heels in tonight."
Her husband, Daniel Wray, said he found the contents of the alleged dossier "disturbing."
"I know there's an investigation. It feels criminal, but I'm not the one to say," Wray said.
In a Nov. 15 open letter, SUSD Superintendent Scott Menzel said the board "acted in light of the information recently revealed that a dossier containing sensitive information on SUSD parents was allegedly created and maintained in publicly accessible Google drive folders by Mark Greenburg, the father of Jann-Michael Greenburg, and shared by the latter.
"The focus of the Governing Board should remain solely on improving educational opportunities for each and every one of our District's 22,000 students. The decision this evening ensures that with new leadership this will be the top priority," Menzel wrote.
Menzel said the district has launched an independent forensic investigation into whether any district resources were used to "create, maintain or modify the dossier."
He said the district is fully cooperating with the police investigation.
"The existence of these files is disturbing and unacceptable. The Board, in fulfilling its duty, has the obligation to be honest, fair, caring, and respectful. Further, it must avoid conduct that creates the appearance of impropriety or conduct unbefitting a public official," Menzel said.
Menzel said the dossier's contents, including "disparaging descriptions" of parents who share differences of opinion on board policies, is inconsistent with district core values of inviting "civil discourse regarding educational matters." He stressed that board members don't have unrestricted access to student information protected by federal law.
In a Nov. 12 letter to Arizona Attorney General Mark Brnovich, state Rep. Shawnna Bolick requested an immediate investigation into the alleged Greenburg dossier.
Bolick, in the letter, said Mark Greenburg is the "owner" of the online dossier with personal information on 47 people, including videos posted of him on Google Drive allegedly stalking parents at a school board meeting on Aug. 24.
"In the same video, Mark Greenburg acknowledges 'they' hired a private investigator 'who's writing down all of their [license] plates,'" referring to parents attending the meeting.
"A reasonable question to ask Mr. Greenburg is who is 'they?'" Bolick wrote.
"I cannot imagine any legitimate action that would justify collecting and sharing personal identifying information as purported to have happened."
In a related Nov. 12 letter sent to Menzel and the five SUSD School Board members, Bolick asked for their full cooperation in the police investigation.
"If any of you were part of this cyberstalking/doxing escapade allegedly undertaken by the Greenburg household, I would advise you to cooperate with law enforcement and resign immediately to allow a truly dedicated Scottsdale taxpayer to serve honorably in your school district," Bolick wrote.
As the investigation gets underway, a community letter requesting Jann-Michael's resignation has garnered more than 1,500 signatures.
If Jann-Michael refuses to resign, "we may have to go in front of (the Greenburg's) house and show them how we really feel. We're kind of mad," said Miki Klann, who asked parents to sign the petition at the Nov. 15 meeting. The petition requires 21,000 signatures, she said.
The backlash against Jann-Michael is part of a national trend of parents becoming increasingly involved in school boards, largely in response to the infusion of the quasi-Marxist critical race and gender theories into class curricula.
The heated debates prompted the National School Board Association to pen a letter to President Joe Biden requesting that the Justice Department investigate parents who allegedly make threats against school board members and staff. The letter compared parents who opposed critical race theory to domestic terrorists.
Shortly after the receipt of the letter, Attorney General Merrick Garland announced a national effort targeting parents over the alleged threats. Garland's announcement led to outrage among parents and Republicans. School board associations in several states quit the national board in response.