Prosecutors accuse an Arizona elected official of smuggling over 40 pregnant women into the United States from the Marshall Islands in order to buy their babies and sell them to adoptive families for profit.
Paul Petersen, a Republican assessor whose private-sector job was as an adoption attorney, was charged in Utah, Arizona, and Arkansas with counts including fraud, forgery, conspiracy to commit money laundering, human smuggling, and sale of a child.
Petersen allegedly used a network of associates to bring Marshallese women to the United States, house them in his properties until they gave birth, and pay them up to $10,000 for their newborns. Prosecutors say he would then charge families $25,000-$40,000 per adoption, with court documents showing that two years of fees saw the racket bring in around $2.7 million in revenue.
"The commoditization of children is simply evil," said Utah Attorney General Sean D. Reyes.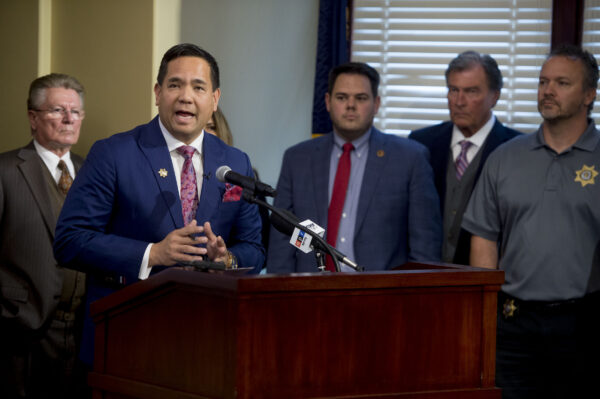 Eight pregnant Marshallese women were found in a residence in Mesa, a city just east of Phoenix, on Tuesday night, USA Today reported, citing Department of Public Safety Director Frank Milstead.
Milstead said Petersen's adoption practices came into suspicion when authorities received a tip about possible procedural illegality.
A neighbor, Bella Perez, told the publication she saw "a lot of" pregnant women and women with children coming in and out of the home.
"That's crazy, that's like a lot. How can you do that to kids?" Perez said of Petersen and the allegations against him. "It's crazy how a neighbor of yours is doing all those things and you don't even know."
Federal prosecutors in Arkansas announced that Petersen had been arrested Wednesday and unsealed an indictment charging him with crimes including conspiracy, fraud, and theft.
'Baby Mill'
The charges span about three years and involve some 75 adoptions.
Prosecutors said Petersen would pay for the women to travel to the United States days or months before giving birth and live in a home that he owned until delivering the baby.
The expecting mothers were often crowded in the homes, with little in the way of prenatal care, The Associated Press reported. In one of the residences in Utah, the women slept on mattresses laid on bare floors.
Court documents cited by The Associated Press said one shocked adoptive family described the home—since sold by Petersen—as a "baby mill."
The new owner of the home, located in a working class area in suburban Salt Lake City, said that since purchasing it she has found trash like dirty diapers in the bushes.
"It makes me sick to my stomach," she said after being told how expectant mothers were allegedly herded inside the home.
"Many of these mothers described their ordeal as being treated like property," said Duane Kees, the U.S. attorney for the western district of Arkansas, speaking about one of the residences in that state.
"Make no mistake: this case is the purest form of human trafficking."
The Associated Press contributed to this report.