Arizona officials have confirmed three heat-related deaths already this year amidst a broader upward trend in the number of deaths in the state due to hot weather.
The Maricopa County Department of Public Health (MCDPH) said in a report that between the end of April to July 6, "this heat season (2019), there have been a total of 3 confirmed heat associated deaths."
One of the deaths was heat-related, officials said, and two of the fatalities were directly caused by heat. Another 37 deaths are under investigation.
"In Arizona, we're actually under an excessive heat warning right now for nine counties across the state," said Jessica Rigler, assistant director for public health preparedness with the Arizona Department of Health Services, according to KTAR News. "That's because we are expecting temperatures of up to 115 degrees through [Tuesday]."
Rigler added that "with monsoon [storms] coming our humidity levels are increasing and that's also causing an increase in heat."
In 2018, Maricopa County saw a record number of people dying because of extreme heat, with the death toll spiking at 182, according to a report into heat-associated deaths.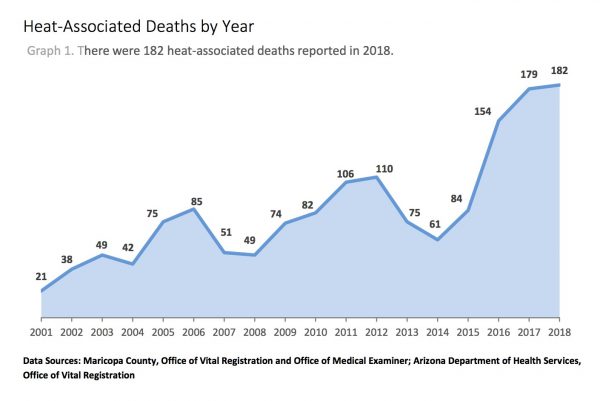 "We've had a patient recently, her core temperature was 108 degrees Farenheit," said Dr. Dan Quan with the Maricopa County Integrated Health System, according to Fox 10. "They were found down outside, and if it's not brought down to a reasonable temperature at some point, the body does shut down, and organ failure does occur."
Quan added that in his estimation, "in general, it seems like our summers seem to be a little bit hotter."
The MCDPH said that in 2018, the month of July was the worst in terms of heat-related and heat-caused deaths.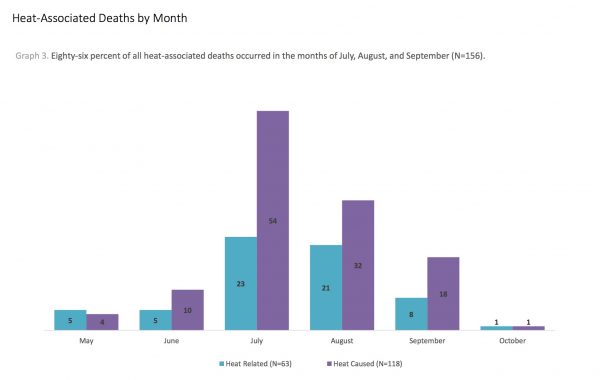 Heat-Related Deaths Nationwide
The number of heat-related deaths in the United States in on the rise, says the Centers for Disease Control and Prevention (CDC).
"For example, in 1995, 465 heat-related deaths occurred in Chicago," the CDC said, adding that "from 1999 to 2010, a total of 7,415 people died of heat-related deaths, an average of about 618 deaths a year."
The agency says that "extreme heat events, or heat waves, are a leading cause of extreme weather-related deaths in the United States."
Researchers tracking heat stress illnesses (HSI) between 2001-2010 found that, at the end of the 10-year study period, there was an overall 2–5 percent increase in the rate of HSI hospitalizations in all 20 states compared with the 2001 rate.
Ekta Choudhary, Division of Environmental Hazards and Health Effects, National Center for Environmental Health, notes that "heat stress illness (HSI), also known as heat-related illness, comprises mild heat edema, heat syncope, heat cramps, heat exhaustion (the most common type of HSI), and heat stroke (the most severe form)."
According to the Environmental Protection Agency, a total of more than 9,000 Americans have died from heat-related causes since 1979, according to death certificate data.
The agency found that between 1979 and 2014, the death rate as a direct result of exposure to heat generally hovered around 0.5 to 1 deaths per million people, with certain years seeing spikes.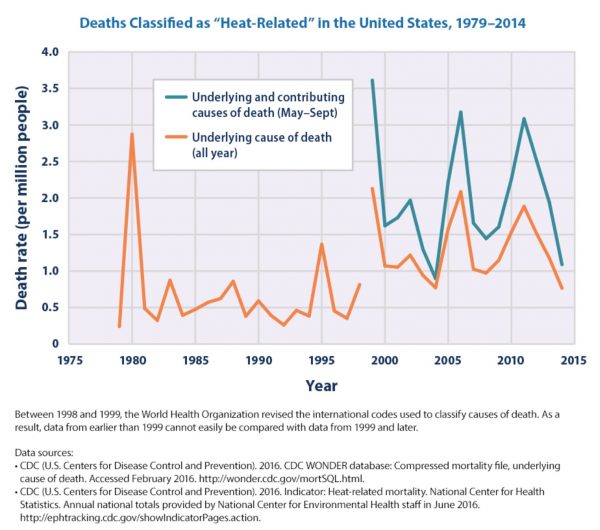 The EPA said that likely reporting shortfalls on death certificates that the cause was heat-related, as well as data variability "make it difficult to determine whether the United States has experienced a meaningful increase or decrease in deaths classified as 'heat-related' over time."
Weather-related Deaths
The CDC says: "Extreme heat events, or heat waves, are one of the leading causes of weather-related deaths in the United States. When temperatures rise in the summer, extremely hot weather can cause sickness or even death."
Dr. Eric Coris, a professor in the Department of Family Medicine at the University of South Florida, told US News that people not used to high temperatures are most at risk.
"The northern, un-acclimatized person is the person that's more at risk," Coris said. "When the military looks at their heat-related deaths in basic training, it's often those who come from climates where they're not acclimatized."
Coris added, "So when you have these heat waves that wipe through a community that doesn't have air conditioning, that isn't acclimatized, that's where you see the big rashes of death."
Thomas Bernard, a professor in the College of Public Health at the University of South Florida, told US News that multi-day heat waves can be more dangerous in follow-on days.
"People who may not have fully recovered from the first day may be more at risk the second," Bernard said, adding, "so if you have these days in a row rather than isolated events, that further compounds things."
Prevention of Heat-Related Illness or Death
Heat-related illnesses or deaths are preventable.
The CDC advises people to stay in air-conditioned areas during the hottest part of the day and find ways to cool down, like by taking a cool shower.
The agency also suggests that people can find refuge in public places like air-conditioned libraries or shopping malls.
"Air conditioning is the strongest protective factor against heat-related illness," the CDC says. "Exposure to air conditioning for even a few hours a day will reduce the risk for heat-related illness."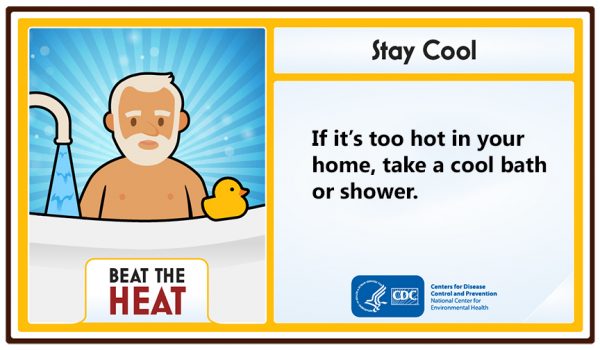 People are also advised to wear loose-fitting clothing that covers their skin and apply sun-screen.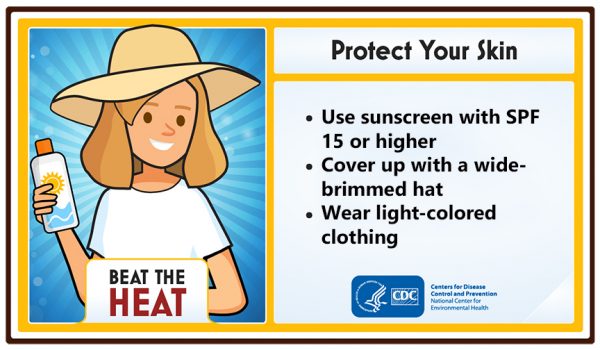 The agency stresses the importance of staying hydrated, saying that people should drink water often and not wait until they get thirsty.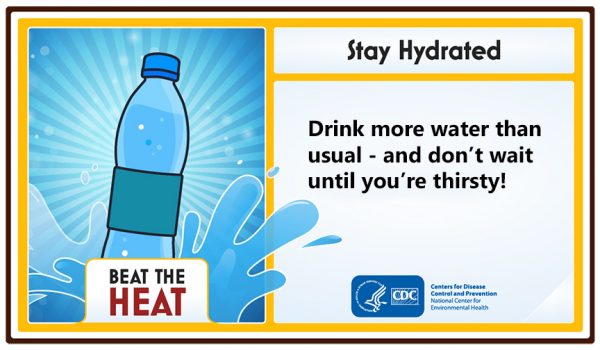 The CDC also urges people never to leave pets or children in a parked car in extreme temperatures as this could lead to death.