A multi-million dollar award is being offered to help find the Argentine sub that mysteriously went missing three months ago with 44 crew members aboard.
Argentina's president announced the award when he met with family members of the crew on Feb. 6, although hopes of them surviving faded two weeks after the submarine went missing in November, when all the oxygen on board would have been depleted.
According to Sky News, the defense minister said the reward could be around $4 million, but said the exact figure will be announced later in the week.
The submarine went missing on Nov. 15, sparking a search that roped in assistance from 13 countries.

Family members had previously criticized the government for not communicating with them and abandoning the rescue efforts.
They met with president Mauricio Macri for an hour on Tuesday, pushing for an extension to the search and to allow commercial vessels to join. They say that finding the submarine is important to answer questions about its mysterious disappearance.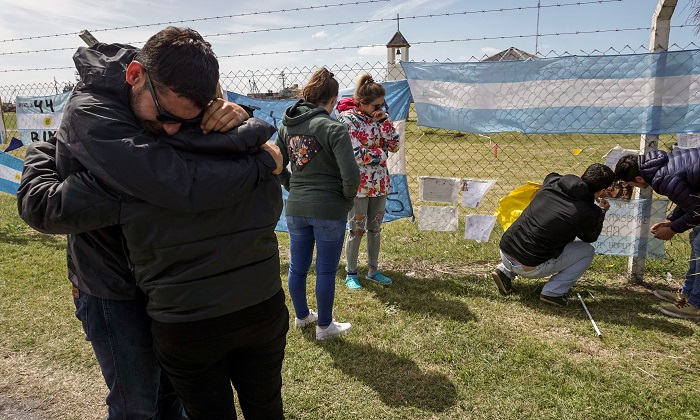 "We want to know what happened: if there was corruption in the arrangement of the ship, if there was negligence, and if it was an accident we also want to know," Itaí Leguizamón, wife of crew member Germán Oscar Suárez, told reporters, according to Fox. "It would be very helpful to find the submarine to know all that," Aguad told reporters.
The last communications from the submarine came on Nov. 15 between 1 a.m. and 7:36 a.m. The vessel's commander reported water leaked into the ventilation system through the sub's snorkel, reached a battery connection tray in the prow, and "caused a short-circuit and the beginning of a fire, or smoke without flame," said Enrique Balbi, an Argentine Navy spokesman, Fox reported at the time.

The captain later reported that the incident had been contained by using an alternative battery circuit.
The Argentine Navy later reported an explosion was detected in the area where the submarine disappeared.
Hope of rescuing survivors was mostly abandoned on Nov. 30. The navy said it searched for double the amount of time the submarine would have had oxygen.
The German-built submarine was commissioned in 1985 and got a $12 million retrofitting in 2014.
Peter Svab contributed to this report
Recommended Video:
Lost World War I Submarine Found 103 Years Later