Are Americans Really Involved in the Nairobi Westgate Mall Attack?
September 22, 2013 5:34 pm Last Updated: July 18, 2015 5:18 pm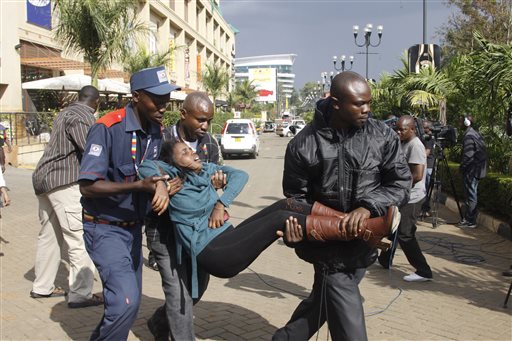 The FBI is investigating whether some of the gunmen in the attack in Kenya over the past two days are Americans.
A Twitter account linked to the terrorist group al-Shabab said that Mohamed I (from Saint Paul); Abdifatah O (Minneapolis); and Mustage N (Kansas City) were involved in the attacks.
The investigation is based on the, reported NBC. 
Al-Shabab has claimed responsibility for the attack, which has so far left 68 dead and over 175 others wounded. Kenyan soldiers and police are still working on fully controlling the situation–the gunmen continue holding some hostages inside the mall.
While NBC reported that the FBI "is investigating whether Americans were involved in Nairobi mall attack, based on tweets from terrorists," al-Shabab denies that the Twitter account was legitimate.
"The account that published the names is fake & the names are fake," an al-Shabab spokesperson told Hamza Mohamed, a reporter with Al-jazeera. 
Al-shabab are just sick, barbaric inbreds who deserve to be burnt. Here they are tweeting the names of the assassins pic.twitter.com/dl1lyTqQ7w

— Safia (@Safialcantara) September 22, 2013
An Ontario man is on the list of Nairobi gunmen posted by the Al Shabab press office, but it remains unconfirmed pic.twitter.com/Y8mU6xSX5y

— Stewart Bell (@StewartBellNP) September 22, 2013
The account also tweeted a name of someone from Finland–Ismael G; Ontario, Canada (Abdirizak M.); and London (Ahmed N.). Other names have been circulating on Somali websites. Some of those names include more Americans.
The account "didn't published any names," the spokesperson said. "The names circulating have nothing to do with us."
#AlShabaab spox to me: " #AlShabaab account didn't published any names. The names circulating have nothing to do with us" #Westgate #Nairobi

— Hamza Mohamed (@Hamza_Africa) September 22, 2013