Severe weather is set to sweep across the UK tonight, bringing strong winds, hail, and snow over the next four days, forecasters say.
The Met Office has extended a weather warning for snow and ice in Scotland and Northern Ireland that kicks off at 6 p.m. today, until Wednesday, Jan. 17.
The weather alert warns of "heavy, squally showers" that will turn to "sleet, hail, and snow" over the north of the UK, with over 10 cm of heavy snow expected to fall over higher ground in Scotland.
It warns there is "a chance that power cuts will occur and other services, such as mobile phone coverage, may be affected."
England and Wales will not escape the severe weather, with a yellow warning for snow and ice in place from 4 a.m. on Tuesday until late on Wednesday. Forecasters warn that roads and pavements will turn icy, and accidents and injuries are more likely in northern England, Wales, and the Midlands due to sleet, snow, and hail.
A yellow severe weather warning for #snow&ice and #wind has been issued: https://t.co/QwDLMfRBfs Stay #weatheraware @metofficeuk pic.twitter.com/JtXrcRueeQ

— Met Office (@metoffice) January 15, 2018
A slushy cover of 1 or 2 cm of snow is likely at lower levels, and 2 to 6 cm of snow is expected to accumulate on higher ground.
An additional warning for wind has been issued from Wednesday night into Thursday, with gusts of 60 to 70 mph expected in some areas.
The wind warning covers England, Wales, Northern Ireland, and part of Scotland. The Met Office said that the locations of the most damaging winds are uncertain, but "parts of northern and eastern England along with southern Scotland currently look more at risk." Spells of heavy rain are likely along with the strong winds.
We've got a much more unsettled and #cold week of #weather in store as strong northwesterly winds become established across the UK pic.twitter.com/4fW3hriOGx

— Met Office (@metoffice) January 15, 2018
Meanwhile, in western Scotland between Monday and Thursday, frequent lightning strikes may cause disruption to power supplies in the area, and there is a possibility of temporary blizzard conditions.
Met Office forecaster Matt Box told Metro, "A cold front will come down on Monday and it will herald the arrival of polar maritime air mass across the UK and, that being a cold air mass, temperatures are going to feel a lot colder.
"It is also going to be accompanied by some cold winds as well, gale-force winds at times across the south, mainly coastal sites and exposed hills.
"There are going to be some blustery snow showers moving in from the west and bringing snow across Scotland at first."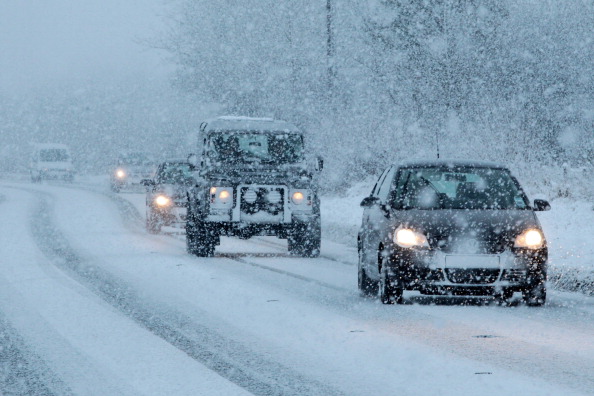 Recommended Video:
Boiling water turns to snow