Historical biographies of former Canadian prime ministers have been deleted from the Library and Archives Canada website because they are "offensive" or "redundant" and don't reflect the country's modern-day diversity and multiculturalism.
"The Prime Ministers of Canada" webpage, while still including photographs of prime ministers from John A. Macdonald in the late 1880s through to Stephen Harper in 2006, will now only yield an "error 404 – not found" search result to the biographies of the former leaders.
An announcement dated June 29 says Library and Archives Canada (LAC) has been conducting a "spring cleaning" and has deleted "redundant or outdated" web content, including the "First Among Equals: The Prime Minister In Canadian Life And Politics" webpage.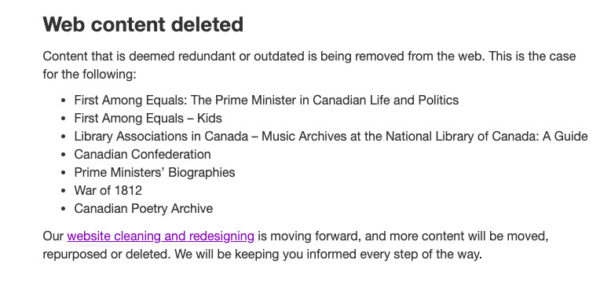 Another section of the LAC website explains that outdated content will be removed or rewritten to correct anything "offensive."
"Our current website contains information that was written many years ago. Unfortunately, it does not always reflect our diverse and multicultural country, often presenting only one side of Canada's history. LAC acknowledges that some of its online presence is offensive and continues to correct these issues," it says.
According to an archived version of the website, the "First Among Equals" site replaced two earlier sites from 1996. The main exhibit of the new site, which was on display from May 20, 1994, to Jan. 3, 1995, attracted over 27,000 visitors and was thought to be the most popular in NAC history.
"The site examines our leaders' political careers as well as their private lives. It also sheds light on Canadians' perceptions of our prime ministers," states the archived webpage.
"From Macdonald to Harper, our political leaders are twenty-two individuals who have made a difference, shaping Canada's identity, sometimes in profound ways."
In June, LAC removed a different biography of Macdonald, Canada's first prime minister. Last October, The Toronto Star reported that the biography failed to mention Macdonald's role in establishing the residential school system.
Macdonald's webpage was pulled after members of the Tk'emlúps te Secwépemc First Nation community in May announced the discovery of the remains of 215 indigenous children at the location of a former residential school in Kamloops, British Columbia.
Library and Archives has also deleted a children's version of "First Among Equals," a website introducing the War of 1812 fought between Canada and the United States, and a poetry archive.
The Epoch Times reached out to National Archives for comment, but didn't receive a response.