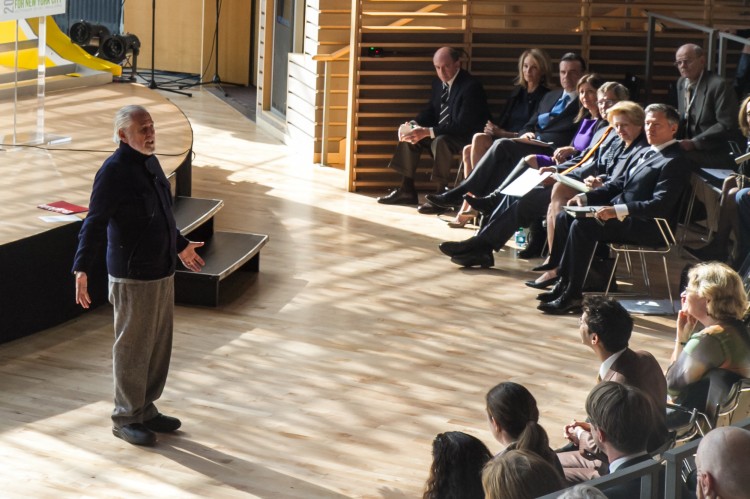 NEW YORK—Architect and graphic designer Richard Saul Wurman has a knack for turning complex issues and fields of knowledge into something simple and digestible.
On Oct. 17, Wurman received the lifetime achievement award at the National Design Awards, held in New York, for his long-term contributions to public discourse and to the contemporary practice of design.
Wurman entertained audiences at the 2012 Municipal Art Society of New York (MAS) summit on Oct. 18 and 19. The two-day forum provided a feast of knowledge and speakers, highlighting issues from planning, design, and infrastructure, to sustainability, and cultural development.
He told the audience he valued honesty, because people can then learn from each other.
"I believe in telling the truth," he said, proceeding in a good-humored way to comment about how the design of the stage at the conference could be better arranged.
Cutting Across Fields
Although an architect and urban planner, he is also a teacher and a published author of 83 books on a variety of subjects, including retirement, estate planning, guidebooks, atlases, parenting, and architecture. His brilliance comes across as making complex topics simple enough for the average Joe to understand.
"He has made it his mission to sort through the abundance of information that is available on every topic, and design the techniques to make it understandable," according to his website.
At the MAS summit, Wurman gave a simple example of how you can take a term, in this case an acre. In the minds of most people, an acre would not translate to an actual area on the ground, he said.
He then made the connection simple for people, saying an acre is about the size of a football field. Although not everyone plays football, most people would now understand how large an acre is.
By encouraging conversation through conferences and various media, Wurman has influenced a generation of people across fields from architecture and city planning, to health care and the Olympics.
His most well known conferences—TED conferences, which he founded in 1984—brought together people with expertise in technology, entertainment, and design. Speakers at past TED conferences have included, Bill Clinton, Al Gore, Bill Gates, and Google founders Larry Page and Sergey Brin.
In this way, audience members have been able to advance their own understanding of these fields, which in turn has translated into tangible progress. "Understanding proceeds action," Wurman said at the MAS conference last week.
In his most recent project "19.20.21" Wurman compares 19 major cities around the world that each have a population of more than 20 million people (the "21" is for 21st century). Through the project he highlights urbanization around the globe.
Wurman is 77 years old, and lives in Newport, Rhode Island, with his wife, novelist Gloria Nagy. They have four children, six grandchildren, and three yellow Labradors.
The National Design Awards were conceived by the Smithsonian's Cooper-Hewitt, National Design Museum to honor lasting achievement in American design. The awards are bestowed in recognition of excellence, innovation, and enhancement of the quality of life.
The Epoch Times publishes in 35 countries and in 19 languages. Subscribe to our e-newsletter.
Please send news tips to nyc_news@epochtimes.com