Honouring the 'Quiet Protest'
April 28, 2009 10:43 pm Last Updated: October 1, 2015 9:51 pm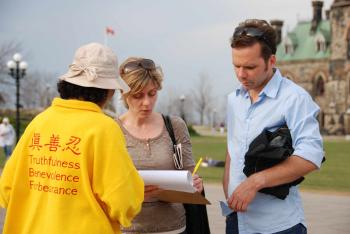 OTTAWA— The April 25, 1999 appeal by Falun Gong practitioners in Beijing was a different kind of protest in that it was quiet and orderly, despite the large numbers who took part. There was no shouting of slogans, waving of placards and banners, or generally making noise to call attention to their cause.
On that day, an estimated 10,000 Falun Gong adherents gathered to ask officials to release 40 of their counterparts who had recently been subjected to police abuse and unlawfully detained in nearby Tianjin city, and to protect their right to practice their beliefs without harassment.
The group waited outside the appeals office while a few representatives went inside to make an official appeal. Meanwhile, then-Premier Zhu Rongji emerged from his adjacent office to meet the group, and invited three practitioners to enter Zhongnanhai, the CCP leadership compound, to meet with him and discuss their concerns.
At the meeting, Premier Rongji gave his assurances that there would be no further interference. The group then quietly dispersed, but not before cleaning up the area of any debris that had been dropped. Soon the 40 practitioners in Tianjin were released.
In Ottawa over the weekend, Falun Gong practitioners and supporters honoured the spirit of peace, justice, and compassion with which that 'quiet protest' was held 10 years ago, both with a short rally in front of the Chinese Embassy on April 24, and a gathering on Parliament Hill the next day.
Falun Gong is a traditional spiritual discipline that offers improved health and well-being through gentle exercises and following the teachings that espouse the values of truth, compassion, and forbearance. First introduced in 1992 by Mr. Li Hongzhi, the practice quickly grew and even had the support of many high-level Chinese Communist Party (CCP) officials.
Despite the initial accord at the Beijing appeal and Premier Rongji's assurances, three months later then-President Jiang Zemin outlawed Falun Gong and began a campaign of propaganda and unlawful arrests and detentions, the aim being to "eradicate" Falun Gong. The result was widespread imprisonment, torture, and deaths of adherents—a state-sanctioned persecution that continues to this day.
According to a 2006 report by the U.N. Special Rapporteur on Torture, 66 percent of reported victims of torture in previous years were Falun Gong practitioners. To date, the deaths of 3,253 practitioners as a result of persecution by the Chinese authorities have been confirmed by the Falun Dafa Information Center (FDIC).
However, human rights organizations and FDIC believe the true number of deaths is much higher.
At the Ottawa rallies, speeches were made that highlighted the persecution Falun Gong practitioners experienced before moving to Canada, and the price adherents and their families in China are paying for their dedication to their faith and its principles in the face of ongoing brutality.
For more information about the original appeal in Beijing, please see Part One of the NTDTV documentary A Decade Of Courage. http://english.ntdtv.com/ntdtv_en/special/ADecadeOfCourage/index.html